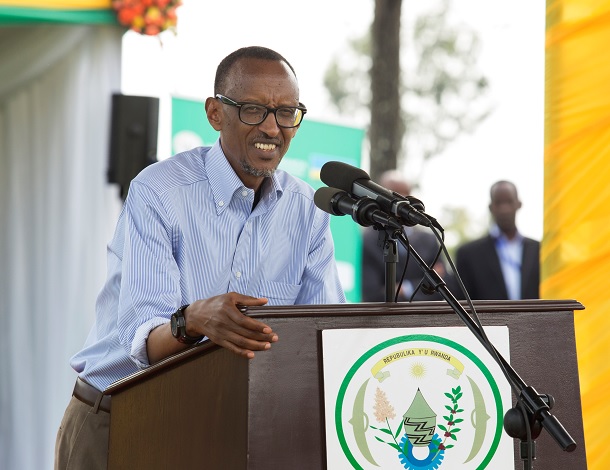 Those pushing for the constitutional amendment with the wish that President Paul Kagame be re-elected for the third time have more work to do.
"Asking me to stay, are you not throwing responsibilities at me so that you focus on your personal businesses?" Kagame on Friday.
He was addressing 2000 Executive Secretaries from cells across the country at a closure of a three-week civic education course at Gabiro Military barracks in Gatsibo District, Eastern Province.
He told the grassroots leaders that, "Building this country is our collective duty. It is a responsibility that we cannot pass on to others."
The President was responding to the appeal by the local leaders that the constitution be amended and give leeway for them to re-elect him. Kagame's term in office ends in 2017.
"I will also assign you responsibilities…we have to put development as a priority and prevent the country from sliding back to where we have come from," he said.
Kagame's comments have put press on the campaign to amend the constitution. He insisted that he is not going to accept the "offer" unless he is convinced beyond reasonable doubts. All voices and parties have to agree, he said.
"Kagame has led this country from ashes to where it is today…we still want this transformation under his leadership," Stephen Gasore, a local leader from Nyagatare District told KT Press.
Meanwhile, millions of Rwandans have stormed parliament seeking amendment of the constitution to keep him in power.
Over four million Rwandans have lodged petitions to parliament requesting for amendment of article 101 of the constitution that prevents any incumbent from seeking re-election beyond two terms.
Such an appeal has also been made by opposition political parties in the country.
During its fifth congressional meeting early mid month, the Social Democratic Party of Rwanda (PSD), the second biggest party next to Kagame's Rwanda Patriotic Front (RPF), supported the amendment of the constitution to lift Presidential term limits.
Vincent Biruta, the PSD party president told journalists, "Our party supports amendment of the constitution if it's what citizens wish.''
PSD's announcement followed other requests from two political parties; Ideal Democratic Party (PDI) and Rwandan Socialist Party (PSR).
However, Green Party has filed a lawsuit to the Supreme Court requesting to block the amendment.
Kagame tweeted later-on saying, "They are exercising their right…the Green Party, good thing."
Despite Kagame's latest comment on third term issue, the president has previously remained categorical.
In April this year, during a presidential press conference at his office, Kagame said, "I want to do my business for which Rwandans entrusted me to do and when I am done, I will be done. I can continue to serve my country in very different ways," he said.