President Paul Kagame has today joined others citizens to  participate in the CarFreeDay, a mass sports event that takes place twice a month and serves to make Kigali a green city while promoting a healthy lifestyle.
The car free day was initiated in 2016 as a way of opening spaces for pedestrians to walk, relax and breath unpolluted air on the streets of Kigali.
The event has since been used to promote physical and mental exercising among city dwellers to prevent non-communicable diseases but it has also attracted and brought together people of all walks of life including the First Family and visitors to Rwanda.
However, it was halted for nearly two years to prevent spread of COVID-19 pandemic.
President Kagame was dressed in a champion sweat jumper, black jogging shoes and a grey baseball cap and tracksuit pants, strolling on designated clean and car free streets of Kigali commonly known as the the car free zone- an area which is less than a half a kilometre but recently revamped to suit its core purpose.
However, on the car free day, the city extends the car free zone with more roads for a couple of hours in the morning.
For this reason, the President mainly does jogging from central business district to Kimihurura.
"It was liberating to join CarFreeDay today and walk the streets of Kigali after so many months of COVID19 restrictions. See you all at the next CarFreeDay!" Kagame tweeted shortly after.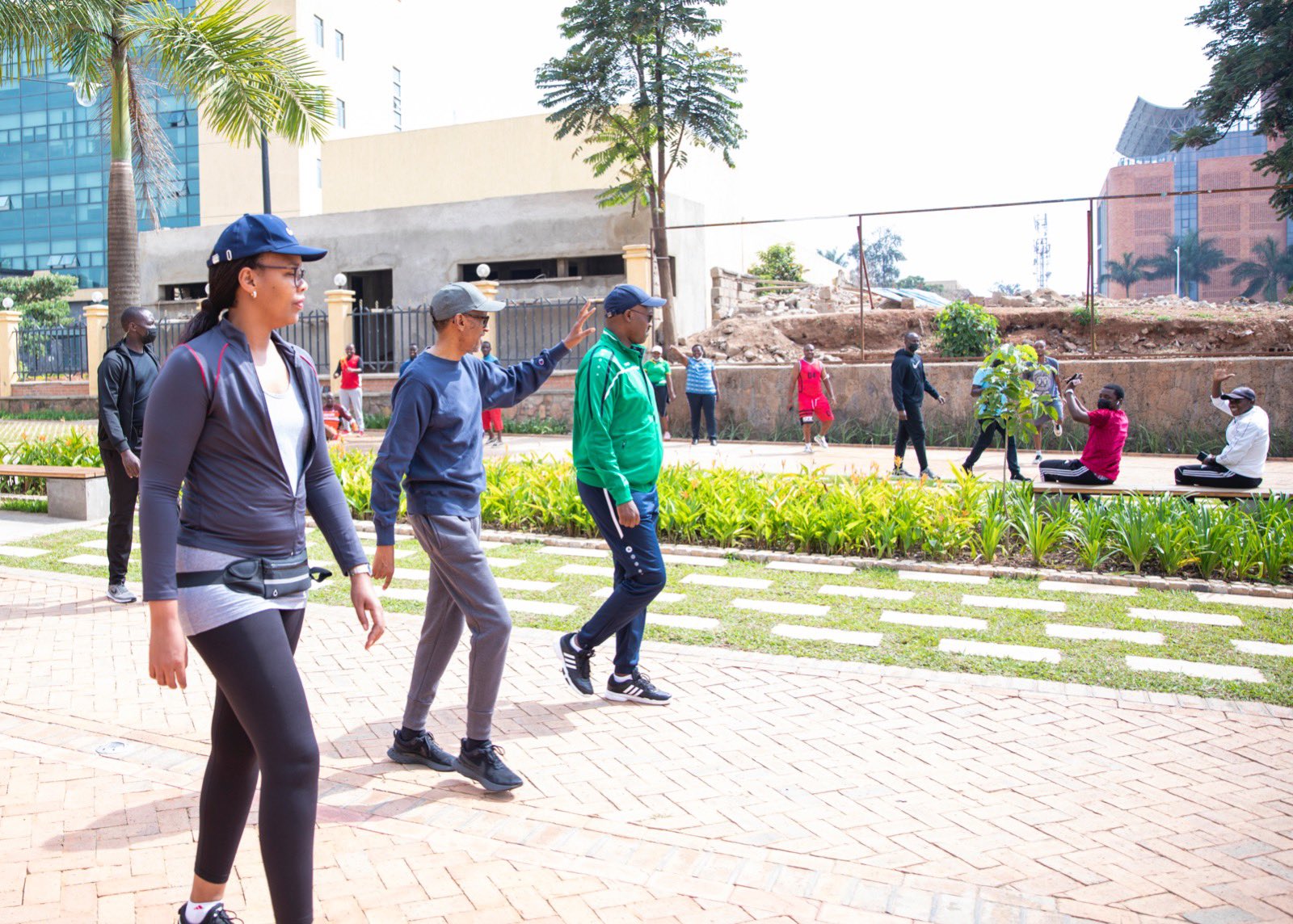 The event further attracted citizens who were seen excercising on foot, cycling in solo or pair models to uphold Covid-19 measures.
However, some citizens who followed the event in person and from a far said that the participation of the head of State in such an event is encouraging to attract more and can be leadership through example.
"Mr. President, Your encouragement has enabled even those who didn't know the benefits of sports to start practicing. You are our Hero, Our Beloved President and Extraordinary Role Model. We love and admire You Our President. Blessings upon you forever," said one Eugene Iyamuremye on Twitter.
"I feel so proud as African to know that God  is still saving us by giving mens like Président Kagame.  May god almighty keep him so long among us," said one identified as General Sanogo Amaduo Haya on Twitter.
From as far as Ankara and London, Dr. Abdiaziz Garaad Suleiman Aw-Dahir Afqarshe said on Twitter :
"I love the car-free idea and can't wait to go to Kigali soon. Well done, Mr. President!"