Rwanda's Minister of Defence, Gen. James Kabarebe has announced that Rwanda Defence Force (RDF) is ready to recruit more than 100,000 best science students and fund their university studies and beyond.
"RDF will recruit the best students in sciences whether they are more than 100,000. They (RDF) will cater for them, fund their university and post-graduate studies including salaries," Minister Kabarebe told Students in Muringa sector, Nyabihu district in Western Rwanda.
Minister Kabarebe was launching Rwanda Defense Force 'RDF citizen outreach programme' (RDF-COP) formerly 'Army Week'.
For the last nine years, RDF outreach program has reached communities in providing free health care, infrastructure development, shelter for the needy, environmental protection and building classrooms across the country.
Defence Minister Kabarebe challenged students to take science subjects seriously – expecting the army to recruit and help them pursue further studies.
"This is a secret I am revealing to you for the first time. No one has been told this before," Minister Kabarebe told excited students.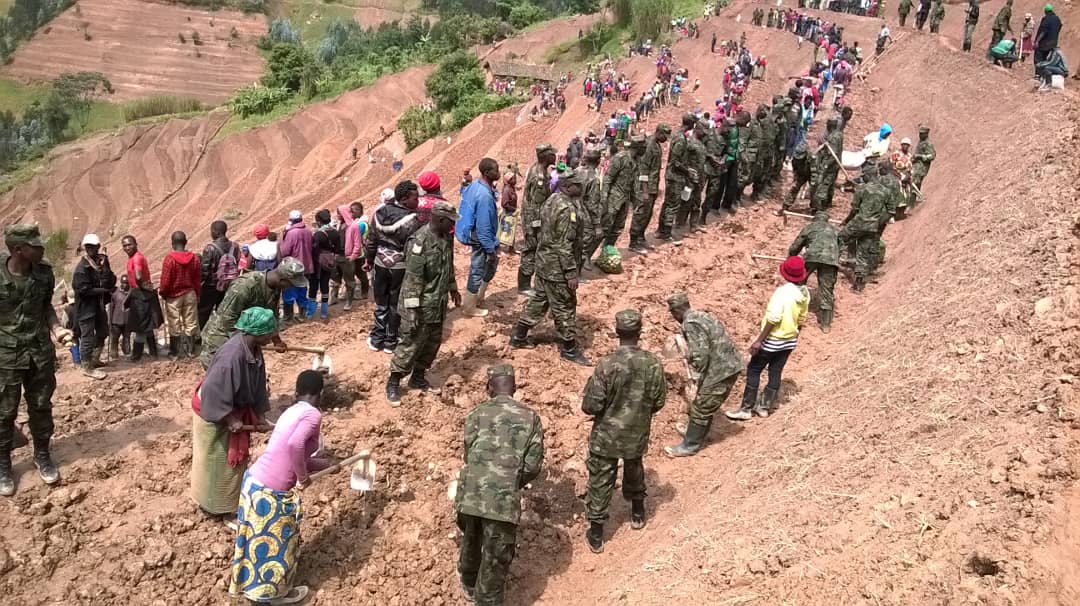 At the launch of the 'RDF citizen outreach programme' in Nyabihu, the army joined citizens in planting potatoes on 40 hectares of land, among other activities.
Meanwhile, the army and government officials were dispatched across other parts of the country where they launched different activities.
In Musanze district in Northern Rwanda, Chief of Defence Staff of the Rwandan Defence Forces, Gen Patrick Nyamvumba launched construction of 16 houses – part of more than 1900 houses that will be constructed countrywide during the army programme.
In Rwamagana district, Eastern Province, RDF citizen outreach programme attracted the visiting South Sudan Health Minister D.r Riek Gai Kok who accompanied Health Minister Dr. Diane Gashumba to preside over free treatment of hundreds of citizens.
"It is very impressive. We have a lot to learn from Rwanda," Minister Rek Gai told journalists.
Elsewhere in Nyagatare district, the army, Police and district officials joined citizens to clean up water channels at Rwangingo marshland in Katabagemu sector.
Back in the capital Kigali, the army joined citizens at Kagugu Secondary school in Kinyinya sector, Gasabo district to construct 12 classroom blocks at the school. The classrooms will reduce congestion of students from 86 to 46 students per classroom.
This year, RDF Citizen Outreach activities will from April 20th, through July 3rd, where citizens will be supported to achieve national programs in collaboration with ministries of Local government, Health, Agriculture, Gender and family promotion.