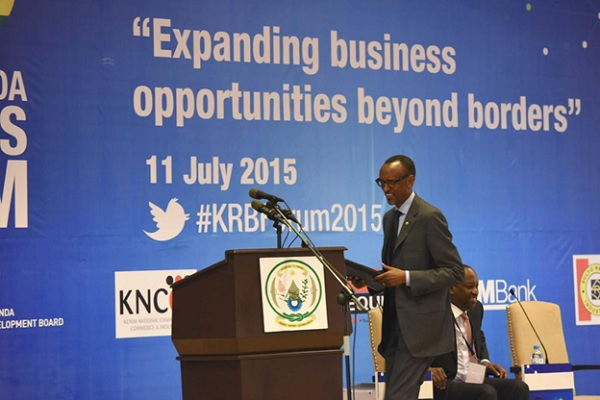 President Paul Kagame has expressed frustration at how development is dragging on the African continent and specifically in East African region.
Mr. Kagame made the remarks Saturday, while addressing the first ever Kenya-Rwanda business forum in the capital Kigali. The forum attracted over 200 business experts, investors and members of the private sector from both countries.
He acknowledged that the region has made tremendous progress but a lot more needs to be done.
"I think we have made progess…but I am not satisfied. The frustration is how things are going," Kagame said.
He observed;  "For those things that we don't have means to do, I can understand why they have to wait,….because you are trying to mobilise means to do it.But what is an explanation for not doing urgent things and you have means for..?"
Kagame cited examples of economic achievements brought by the Northern Corridor Infrastructure projects, including the one area network project as well as removal of non-tariff barriers in the region.
"One area network has led to 50% reduction in cost, revenues going up 20% and 300% increase in subscribers…So what were we waiting for?" Kagame asked.
The one area network was launched early this year, with a mission to cut down roaming call charges within the Northern Corridor countries; Rwanda, Kenya, Uganda and later South Sudan.
Rwanda's leader known for his business-friendly personality said that the business community should start making investments as far and wide as they can.
"We need to create a critical mass of people who believe in themselves. We need believers and we need people who act," he said.
The Kenya-Rwanda business forum comes to Rwanda after Kagame met and invited them to work more closely with their Rwandan counterparts.
According to Rwanda's Ministry of East African community affairs, Kenya is a leading investor in Rwanda with a total of US$146.2m invested to date, after South Africa and Mauritius.
In Rwanda, Kenyan's have mostly invested in; banking, manufacturing and ICT. For instance, Kenyan bank subsidiaries, Equity Bank Rwanda and KCB Bank Rwanda alone have invested more than $100m combined over the last five years.
Francis Gatare, CEO of Rwanda Development Board said, "Kenyans in Rwanda have established a home away from home."
For Dr. James Mwanji, CEO of Kenya's Equity Bank, investing in Rwanda is the easiest thing he has ever experienced in his entire banking career.
"In most countries where we open branches, it takes us almost a year to be registered…but it took us only 21 days to open offices in Rwanda." Mwanji, whose Bank plans to to set its headquarters in Rwanda said.