It's official. No more vehicles the capital's Central Business District (CBD), Kigali city authorities have declared.
It is now a 'Car Free Zone' following President Paul Kagame's twitter response to an O-ped published in The New Times last week by its editor Sunny Ntayombya.
He proposed that Kigali's central business zone be freed from traffic. "The photograph of the President walking to the newly inaugurated City Hall got me thinking. Wouldn't it be great if we all could do that?"
President Kagame, who had just been photographed while touring and launching two city buildings, reacted to the article.
"From what Sunny had to write…in today's TNT (The New Times) about CBD-Kigali, making it a car-free zone. I agree with him. Will check with the Mayor."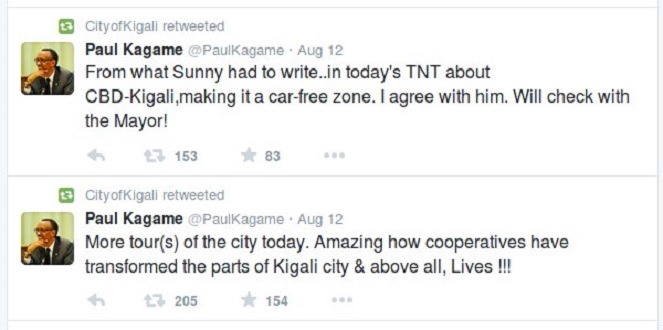 The public is divided over the policy. The Presidents response has ignited a spontaneous discussion on social media. A twitter debate ensued this morning. Some are in support, others are ridiculing the idea.
"I am amazed how young people can resist," says Serge kamihanda.
Anorld Kwizera says, "The idea is great but the manner in which it was passed brings a lot into question."
Kigali city publicist, Bruno Rangira told KT Press this morning that, 'The public's opinions are premature. No action has been taken yet…but we will inform you later today."

He however said that a plan is underway. "The official day to declare CBD a car free zone will be Monday (24/8/2015)," he said.