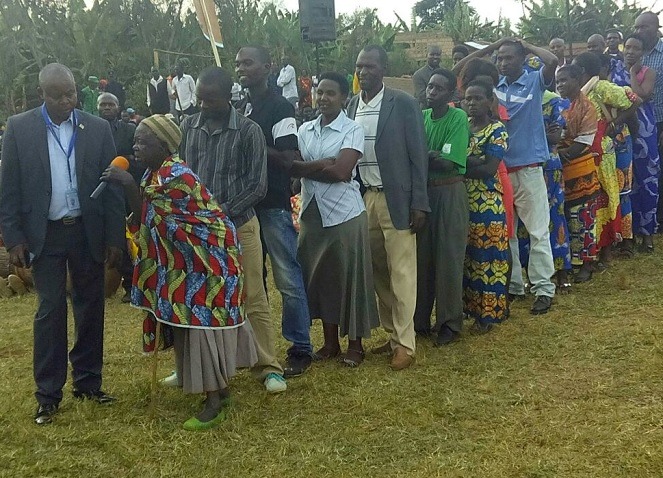 Parliament will this Monday August 10 release its findings from a whirlwind two-week consultation exercise on constitution amendment.
Results from the exercise conducted between July 20 and August 3, 2015 in 406 sectors of all the 30 districts, will reflect views on four million petitions demanding the parliament to scrap off article 101 of the constitution limiting the incumbent to two 7-year terms.
Senator Galican Niyongana who was among the 130 lawmakers in the countryside told KT Press Saturday afternoon that Rwandans, "said they want the amendment."
The senate is expected to evaluate the plea of Rwandans and then task the political commission to work on a draft bill that will be sent to the house for consideration.
All opposition political parties accept the Democratic Green Party (DGP) that has filed a lawsuit, have endorsed the amendment.
Laurent Nkongoli, a lawyer and human rights activists told KT Press that, "I recommend the parliament to make a meticulous report and highlight convincing arguments for or against the amendment."
President Kagame has said he believes the constitution should not be amended unless he is convinced "beyond reasonable doubt" on why people need him to re-run.
Parliament has to agree and suggest a process of amendment, if not cabinet will have to recommend a referendum.
Domicien Nzabanza 66, from Bushekeri sector in Nyamasheke district told MPs last week that he will be disappointed and frustrated if they don't amend the constitution to allow him vote for President Kagame for another term.
Nzabanza is a beneficiary of many of Kagame's policies, particularly Vision 2020 Umurenge program (VUP) that provides the elderly and vulnerable Rwandans direct cash for upkeep, small loans for business and paid public works to improve their incomes.
Nzabanza's reason is that before Kagame was president, he was so poor that sleeping on a mattress was a luxury. But because of Vision 2020 Umurenge program, he has made savings and bought one. "I now sleep on one and I sleep like a baby," he explained.
As for Senator Niyongana, "There are many chances this article [101] will be amended."