Rwanda and Djibouti have today signed an agreement that exonerates visa fee for diplomatic and service passport holders from both countries respectively among a series of memorandum of understanding (MoUs) that will strengthen trade and political ties.
The agreements were signed during the first day of official visit of President Paul Kagame and First Lady Jeannette Kagame to Djibouti.
They were received by Djibouti President Ismaïl Omar Guelleh and Djibouti First Lady Kadra Mahamoud Haid.
President Kagame told the media in Djibouti, during a joint press conference, that both countries signed crucial agreements.
"This time we are here, and before, our ministries signed documents of cooperation in specific areas and we are very happy with this."
In Djibouti, President Kagame and First Lady Jeannette Kagame are accompanied with Minister of Trade, Industries and East African Community Affairs, Francois Kanimba, Minister of Youth and ICT Jean Philbert Nsengimana and Minister of Foreign Affairs and Cooperation Louise Mushikiwabo among others.
They signed cooperation agreements relevant to their various portfolios with their Djibouti counterparts.
Bilateral agreements that were signed include exoneration of visa fee for diplomatic and service passport holders between both countries.
"We have signed an agreement that exonerates visa fee for diplomats and service passport holders in our countries. That is just the beginning; others will follow," responded President Guelleh to a journalist who asked an update on exoneration of visa fee for all the people travelling to Rwanda from Djibouti and vice versa.
"Our two countries desire closer collaboration on issues of common interest, in particular trade and investment," said President Kagame.
The cooperation between Djibouti and Rwanda is not narrowed down to the areas where Ministers signed agreements.
"Our cooperation is not limited to these areas but extends to many others that our two sides find mutually beneficial," said President Kagame.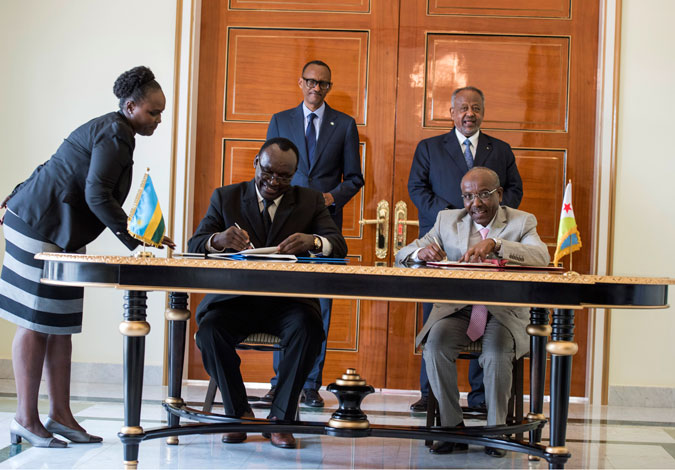 For President Kagame, benefiting Djibouti Rwanda cooperation, are not people of both countries, but Africans in general.
"We will continue to work together to advance integration in the region and continent particularly through ongoing AU reforms and continue to advocate for greater unity. The goal being increased prosperity for Djibouti and Rwanda, our region and Africa," said President Kagame.
President Kagame, during the 27th African Union General Assembly in Kigali, July 2016, was tasked to reform the Union giving it a design that will assure autonomy and self-reliance.
He then formed a team of experts to help in this task and the report was filed in January during the General Assembly of AU in Addis Ababa, Ethiopia.
"We have worked together and we will continue to work together to contribute to the wellbeing of the African people as we build on what we have given our own people of our two countries," said President Kagame.
President Guelleh said that his country has interests to be a friend of Rwanda.
"We want to benefit from the experience, performance and vision of President Paul Kagame who managed to succeed where many of us have failed," said Guelleh.
"He succeeded to develop and create peace, reconciliation and to put Rwanda on the level of an excellent and emerging country. It's a glory for all the Africans and an honor for Rwandan people."
Guelleh said his country is with Rwandans as they commemorate the 1994 Genocide against Tutsi.
He demanded that perpetrators should be brought to book.
"Peace and Security Council should do its work to track the genocide suspects that are still wandering in several countries," said Guelleh.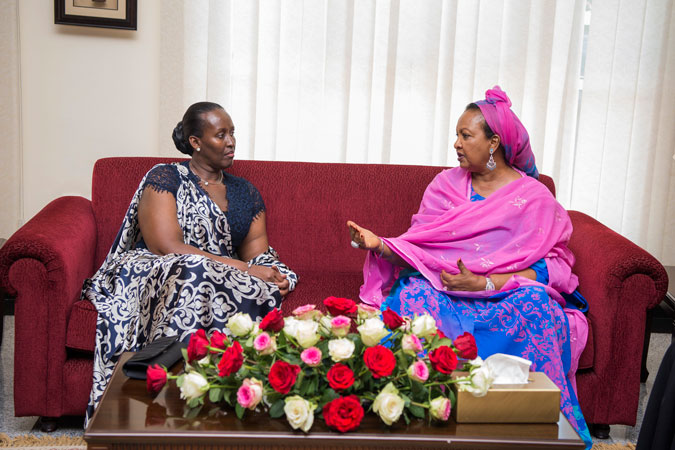 Also during this visit, the First Lady of Rwanda Jeannette Kagame visited the Union Nationale des Femmes de Djibouti (UNFD), on the invitation of First Lady Kadra Mahamoud Haid.
First Lady of Djibouti has been the President of UNFD since 2000.
At this visit, the First Lady of Rwanda was warmly welcomed by hundreds of women from the Djiboutian government and civil society.
Several presentations at the meeting summarized achievements of Djibouti women in the last four decades of country independence: women participation in judicial and political sectors to mention but a few.
The First Lady of Rwanda also visited several activities by Djibouti women.
One of those activities is the Centre d'écoute, d'orientation, et d'information– which just celebrated 10 years of fighting gender based violence, while providing a safe place for women (and men) to report cases of abuse and begin the healing process through medical care and legal advice.
This centre could be compared with the Isange One Stop Centres in Rwanda which the First Lady Jeannette Kagame largely supports.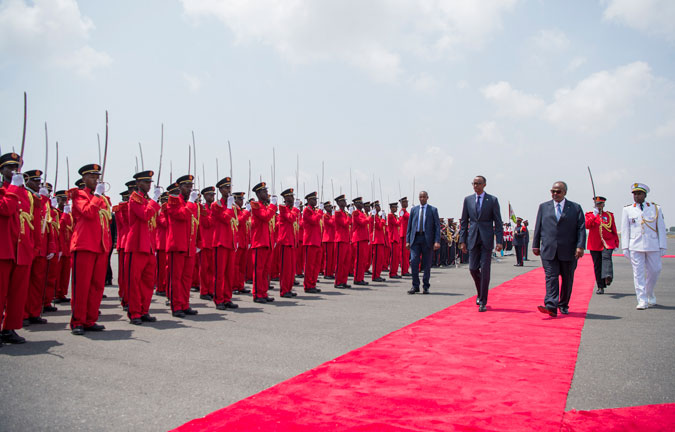 Rwanda is represented in Ethiopia by an Ambassador- Hope Tumukunde – based in Addis Ababa Ethiopia. Likewise, Djibouti's Ambassador to Rwanda is based in Ethiopia.
Rwandan community in Djibouti is made of just 30 people, most of whom work as engineers in different military bases, while three have lived in Djibouti for almost 30 years and are teachers.
Rwandan community to Ethiopia is however set to increase in new future.
Rwanda was given 20 hectares of land by Djibouti at the Port of Djibouti, and the country is still looking for investors to develop the land, according to Minister Louise Mushikiwabo.
Djibouti has also got land in Kigali Economic Zone.
Guelleh toured the Kigali Economic Zone while in his visit to Rwanda last year.
President Paul Kagame and Mrs Jeanette Kagame will be attending the State Banquet hosted by President Ismael Omar Guelleh and First Lady Kadra Mahamoud Haid, this evening.