Rwanda's ruling party Rwanda Patriotic Front (RPF) Inkotanyi has announced it will conduct a house-to-house campaign across the country in search of votes for their candidate.
"Our (RPF) volunteers will campaign at every household as part of maximizing our campaign reach. Besides that, our candidate Paul Kagame will reach each of the 30 districts of the country," party Secretary General Francois Ngarambe said on Wednesday.
Fully fledged campaigns are scheduled to begin on Friday, July 14th until the final day when Rwandans will go to polls on August 4th.
Ngarambe told journalist on Wednesday that RPF will hold its first campaign rally in Ruhango district, Southern Rwanda.
Responding to KT Press inquiry on the choice of Ruhango district, Ngarambe said; "Our last Presidential campaigns started in Kigali and Northern Province. We just decided to start with Ruhango this time."
Last week, the National Electoral Commission (NEC) announced only three candidates; incumbent President Paul Kagame of Rwanda Patriotic Front (RPF)-Inkotanyi, Philippe Mpayimana – an independent candidate and Frank Habineza of Democratic Green Party as the only qualified to contest for presidency.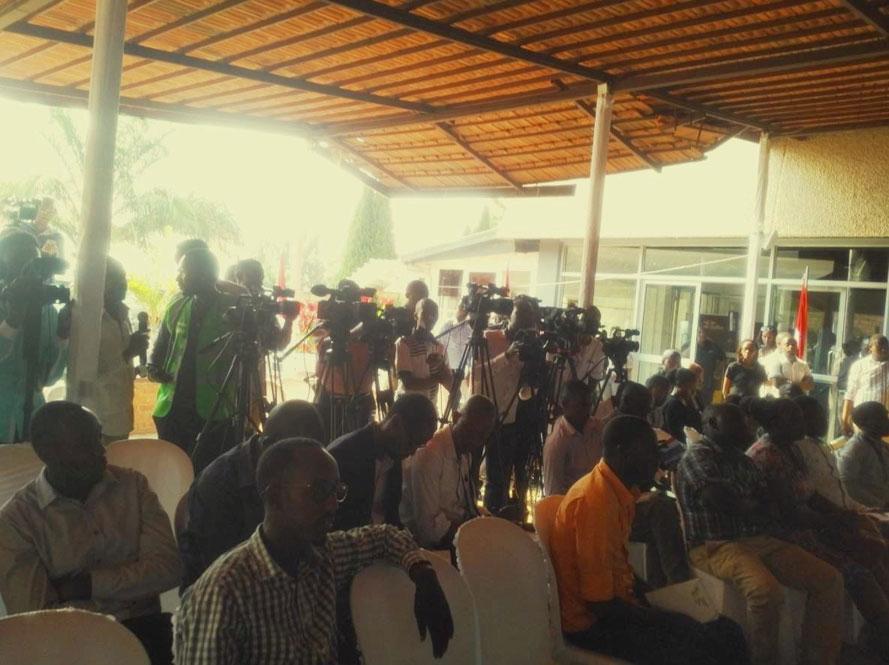 Other Presidential candidates Diane Shima Rwigara, Gilbert Mwenedata and Fred Sekikubo Barafinda were disqualified from taking part in the presidential race for failing to meet set requirements.
According to RPF, their candidate will travel to hold a rally in every district because they want him to meet all Rwandans and share what they have achieved together.
"The RPF candidate will meet with Rwandans in every district to witness progress made and hear challenges citizens meet. We look forward to working together with all Rwandans to find solutions faster through the new RPF Manifesto.
"The aim of RPF campaign is to reach every voter," Ngarambe told local and International media gathered at the party's media centre in Kacyiru – in the capital Kigali.
Ngarambe said his party is contented with the progress made in the just concluded  7-year term of its leadership.
"We have made significant progress in key areas; economy, social welfare, good governance and justice. The driving force behind the results we see is the determination and hard work of Rwandans and the commitment of RPF-Inkotanyi to Rwanda's transformation," Ngarambe said.
The Secretary General invited all Rwandans to turn up for RPF-Inkotanyi rallies in their communities and exercise their right to vote on August 4th, 2017.