Soya bean farmers in Rwanda are destined to reap big from a new processing plant that will begin buying their produce at a slightly higher price.
The $60 million Africa Improved Foods (AIF) plant has production capacity of up to 35,000 tons.  The plant which produces highly nutritious foods needs 7,000 tons of soya and 23,000 tons of maize grain.
Currently, much of the Soya is being purchased  from suppliers in neighbouring countries as a result of local farmers not being able to meet the high demand in Rwanda.
Cyprien Semakura, the president of CODPCUM Mukama- a soya growers' cooperative in Nyagatare district says that farmers have increased the amount of land for soya growth to meet the current market demand.
Semakura says that the 68 members' cooperative has increased from 15 hectares of soya land to 30 hectares and the produce is expected to be on the market as soon as the harvest season starts.
"We have had difficulties with the dry season, but we are looking at a good harvest. We have been offered low prices from Mount Meru Soyco at (Rwf350) but will negotiate for Rwf420 with the new nutrition plant (AIF)," Semakura said.
There are about 9,000 farmers' cooperatives involved in soya production across the country, especially in Southern and Eastern provinces producing more than 60,000 tons annually.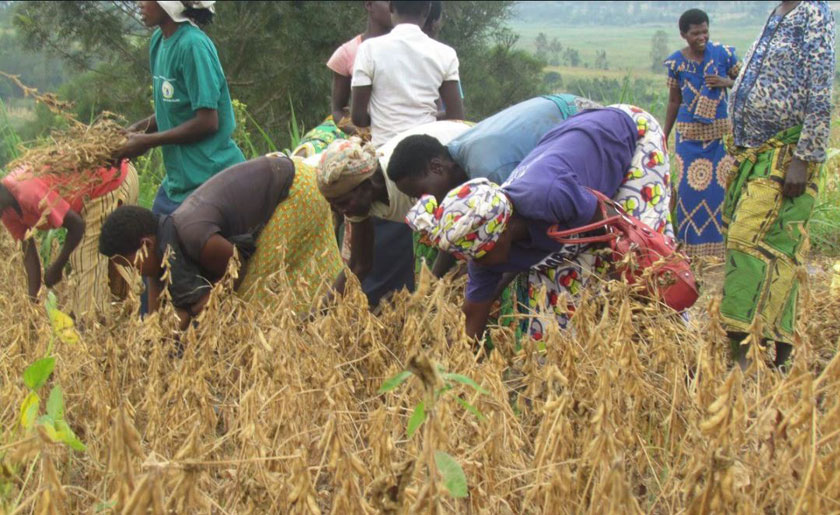 In eastern province, district officials have set a target of producing over 150metric tonnes per year to meet the current demand which has also been increased as a result of a new soya plant (Soyco) in Kayonza district.
Francois Xavier Nkusi an agronomist in Mareba sector, Bugesera district said that this target will be attained training farmers and trying resistant soya seeds.
"Soya production has been affected by drought but we have trained and encouraged them to plant better seeds," Nkusi said.
The AIF plant alone needs 200 metric tons of soya every day to satisfy its installed production capacity and AIF is committed to supporting local Rwandan farmers to meet its raw materials demand.
AIF is planning to receive about 40,000 tons of raw materials (maize and soya) directly from farmers in 2017 and will need an annual supply of 30,000 tons of maize and 9,000 tons of soya in order to produce 45,000 tons of fortified food annually.
Government has enabled farmers' cooperatives access to a long term loan facility worth Rwf6 billion ($7.3 million) to increase soya productivity, but operations between farmers and middlemen have been a major.
Matilda Uwizeye, the Soya Focal Point at Rwanda Agricultural Board (RAB), said, "we are seeing a closer working relationship between farmers and the companies. This will enhance production and cooperation."
Africa Improved Foods, the Rwandan based producer of high quality and nutritious complementary foods has unveiled their products like Nootri.
The Africa Improved Foods plant is built in line with European technology and is FS22000 certified to produce nutritional complementary foods for not only Rwanda but also East African region.
AIF Rwanda is a joint venture between the Government of Rwanda and a consortium of Royal DSM, Dutch development bank (FMO), DFID Impact Acceleration Facility managed by CDC Group plc and IFC, the investment arm of the World Bank.
The state-of-the-art plant is the first of its kind in Africa and is based at the Special Economic Zone in Kigali City.