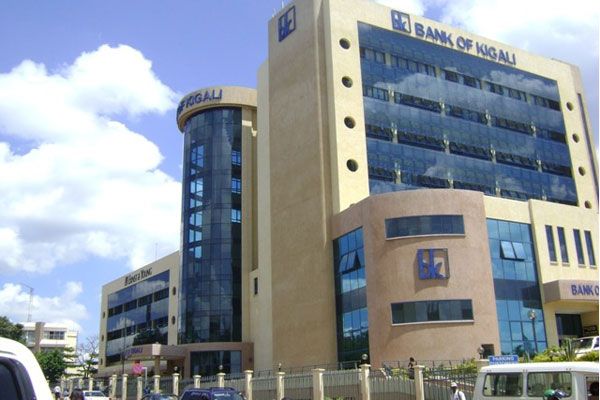 Rwanda leading commercial bank in terms of assets– Bank of Kigali (BK) Group has launched a new client based product that will enable its clients to get a quick loan without collateral and save at a click of a button.
Normally, it's only banks allowed to provide loans to clients, but in the corridors of financial transactions, especially in Kigali, some businessmen offer loans to persons in need of quick money at a 30 percent interest- financeable in a month with guarantee, a system commonly known as Bank Lambert.
On the black market rules, failure to abide by this timeline, 'Bank Lambert' dealers normally confiscate the guaranteed assets- which range from laptops, cars and even houses depending on the amount borrowed.
By dialing *334# , using the BKApp or BKonline banking, the new cashless product 'BKQuick' or 'SingombwaKash' allows one to borrow up to Rwf500,000 repayable between one and six months with an interest of 4 percent and a fine of 2 percent in case of defaulting.
On the saving side, the 'SingombwaKash' product will allow one to make an auto save a specific amount of one's choice monthly, but also get an interest 6.5% compared to other fixed and simple saving modules at 7% interest.
Celebrating 50 years in 2017, BK launched a 'Bigereho' product which enabled the bank to get over 30, 000 new clients and 'SingombwaKash' campaign is expected to build on this achievement.
"We want to be relevant to these clients, to keep them active with more and better services where one doesn't have to worry about accessing a loan or save," said BK CEO, Dr. Diane Karusisi, during a launch briefing on Thursday.
The new product, that requires one to have a BK account, is expected to propel Rwanda's cashless society drive launched three years ago but also with consideration of one's incomes in terms and conditions for getting a loan.
"We will consider one's financial capacity when it comes to borrowing but this will require one to be active starting with saving. In case they don't have a consistent income, we can discuss basing on their bank history." said Vincent Gatate, the BK Chief Commercial Officer.
On the other hand Dr. Karusisi also revealed that this product puts the bank at a risk when it comes to clients who refuse to pay back, but working with the Rwanda Credit reference bureau will enable BK to monitor client financial behavior.
"Since we don't ask for collateral, we can lose as a bank if a client completely fails to repay the loan, but working with the credit bureau will assist to mitigate these cases," Karusisi said.
According to BK officials, clients with a good standing financial status don't have to use the BKquick to get a bank loan money, but can use the product to make quick payments and transfers without stepping out of the locations.
While there is ineffectiveness in similar "quick" bank loans and cashless services provided by telecoms and other banks, for Rwanda Banks Association(RBA), the 'SingombwaKash' product is a pace setter and a challenge for other bankers in the cashless drive.
"For us this is score. From ATM campaigns to quick loans and saving we believe that Rwandans will not carry money on them. At some point even ATM machines will no longer be useful," said Jacqueline Mugwaneza, the RBA official at the launch event.