January to early May is Rwanda's big rainy season, time for growing several crops and expect good harvest afterwards.
It has been so for many years, but for the last couple of years, communities in many parts of the country will remember the season for something different.
Crops have been destroyed on hundreds hectares, houses collapsed, but more sadly, the season will leave many orphans and widows.
Disasters always cost lives of one person or two whenever it was rainy season where, for example, a house could collapse on a family member.
But since March, huge shocks were registered.
It started with Nyaruguru district where one Saturday on March 10th , hundreds gathered for prayers at Nyarunazi Adventist church in Nyabimata sector.
It rained so much that day, but the congregation never thought that something bad could follow. Rather, they continued with worship as it poured until they were not able to hear each other.
This was followed by thunder strike and suddenly 15 people died, including some members of a visiting choir.
Murera Mateso from Nyabimata will not easily recover from the loss of his wife who left him with two sons.
To him, the incident, "was an apocalypse as I read in the bible."
In the rainy season, March normally has the average rain compared to April.
Indeed, the month that ended on Monday recorded much more victims of the disaster.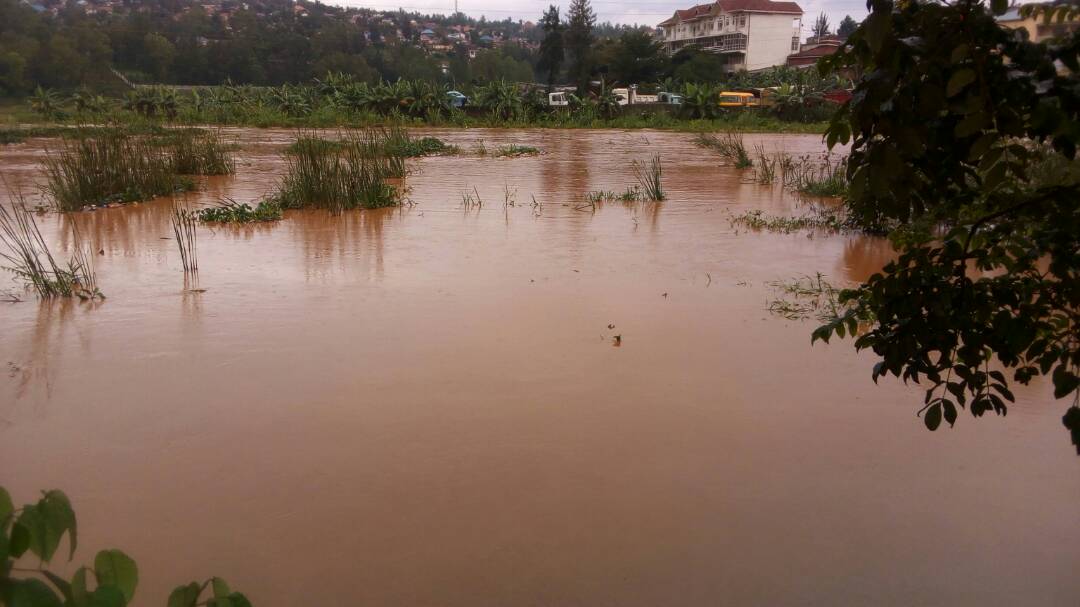 In April, the main link of the southern, and Western province to Kigali – Nyabarongo via Ruliba bridge was always problematic with people travelling back and forth wondering how they would reach home in the evening.
The river has always flooded at a point that security organs are at times obliged to suspend traffic.
The rain is only starting and, sadly, it is causing more deaths, not only in the south, but also across the country.
On April 23rd at night, heavy downpour caused floods and weak buildings, those in high risk zones(near marshlands) and slums in city of Kigali, Gatsibo district to mention but a few, were victims.
That very night, floods, collapsing houses claimed 19 people, including women and children. Of the deceased, 7 were from Rulindo district of Northern Province, 3 from Gatsibo district in Eastern Province and 9 from Gasabo district-Kigali.
Only the Western province was relatively 'fatal disease-free', but not On April 29th -30th when it poured in Ngororero district and the landslide carried hills to the valleys in sectors of Kageyo, Muhanda, Hindiro, Kavumu and Kabaya.
Shockingly, the landslide carried buildings too. 9 people including 8 children lost lives and it was feared, that more victims could be registered as it continued pouring the whole day-April 30th.
However, until press time, there was no further updates that indicate otherwise.
Ndayambaje Godfroid, the mayor of Ngororero district advised the residents "please vacate from the area which is susceptible to high risk until further notice."
And this was apparently the same comment of a citizen who read a story from our Kinyarwanda sister website, KT Web.
"Be vigilant please because the rain these days has become dangerous. If it rains at night, wake up, and if necessarily vacate the house," said Donat Niyonsenga, the reader.
Meanwhile in Kabagesera cell of Runda sector, Kamonyi district, local leaders were on April 26thwarned that delay to relocate citizen from high risk zone will cost them.
This came after a family of five was the victim of a landslide. Four children and their mother who lived in dilapidated house in the foot of Mbuye village were sleeping at night when a landslide hit their house.
The executive secretary of Runda sector Mwizerwa Rafiki told KT Web, that two bodies were found in the house remains, while two others were found at the adjacent river.
Mwizerwa said that ten other families are in high risk and said, they are going to relocate them to houses under construction.
"The houses are nearly completed but we cannot wait to see more victims," he said.
"We have to relocate them right away."
Every year, dozens of thousands of households are relocated from high risk zones, which are the areas susceptible to landslide.
For example, during the Fiscal year 2017/18, 17,249 Households (HHs) living in Scattered Settlements and were built.
Moreover, 3,905 households in High Risk Zones are supposed to be relocated to the planned settlements, the model villages in all 30 districts.
Pending this relocation, however, dwellers of high risk zone are losing life.
Meanwhile, beside human lives, other losses were registered between January – April from disasters.
The rain damaged 4,560 Ha of crops and destroyed 120 houses. They destroyed 23 roads, 7 churches, 33 bridges and killed 705 livestock.
At every site, the government, through Midimar hastens primary support to families of victims.