Dr Christian Ntirizima, a specialist in palliative care has been working with patients of incurable diseases for the last 10 years, but a case he experienced in 2014 has stuck into his mind.
It all started in 2014, when a high school student he only identifies as Phionah fell down and broke her knee while playing basketball with classmates at school in Nyanza District, Southern Province.
Fionah's knee kept swelling and four months later she was diagnosed with cancer at Kigali University Hospital (CHUK).
As the cancer kept spreading they cut her leg and transferred her to Kibagaga Hospital where she could get palliative care – a holistic care that touches all aspects of treatment including physical, social, psychological, family and spiritual.
Palliative care givers improve the patient's life span on earth by focusing on the symptoms of both the disease and the treatment. Palliative care helps patients with a wide range of issues including pain, depression, anxiety, fatigue, shortness of breath, constipation, nausea, loss of appetite and difficulty sleeping.
For the case of Phionah, according to Dr Ntizimira, "In both hospitals, her mother did not want to take care of her, not even seeing her. There was only one aunt who was compassionate," he said explaining how they later on learnt that her mother was actually a Genocide Survivor who had lost her husband and all her three children during the 1994 Genocide against Tutsi.
"She couldn't believe it and she was not ready to hear that she was again going to lose her daughter," Dr. Ntirizima said.
Her mother, said Ntizimira, only accepted to see Phionah two days before her death. Even this wouldn't have been possible, if the hospital had not counseled the mother.
"A week after Phionah's death, her mother called me giving thanks for the care we gave to her child and herself and told me that wherever I go I should share Phionah's story," Ntirizimira said.
Ntizimira's example was a wake up call for the medical practitioners and the community at large to know that treating a patient should not be limited to the only physical aspects, rather, social, psychological, family and spiritual aspects should also be taken care of especially when it's about a patient with incurable disease.
He said that most of Non Communicable Diseases (NCDs) patients are abandoned by the society, therefore subjecting their life to more pain.
"At the hospital, sometimes, they tell a patient that they did all they could and discharge them from the hospital but in palliative care, we always have what to do to alleviate sufferings," he said.
"When you are well, you belong to yourself, but when you are sick you belong to your family. That's what I realized in my 10 years experience in palliative care," Dr. Ntirizima said requesting Rwandan communities to stay close to NCDs patients and comfort them.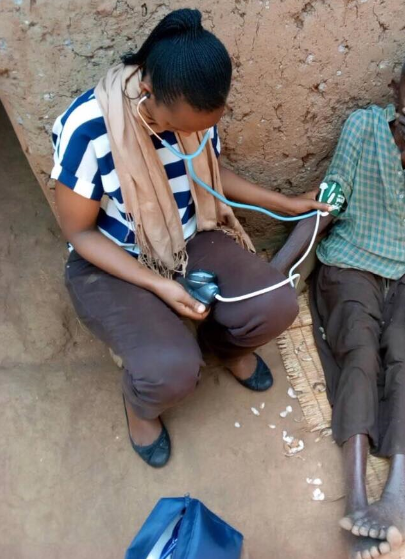 For Aimable Ruzima, founding member and committee member of Rwanda Palliative Care and Hospice Organization, a nongovernmental local organization dealing with palliative care in the capital Kigali, only few Rwandans know about palliative care and those who are aware of it "have a scary reputation of it, relating it imminent death."
Since Rwanda Palliative Care and Hospice Organization started taking care of patients, they have attended to 234 patients including 144 women. Of this number, 90 of them were cancer cases while others had other diseases including stroke, HIV/AIDS, hypertension and diabetes.
So far, 155 passed away and they are still taking care of 79 patients.
"Palliative care is not intended to hasten or delay life, but to alleviate suffering and lessen burdens on patients and their families, accompanying the patients to a dignified end," Ruzima told KT Press.
In 2011, Rwanda was the first country in Africa to develop and implement the palliative care system and one year later, the country trained medical personnel in palliative care giving.
While all hospitals in Rwanda have palliative caregivers, in the early beginning of this year, through Rwanda Biomedical Center (RBC) under the Home Based Care Practitioners (HBCP), 1000 youth were trained to offer free special treatment and companionship to NCDs patients in their last days.
"Even if we can't cure someone, the pain can be appeased. That's why the HBCPs are equipped with sufficient painkillers like morphine," Diane Mukasahaha, National Coordinator of Palliative care at RBC told KT Press.
Meanwhile, Dr Ntirizima revealed to KT Press that while morphine, a pain killer used to ease pain for NCDs patients is free of charge in Rwanda, medics are still reluctant to prescribe them to patients.
While Rwanda needs at least 97kg of morphine a year to cater for all NCDs patients, only 10kg are used, he said expressing the pain NCDS patients go through.