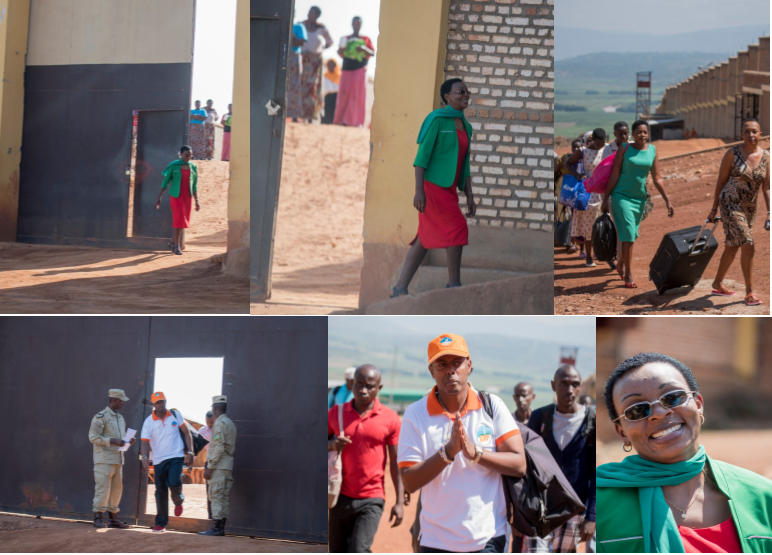 September 14, 2018 was a day like any other under the sun, but a communiqué that reached out to the public towards midnight changed the narrative.
A communiqué was released announcing that President Kagame had commuted the prison sentences of Ingabire Victoire who had been sentenced to 15 years and singer Kizito Mihigo who had been sentenced to 10 years on various cases.
On that very day, more than 2000 inmates were also pardoned and all of them walked out the 13 prisons the following morning.
While Ingabire had already served half of her sentence, Kizito Mihigo had barely served a third, but the most important here is not the sentence length because more prisoners in Rwanda are serving a much longer sentence.
The most important is rather the pardon and the narratives that were formed around the case of both prisoners from their arrest to their day of release.
Ingabire was found guilty of spreading rumors with intention to cause insurrection, endangering state security and minimizing the 1994 Genocide against the Tutsi.
Dismissing a lesser term from the High Court, the Rwanda Supreme Court in December 2013 increased Ingabire's jail term to 15 years.
Several Rwandans abroad and those in the country and their supporters who had made Ingabire Victoire a "political prisoner" had shouted quite enough, cursing Rwanda's judicial system which they accused of partiality.
They also did the same in the case of singer Kizito Mihigo who was also found guilty of serious crimes.
Kizito who had with so much ease been accessing state functions where President Paul Kagame attended, discussed the possibility of assassination. Prosecution evidence revealed he and dissidents in South Africa planned Kagame's assassination.
Interestingly, the group of this 'defense' mechanism was joined by professional lawyers and lawmakers from countries that have labelled themselves as masters of the rule of law.
They even pretended to know that the inmates, especially Ingabire"was mistreated in jail", but the latter told the media that she was thankful for the good treatment in jail.
Upon release, Ingabire Victoire was quick to tell the western media that actually she had never apologized, but the president pardoned her "because he was under pressure".
However, several letters she wrote to ask for pardon proved her wrong.
Addressing the 4th Parliament which took oath on September 19, 2018, Kagame rebuked the claims saying his government 'never responds to pressure."
"The so called 'political stars' who were released recently say they were released because of pressure. In Rwanda, it is not pressure we respond to, it is our own thoughts. Where this country is coming from has taught us that we must refuse to be a submissive people," he said.
Ingabire made several other statements until October 9 when the Rwanda Investigation Bureau (RIB) called her to remind her of her release terms, and to warn her of circumstances that may cause her to return to jail.
Ingabire is now at her Kigali home and so is Kizito and their release was followed by several other surprises.
The Rwigaras get acquitted
A case involving among others, Adeline Mukangemanyi Rwigara and Diane Shima Rwigara, respectively spouse and daughter of late Assinapol Rwigara, a city mogul was also concluded on December 6 with all defendants acquitted.
Diane Rwigara was accused of inciting insurrection and forgery while her mother Adeline Mukangemanyi Rwigara was being accused of propagating divisions or sectarianism.
The prosecutor had earlier on asked for 22 years for Mukangemanyi and a fine of Rwf1 million and 15 years for her co-accused.
For Diane Rwigara, prosecution had requested for 22 years and a fine of Rwf3 million.
This case had also triggered several criticism against Rwandan courts and government since the arrest of the defendants late 2017. It is a case that showed a degree of bias among some international organizations and individuals.
The former Secretary General of Francophonie Michaëlle Jean who was replaced by Rwanda's Louise Mushikiwabo during the elections held in Yerevan, October 12, was heard being alarmist about this case.
On November 8, 2018, she took to twitter and asked that the world "should follow with interest a case of freedom of speech involving an activist Diane Rwigara."
Several feedback, still on twitter, responded to Michelle that she had indeed failed to concede defeat.
The judiciary had much more in the basket to show that they had taken note of what President Kagame said during Umushyikirano – National dialogue in 2016.
He said, "You will see less of what we have been criticized for, if what we have been criticized for has been fair, honest and true," he noted.
One of the criticism that were raised for years, was about the National Police investigating and arresting suspects.
In 2017, a law providing for a new investigation body separate from the police and whose staff are civilians was put in place, but the body itself started its function in 2018.
Bye Bye CID
To handle loopholes in police led judicial investigations Government established an independent organ – Rwanda Investigation Bureau (RIB) in April and approved the transfer of 463 police officers a day after the organization got its top leadership.
RIB replaced the Criminal Investigation Department(CID) which was a police department.
Apparently, RIB is still recruiting. In every cabinet meeting more staff are approved for RIB.
Meanwhile, In May, the Rwanda judiciary took a turning point, introducing an appeal court into the judicial system to limit the work log.
The court sits in between the Supreme Court, and High Court thus cutting the time a case spends in court and how far a case can go.
This change means that only a few cases will be able to reach Supreme Court, as part of the continued process of reforms in Rwanda's judiciary system which started back in 2004.
In other reforms, the Supreme Court in Partnership with Transparency International Rwanda (TIR) jointly launched a Web and SMS- based tool for monitoring service delivered by courts and tribunals.
In the system, the cases will be accessed by the judiciary, National Public Prosecution Authority; the Office of Ombudsman and Rwanda Bar Association to jointly handle complaints submitted.