Residents of Rweru model village in Bugesera district are celebrating the festive season with a smile, thanks to cows they got as a gift from Indian Prime Minister Narendra Modi in July 2018.
During Modi's visit to Rwanda he gave a gift of 200 cows destined for Rweru model village established in 2016 for residents who were relocated from Mazane, a remote island between Rwanda and Burundi.
The Indian Prime Minister offered money and the cows were purchased locally.
By mid-December 2018, 38 cows out of 47 that were given in phase one had reproduced while the nine remaining are also expected to give birth in March 2019, according to Hyacenthus Uwitonze, the Bugesera district veterinary Doctor.
The cows now produce 280 liters of milk daily – an average of 8 liters per cow. The farmers keep a small portion for the family consumption and sell the rest at  the nearby Gashora milk collection center (MCC).
One of the beneficiaries Eric Muhayimana 25, told KT Press; "the greatest happiness is when I start milking my cow at around 6:00am. My cow is now paying me a monthly salary."
Muhayimana's cow produces 17 liters per day and he sells 16 liters keeping one for his two children. He sells his milk at Rwf250 per liter which earns him Rwf120, 000 per month. Muhayimana says that he saves between Rwf60, 000 and Rwf80, 000 per month
According to Uwitonze, the cows that were given to Rweru community are 50% Friesian breed. At that level, a cow produces an average of 10 liters, but milk production can increase depending on the feeding.
"On the second round, we expect a much higher increase in production as the cows are put on concentrate feeding," Uwitonze said.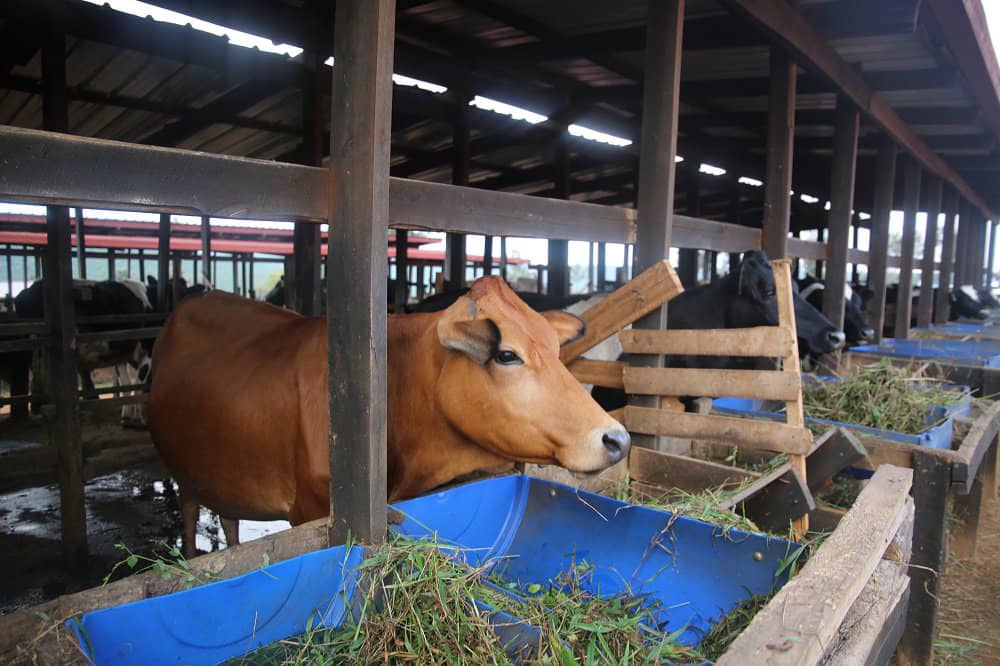 Agnes Uwizeyimana 46, another beneficiary told KT Press that she sells 10 liters daily, keeping two for her three children.
"My children are healthy now. Long live the government for these cows," Uwizeyimana said adding that the money will help her in feeding her family and paying school fees for her children.
Dr Solange Uwituze Deputy Director General of Rwanda Agriculture Board (RAB) told KT Press that in the first phase, only 47 cows were given out pending construction of infrastructure and relocation of more residents from Sharita Island.
Other 120 households are expected to relocate next year.
"In the first phase we gave out 47 cows which the residents were able to cater for. In the second phase, we shall give out more 153 cows to beneficiaries in June next year," Uwituze told KT Press.
Meanwhile, Richard Mutabazi, mayor of Bugesera district told KT Press that the calves will be given to other families which do not have cows so far, which is a common system in Girinka program.
In this system, neighbors get cows, and when they reproduce, they give calves to their neighbors who do not have. The cycle continues until everyone is catered for.