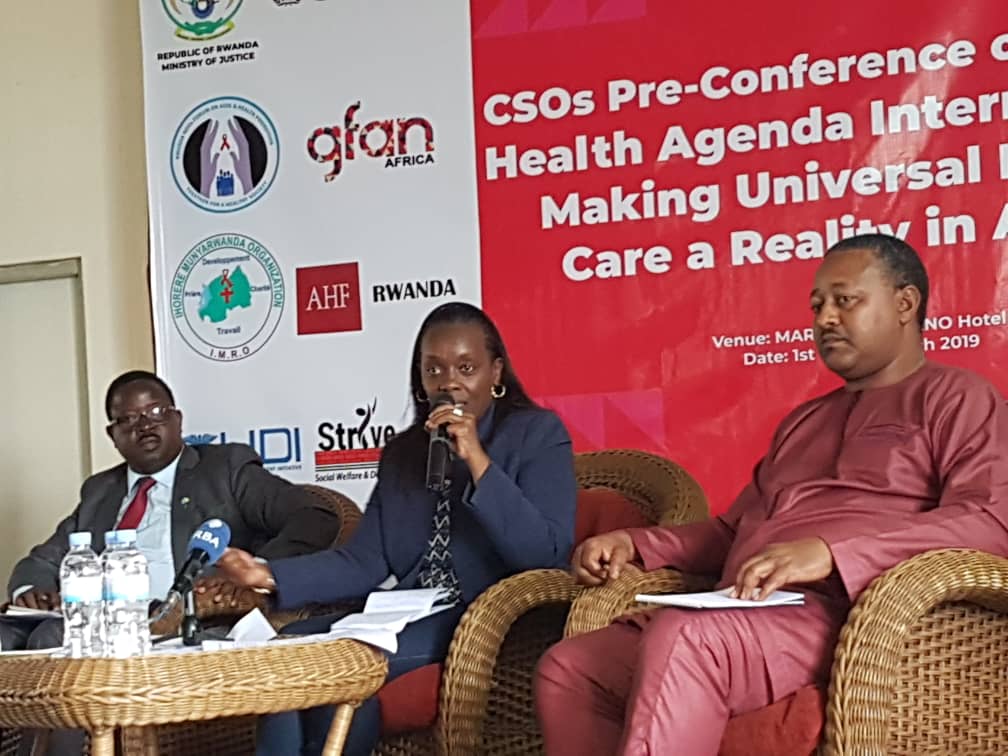 A high ranking Global Fund (GF) official has said that Rwanda will be used as an example to showcase to other African countries how universal health care (UHC) funds should be solicited and used in ensuring improved access to health for all.
"There is no better example than Rwanda for the rest of Africa to learn how it is important to use the available resources, to be accountable, monitor activities and finding, how grown solutions are deployed to increase local funding," said Linda Mafu, the Head of Political and Civil Society Advocacy based in Geneva, Switzerland.
Mafu, is in the country to prepare for next week's continental Conference on Africa Health Agenda International – a CSO dialogue aimed at making UHC a reality in Africa which will be in Kigali from March 5th – 7th, 2019. At least 1200 participants expected to attend the conference.
In October, Global Fund is planning to hold the 6th funding replenishment to raise new funds for the period 2020 through 2022 and mobilize partners towards ending HIV/Aids, Tuberculosis and malaria by 2030 in alignment with the Sustainable Development Goals.
GF replenishments are done every three years and donors pledge funding to global health causes which include supporting Africa and other continents.
This year's event will be held in Lyon, France in October 2019.
However, the funding, which is largely American dominated, has in the past years dropped from $30million – from the fifth replenishment to $14million during this year's expected pool of funds for UHC.
Mafu said that while there has been reduction, Rwanda has led the rest of the continent in raising funds locally through homegrown solutions.
"This has been possible for Rwanda because of its political will, leadership and commitment at every level. That is what we want to see from the rest of Africa as we move on in future," Mafu said.
The remarks come at a time when global health funding for African countries has reduced in the recent years, with local Civil Society Organizations (CSO's) calling for a shift in funding mechanisms to have their states increase internal funding in health care.
At a CSO pre-conference dialogue held this Saturday in Kigali, participants said that UHC has not been given its importance and government commitment as agreed during the 2001 Abuja Heads of States declaration for governments to invest at least 15% of their GDP in access to health for all.
Africa scorecard report 2016 shows that only Sudan and Madagascar, were able to implement the decision reaching the 15% by 2016, but new statistics gathered indicate that Rwanda has since surpassed the target reaching an impressive 17% head of new report for 2018.
In order to make their voice heard, CSOs representatives from East, West and Southern Africa prepared a statement that will be handed over at the upcoming Conference on Africa Health Agenda.
"Our biggest demand is to have funding for HIV/Aids. We need to hear government commitments in fighting the disease because if the American president (Donald Trump) woke up and tweeted closure to their funds, many lives will be affected," said Aimable Mwananawe, Executive Director of Ihorere Munyarwanda Organisation and a member of the East Africa Civil Society organization.
Besides African governments failing to implement the 2001 Abuja declaration to funding, healthcare, CSO representative were concerned that African leaders show a poor example by getting treated outside Africa.
"When African leaders get sick they run abroad for treatement but we need to see them seeking treatment in our hospitals, clinics and may be save their countries from spending a lot of money in other countries" Itai Rusike. Executive Director at Community Working Group on Health (CWGH) giving an example from Zimbabwe's failed healthcare system.
Rwanda's Minister of Health, Dr. Diane Gashumba tipped CSOs to take a Rwandan lesson of finding other alternatives of improving healthcare through prevention, social welfare and health insurance for all.
"Rwanda has managed to surpass the target because of internally generated investment in education, access to clean water, sanitation and hygiene which compliment to other resources.
Though not quantified, we have used mass education, mobilization as a tool for disease prevention," Dr. Gashumba said.