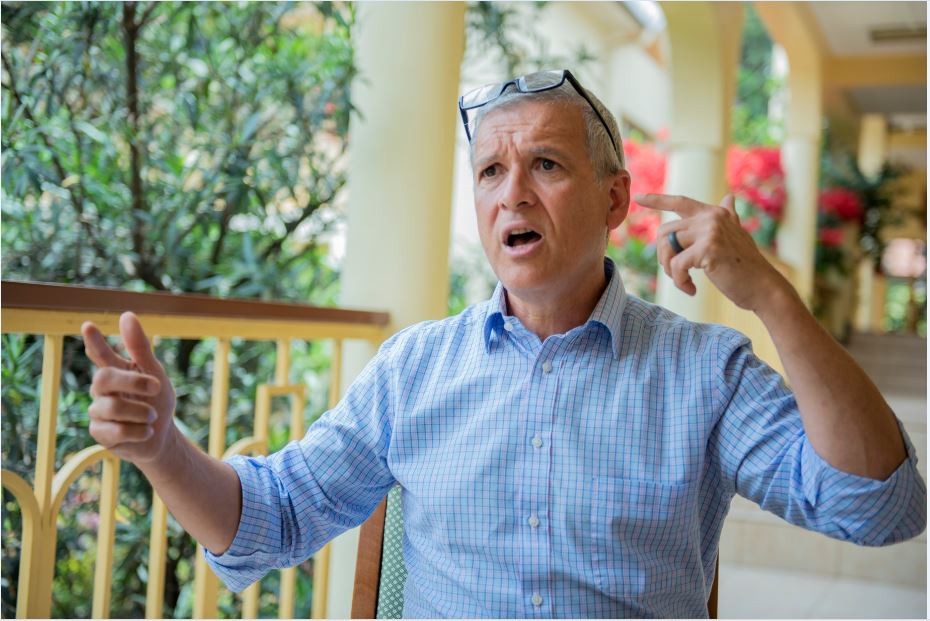 Enduring a scotching sun on Wednesday afternoon, April 3, Carl Wilkens stands near the Kigali main roundabout in the Central Business District (CBD).
He looks up in excitement. No wonder, the sparkling city of Kigali with its magnificent buildings attract Wilken's attention. The look is different compared to 25 years back, he says.
But before moving to the roundabout, Wilkens first confesses to KT Press what strikes his eyes.
"Kigali has completely changed. 25 years ago, there was no traffic flow. No tall buildings like these ones," recalls Wilkens.
He adds: "There was only two tall buildings; Hotel des Milles Collines and National Bank of Rwanda," Wilkens said.
These are few light moments Wilkens can share. But deep past these experiences, Carl Wilkens – the ONLY American national who endured the worst 100 days of the 1994 Genocide against the Tutsi in Rwanda, holds a special story to tell. He saw the genocide happen in his own eyes. He cuddled his three children and wife whenever bullets struck around their residence in Kacyiru – few miles away from Village Urugwiro.
"This was the cross line," Wilkens told KT Press in an exclusive interview at his residence in Kiyovu – Kigali's upmarket.
But what triggered his stay when other foreign nationals were being evacuated by respective countries?
In 1990, Carl Wilkens arrived in Rwanda on a mission as the country director of Adventist Development and Relief Agency (ADRA). He moved to Rwanda with his wife and three children.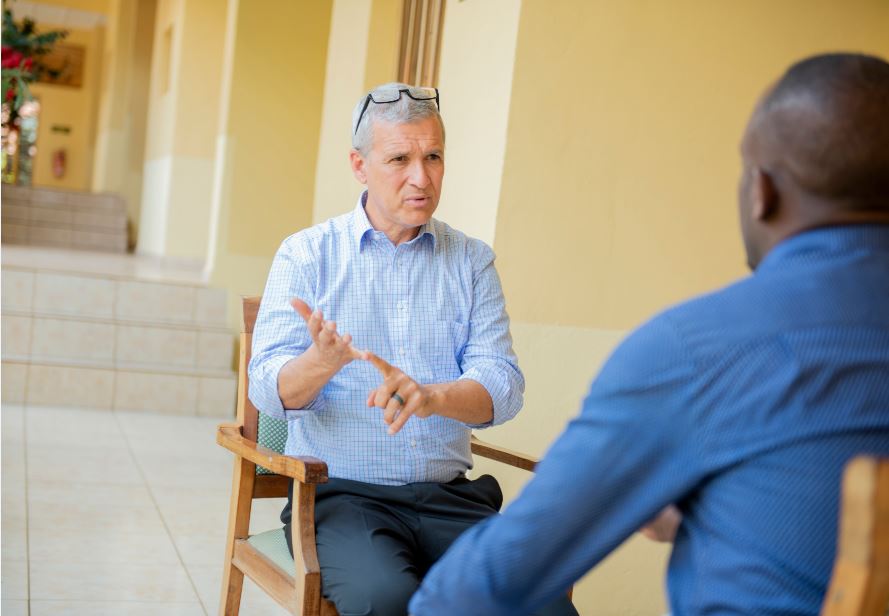 Life was good, until in 1994 genocide broke out – prompting Wilkens to make one of the toughest decisions – to "never leave" Rwanda – irrespective of massive massacre that was ongoing across the country.
KT Press caught up with Wilkens at his temporary residence – Iris guest house. He is in the country for the 25th commemoration of the genocide he personally witnessed.
Among those to commemorate with, is a man and woman who made Wilkens to take such a bold decision to stay in Rwanda when other nationals were being rescued by their respective countries – leaving Rwanda in an abyss.
"The two people were a Rwandan housemaid and a watchman whom we had lived together for 4 years. I thought if I left, they would be killed. This is why I decided to stay with them," Wilkens told KT Press.
The housemaid was called Anita while the watchman was Janvier and he is happy that they all survived the Genocide because they stayed at his house. Janvier  is currently a soldier with Rwanda Defence Force (RDF) who even served in  UN Peacekeeping mission twice in Darfour – Sudan.
Anita is happily married.
When Genocide erupted on April 6, 1994, American Embassy approached Wilkens' family and other U.S. citizens to inform them of an evacuation plan.
This was an ongoing exercise by all foreign missions in Rwanda. They wanted to evacuate their citizens for safety purposes. Wilkens, who had few months earlier received his parents in Rwanda, never heed to American government's call.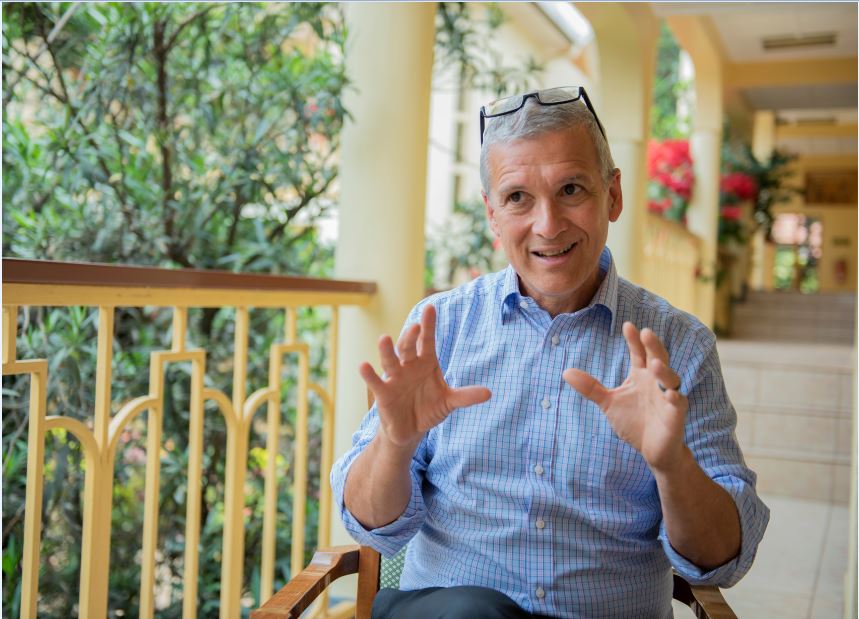 Keeping a strong bond between his family and their Rwandan employees (house maid and watchman), Wilkens decided to send his family to a waiting UN Tank for safety to Nairobi – Kenya's capital.
"When the American embassy said we are leaving they said don't bring any Rwandan in your vehicles. They said we were to drive by road to Burundi. They said we could bring Kenyan, Burundian or any other person from other countries but not Rwanda. And when you looked at it, it was very horrible, because we were condemning planners of the genocide for killing people based on the ID card…and America, leaders of the free world were making this decision. It's terrible. So my wife and I went to the bedroom and prayed and made a decision that I will stay," Wilken told KT Press.
A decision was made and Wilkens started planning how his family, including his parents who had just visited would be evacuated.
"I was in touch with the UN through a radio in my house. A big white UN tank came a bit in the dark and stopped near our gate.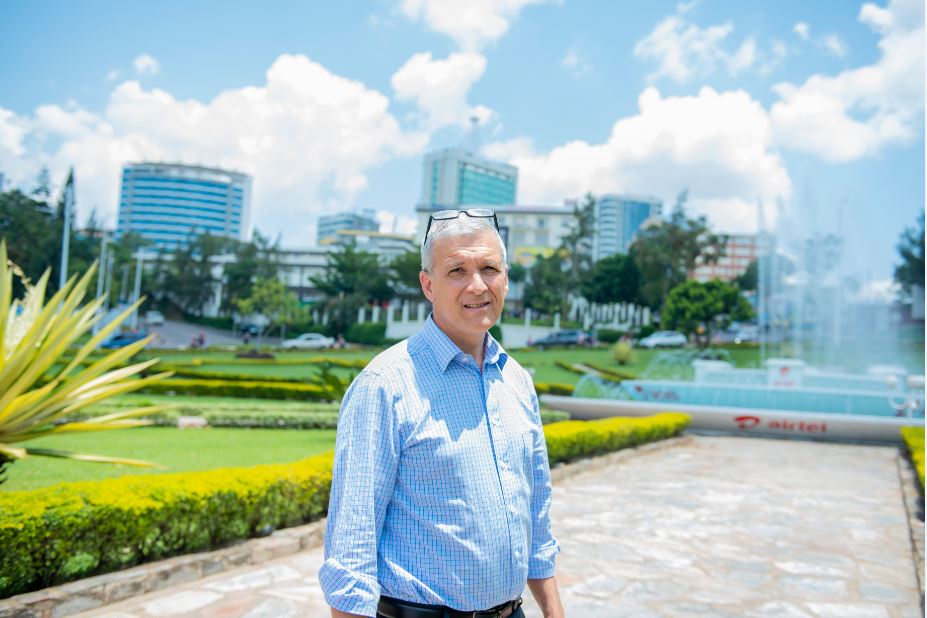 A Belgian Col. Martial climbed out of that tank, and talked to me. I introduced myself to him and said I am sending my wife and children but I am staying," he said.
"One of the things that made it possible for me to stay was because I knew that my wife and children will be in the safe hands under my father," Wilkens told KT Press.
As the tank was ready for rescue, says Wilkens, "My wife and children climbed in the back of our pickup truck, i shut the door and went to the drive way."
"As I watched our camper disappear, tight on the tank's tail, an incredibly helpless feeling came over me; the realization that there was nothing, absolutely nothing I could do to protect my family was unnerving to say the least.
His stay in Rwanda after evacuation did not go without cost.
Upon the departure of his family, he went back to the house and stayed indoor for a couple of days and with little food that he had remained with – mainly powdered milk, he was being fed on rain water.
A couple of days later, Interahamwe militia Genocide camped near his Kacyiru home. He got an idea to keep records of what was happening around him.
"It must have been the second week of the Genocide that I got the idea of talking on cassettes to record what was happening around me. I honestly did not know if I was going to survive this dark time and if I didn't survive, I wanted to leave something for my wife and our three children. Perhaps hearing me tell stories would remind Teresa why we both decided that I should stay in Rwanda. Maybe the stories would help our children understand something more about their dad," he said.
Later on,Wilkens made a zealous decision to finally move out of his house. As he was putting on his shoes, something strange happened.
"A few second after I finished putting my shoes on, it finally hit me. This was the first time I had put shoes in feet in three weeks. It was strange how our home and little fenced in-yard had become a nest of security for the five of us."
A gendarme who had volunteered to escort him disappointed him until one of his employees at ADRA surfaced around 10.30 at the gate.
"He was ex-military and level headed. We asked him about the level of violence around the city and based on his recommendations, we chose to move out of the house."
With this first trip, he started getting an idea how he could try and help a soul among the desperate Tutsi who were being hunted.
He later on introduced himself to Colonel Tharcise Renzaho who was the Prefect of Kigali City.
"I sat in his office until he attended to me. I introduced myself to him, and proposed to him how I was willing to help orphans. My first idea was the orphans at Gisimba orphanage and he welcomed the idea," said Wilkens.
He proposed to supply water.
However, Wilkens was surprised  by one thing.
"He would use trucks to carry dead bodies in the morning and to give me the same trucks in the afternoon to carry water to the orphans. I later on discovered that he was a mass murderer and was very shocked," Wilkens said.
He stayed in Kigali going through this struggle, witnessing killings here and there, until July when he was tipped to board a wide body Canadian military plane to Nairobi marking the end of his three bloody months experience in the country that was reduced to ash and finally reuniting with his wife and children.
When he got off the plane and looked around he saw his wife and three children waiting for him a hundred meter distance.
"Fortunately, there was a baptist missionary with me on the plane and I gave him my video camera when I saw my family there. So, he was able to film my reunion with my family. It was remarkable," he said.
The excitement that followed cannot be summarized in this short text. Seven months later, he convinced his Adventist church that Rwanda was safe and he wanted to come with his family to Rwanda and it was accorded to him.
He worked for one and a half in the same position of country representative of ADRA.
Ever since, he has been visiting Rwanda on several occasions and his bond with the country has grown deeper.
To give every detail of his story while in Rwanda, Carl Wilkens wrote a book: "I'm not leaving" – Rwanda through the eyes of the only American to remain in the country through the 1994 Genocide against Tutsi.