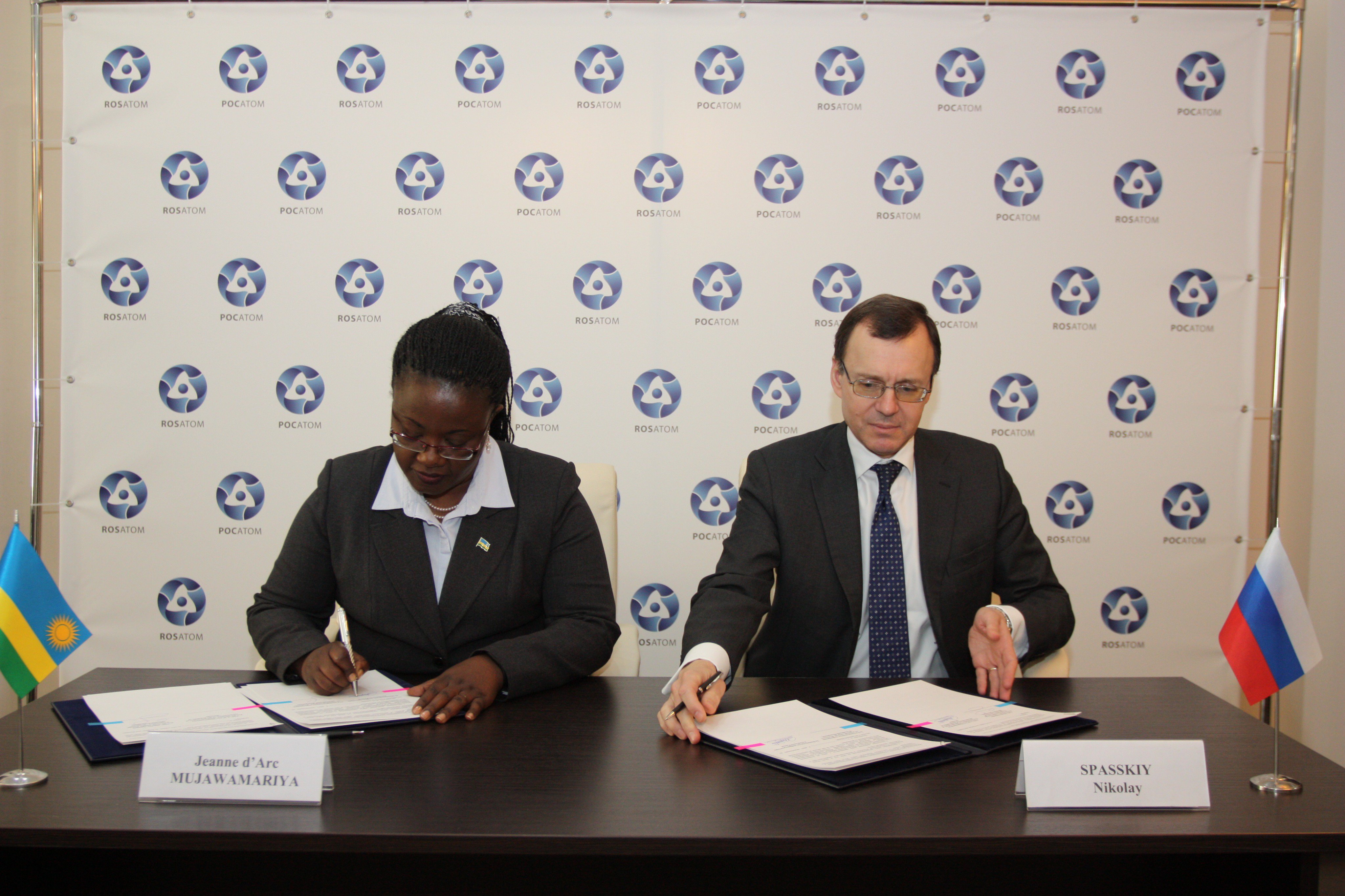 ROSATOM Global – the Russian State-owned nuclear group has signed a deal with Rwanda to estblish nuclear science center in the country.
According to Rwanda's Ministry of Infrastructure, part of the agreement signed include the roadmap for establishing Russian-Rwanda cooperation in the peaceful uses of atomic energy.
On behalf of ROSATOM, the deal was signed by its Deputy Director General Nikolay Spasskiy while Rwanda's Ambassador to the Russian Federation, Dr. Jeanne d'Arc Mujawamariya signed on behalf of the Government.
The document defines specific measures until the end of this year which relate to the start of the project to build the Nuclear Science and Technology Center based on a Russian-design research reactor in Rwanda, says the Ministry of Infrastructure.
It's not yet announced when construction works for the center will start.
The roadmap follows the Inter-Governmental Agreement (IGA) on peaceful uses of nuclear energy which was signed in Moscow between Rwanda and Russia on 05 December, 2018.
The use of peaceful Nuclear energy
The word "nuclear" triggers fear. However, scientists have proved that peaceful nuclear technology has been powering people's lives since the dawn of the nuclear age more than half a century ago.
Currently, nuclear power plants provide reliable electricity in 30 countries around the world as a result of the Nuclear Non-Proliferation Treaty (NPT) which set a framework for increasing access to peaceful uses of nuclear energy.
Peaceful nuclear uses help address other modern challenges such as:
Food security: Nuclear technology enhances agricultural productivity through detection of animal diseases especially in Africa. Rwanda could benefit from the type of energy as it pushes for agriculture transformation – a sector that contributes nearly 35% of the country's GDP.
Human health: Nations use nuclear technology to diagnose and treat cancer and other diseases. For instance, Nuclear energy tools aid early detection of Ebola in Africa – a disease that continues to kill millions across the continent.
Rwanda has put a wall in place against any possible Ebola outbreak from neighbouring Democratic Republic of Congo (DRC) and Uganda.
Environmental protection: Nuclear technology helps scientists understand and address environmental issues like climate change. It can also help trace pollution in marine waters and combat ocean acidification.