In 1983, Vérène Uwiragiye experienced a heartbreaking experience, after she passed primary school examinations, qualified for the government scholarship, but was refused by corrupt government officials.
At the time of selecting scholarship beneficiaries, Uwiragiye was among five best students in Gitarama Prefecture, current Kamonyi district in Southern Province.
By then, scholarships were awarded to students who scored highly in primary living examinations, allowing them to study in various public secondary schools across the country.
After announcing primary national exams, the prefecture of the Province announced best five students, with Uwiragiye topping the prefecture and her school (Kigusa primary). They were informed to collect their scholarship letters.
After they all arrived at Gitarama Prefecture, government officials gave other four beneficiaries their scholarship letters, except Uwiragiye who was told to go home and come back another day.
"I saw my colleagues coming out of the office with letters, but when I reached there, they told me that I would be informed again. My hope to join secondary school vanished when the term began," Uwiragiye recalled.
She added: "My father later told me that my scholarship was given to another student whose father was working at the commune (district)."
Coming from the vulnerable family of sixteen children (16), Uwiragiye dropped out of school, started cultivating crops with her father. But could not stop dreaming resuming studying, no matter the age.
In July this year, Uwiragiye resumed studies after thirty-six years (36), to learn English basic words for using in communication in her daily endeavours.
The 52-year-old joined other adults in the adult literacy program implemented by Global Civic Sharing (GCS) – a South Korean development organization operating in Nyarubaka sector. The batch – which is the program's 5th intake, graduated on December 10, 2019.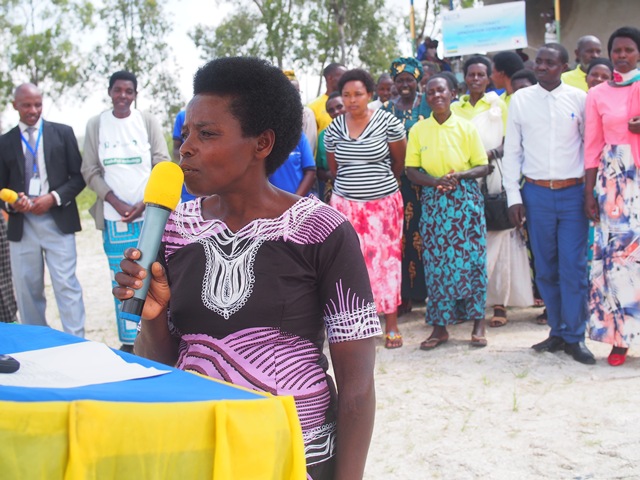 This program (adult literacy) targets all adults willing to attend classes, to teach them writing, reading and counting or numbers. The program allows beginners who have never gone to school and intermediates, willing to resume.
Apart from the primary school certificate that Uwiragiye lost during the 1994 Genocide against the Tutsi, she was awarded a certificate as her only official document, certifying her as a literate.
Amongst the finalists, Uwiragiye and over 20 colleagues were awarded a certificate of Excellency after scoring 90% marks in the English language for beginners and intermediates.
"This is not the end of studying, I have four children, and one of them finished senior six. He will be teaching me the English language. I need at least to negotiate with several people while selling my crops in the Market,"
"I have worked hard to make sure that my children go to school. I faced a lot of pain I will never forget in my life, back in 1983," she told KT Press.
She added: "I always told my dad that I wanted to be a doctor, working hard in class to perform better, but unfortunately it did not happen. My children must achieve what I did not, as far as education is concerned."
Today, Uwiragiye is a single mother with four children.
A total of 530 who graduated in the Adult Literacy program were rewarded radios (best participants), basins and certificates issued by the Ministry of Education to all for their hardworking, enduring seven-month training.
Among the trainees, 33 graduated in English Adult Literacy program, other finalists graduated in reading and writing Kinyarwanda and counting (numbers). The training was facilitated by Farmer Field School (FFS) facilitators; self-help groups (SHGs) representatives.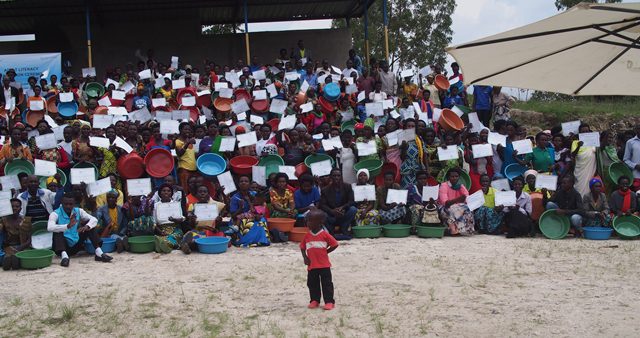 The English adult literacy program conducted for three months was in the pilot phase also aiming at eliminating illiteracy in Nyarubaka sector.
According to Aimable Twagirayezu – Project Manager at GCS, "This should not be the end of studying. Studying is a continuous process in life. I think you know how important reading, writing and counting are. Allow your children to teach you other many things, they study at school."
"To achieve development, the government need citizens that are equipped with skills and civilized, however, this comes as a result of literacy and using it for economic and social development."
Since the inception of the adult literacy program in 2015, GCS has graduated about 2000 adults from 20 teaching sites of Nyarubaka sector.