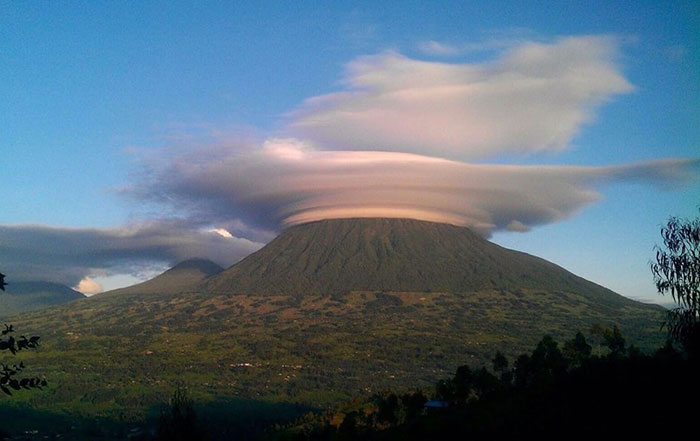 Somewhere in Rwanda's Volcanoes National Park, eight year old Keza, a mountain gorilla awaits the naming of her sibling this week at a big fanfare party in the east African nation. Other than the sibling, nice name that translates to 'cute one' and a protective male silverback in charge of her Sabyinyo gorilla family, Keza has more to boast of.
She was named by co-founder and former chairman of Microsoft, billionaire Bill Gates. When rewarded with the honour to name a baby Gorilla, Gates could not look further than the Sabyinyo group; he had visited back June 2006. He gave Keza the name on July 17, 2006.
Sabyinyo is an easily accessible group led by the mighty Guhonda, the largest silverback of all the 10 groups. The silverback is well known for his massive appearance. Guhonda has kept his main challenger, Ryango out of his group as a lonely silverback. Sabyinyo group has fewer family members however they are equally impressive like the rest of the groups.
Sabyingo and the other gorilla groups have attracted dozens of global names and brands. The most recent Gorilla naming ceremony saw the likes of; Rifai Taleb – Secretary-General of the World Tourism Organization (UNWTO), Hollywood actor Isaiah Washington IV, Lieke van Lexmond – a Dutch model, actress and TV presenter; Nigerian celebrated actor, Ramsey Noah name the baby Gorillas.
Arguably, the above are a tiny fraction of international celebrities who have visited Rwanda's gentle giants. The list includes; CNN founder Ted Turner who visited, documented and named a baby gorilla, in 2009. Not to forget Hollywood's Natalie Portman, Don Cheadle, name it.
Protecting the gorillas, and the visitors
Rwanda's mountain gorillas were first brought to international attention by the conservation efforts of American late Dian Fossey in the 1960s and 1970s, a call that Rwanda has given undivided attention since then. While mountain Gorillas remain endangered species with an estimated population of 380 existing in the Virunga conservation area is comprised of Rwanda, Democratic Republic of Congo and Uganda in an approximate area of 447 km. Rwanda has dedicated to conserving its Gorillas through encouraging fully protected visits and keeping count of the primates through naming them.
The rules controlling Gorilla tourism protect both the primates and the tourists. Some of these include; maintaining at least  a distance of 7 meters between the tourisms and gorillas, a maximum of 8 tourists per visit, a limit of one tourism group per day, per each gorilla group, visits limited to an hour, no littering , smoking within 200 meters distance from the Gorillas.
Scientists warned in 2010 that greater care will be needed to ensure the tourists do not get too close. Researchers said not only do tourists disturb the animals, but so do research teams studying the animals' behaviour and their interaction with tourists. It is recommended that the minimum distance between humans and gorillas be increased from seven to 18 metres, reported the Guardian at the time.
"We got a lot of warning barks from the male silverback in a band of gorillas if we went too close," Michelle Klailova of Stirling University, told the Guardian in May 2010.
"And you ignore a male gorilla's barking at your peril, for there is a real danger that it will turn into something much worse, like a full-blown charge. They can kill very easily. They know exactly where to bite a person."
Yes, each of the gorillas has a name
Every year, these rare primates give birth to eye-catching infants. Rwanda will celebrate the birth of 18 mountain Gorillas including Keza's sister this year alone, on the 10th anniversary of Gorilla naming, on July 1, 2014. The big national and global party will take place at the usual place, in Kinigi, near the habitat of the gorillas.
"Kwita Izina", a ceremony of naming a newborn human baby, hails back to ancient Rwandan tradition. A decade ago, the Rwandan government extended the practice to the cherished but endangered mountain gorillas. Naming the animals doesn't only facilitate their monitoring and protection, but ensures the future of the animals through bringing global awareness to the plight of all gorillas and their habitats.
"On this occasion, we will not only celebrate the birth of one of the world's most endangered species but also the efforts of individuals, organisations and nations involved in the preservation of these rare primates," says Ambassador Yamini Karitanyi, Head of Tourism and conservation at the Rwanda Development Board or RDB.
Karitanyi said last week that Rwanda's community-led conservation efforts have led to a 26.3 per cent growth in the population of gorillas since 2003 and Kwita Izina has been key to this success.
Karitanyi said this year's celebration will focus on giving back to the communities that have been vital in conservation efforts.
Over 161 mountain gorillas, from 10 families have been accorded with inspirational names, while Rwanda celebrates nature and the communities that protect them. The family names range from Amahoro [peace], Ubwenge [wisdom], Ugenda [traveler] and more while gorilla baby personal names are often inspired by great meaning or circumstances of birth and personal character.
Kwita Izina has so far won two prizes from UNWTO Ulysses Awards for Innovation in Public Policy and Governance.  The awards recognise enhanced national conservation practices but also compliment Rwanda's efforts to empower and improve lives of people, residing around the Volcano National Park.
Revenues go to local communities
In late June 2014, Basumba Primary in Bigogwe, Nyabihu District, a six classroom school was inaugurated as a result of a shared scheme that gives back 5 per cent of the revenues collected from gorilla tourism. Communities around the park have benefitted from more than300 projects including schools, income generating activities and housing facilities, thanks to the 5 per cent giveback policy.
Owing to Kwita Izina, Rwanda's attractiveness as a travel destination, new airline routes and more reasons, Rwanda's tourism sector has seen tremendous growth. In 2013, Rwanda earned a staggering $294m, up from$62m back in 2000.
Tourism revenue is projected spike up in the next 2 years, of which Gorilla tourism serves at least the biggest per centage. The tourism sector in Rwanda has continued to record impressive growth over the last 5 years. Rwanda achieved growth of 12 per cent far above the global average of 3 to 5 per cent.
Rwanda tourism and Hospitality facts:
-Rwanda boasts of three parks – Akagera in the east, Nyungwe located south west and as well as the Volcano National park in the north west.
-Among Rwanda's unique tourist attractions are mountain Gorillas, rare bird species, golden monkeys, eco-tourism, heritage and leisure experiences.
-In 2010, Rwanda hosted 666,000 visitors who generated US$ 200M – a 14% increase from 2009. In 2013, Rwanda hosted 1,137,000 visitors.
-Rwanda is becoming increasingly attractive for Conference Tourism (MICE); recently hosting the African Development Bank meetings and will host the World Export Development Forum in September, among other events. Rwanda collected over $49million from conference tourism with hope to triple this by the year 2016.
-Rwanda has over 380 accommodation establishments and approx. 6,500 accommodation rooms. Upper range occupancy rate is 70 per cent, with foreigners accounting for 97 per cent of beds availed.
-The rapid growth of RwandAir in addition to other airlines serving Kigali such as KLM, SN Brussels, Qatar Airways, Turkish Airlines, Kenya Airways and Ethiopian Airlines allow for easy access to the country from all over the world.