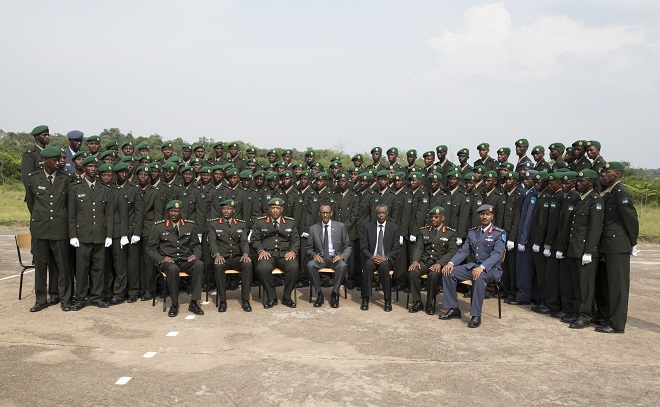 President Paul Kagame has told the military that the responsibility to protect Rwanda is of great meaning and a noble calling, but there is a big cost when one steps out of the line.
He said he that he is dedicated at building a professional army ready to defend the country within and beyond its borders.
Kagame was speaking on Friday 26, at the Gako Military Academy at a ceremony where he commissioned 528 officer cadets who completed a year-long training course to attain the rank of second lieutenant in Rwanda's Defence Forces.
"We are building the army that is capable of fighting any kind of war, where possible, an army that is capable of observing peacekeeping missions within and outside the country," he said.
Rwanda is the 5th largest contributor of military and police officers in different UN peacekeeping missions around the world with 5684 boots deployed on ground.
"It is an army that deserves to be praised and honoured." Kagame said.
The Commander-In-Chief told the fresh military officers at a colorful ceremony that their oath comprised all they need to perform their duties. "Citizens protection is the core responsibility you have above all," he said.
He however warned the officers that stepping out of the line of duty comes with a hefty price.  "Detracting Rwanda can never offer peace to anybody," he said.
Eluding to various deserters who have betrayed the country and are out on the run, including the former Chief Of Defense Staff, Gen. Kayumba Nyamwasa, Kagame said that the law will play its course to crack them down.
 "It's a matter of a day. The hand of the law will touch them wherever they will be…whether they cover up behind Rwanda's detractors."
Meanwhile, Brig. Gen. Joseph Nzabamwita, Defence and Army spokesperson, told KT Press that "out of the number of officers commissioned 60 (11%) are women."
Rwanda's army, reformed 21 years ago, continues to maintain high level of professionalism.
Maj. Gen. John Bosco Kazura who heads the Gako military academy, said that "Effective next year, Rwanda Defence Forces will start producing officers affiliated to University of Rwanda where they will be graduating with bachelor's degrees in different fields."
The best three best cadet officers who demonstrated high level of discipline and performance during a year-long course were awarded and honoured.
"It's an exceptional achievement," said S/Lt. Claude Mberabagabo, who emerged the overall best performer.
This is the 5th round of cadet graduates from Gako military training since its creation in 2000.