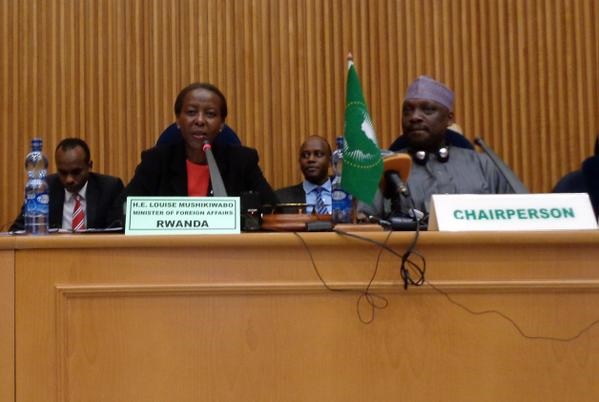 The African Union Peace and Security Council (AUPSC) in Addis this afternoon denounced the arrest of Rwanda's intelligence chief by the UK and unanimously called for his immediate release.
Spy Chief General Karenzi Karake was arrested in London last Saturday following an invalid local Spanish  indictment accusing him of fabricated war crimes in Rwanda.
Karenzi, who was bailed out yesterday on a hefty £1 million court bond, told Westminster Magistrates court in London that he would not consent to an extradition to Spain.
African Security Council considered the arrest as an abuse of universal jurisdiction.
Rwanda's Foreign Affairs Minister, Louise Mushikiwabo briefed the council about the nature and the cause of the arrest.
She explained how the Spanish judge who indicted Karake is well-known to be working on behalf of genocide supporters.
President Paul Kagame described Gen. Karake as "is a freedom fighter" who fought a liberation war to make Rwanda what it has become today.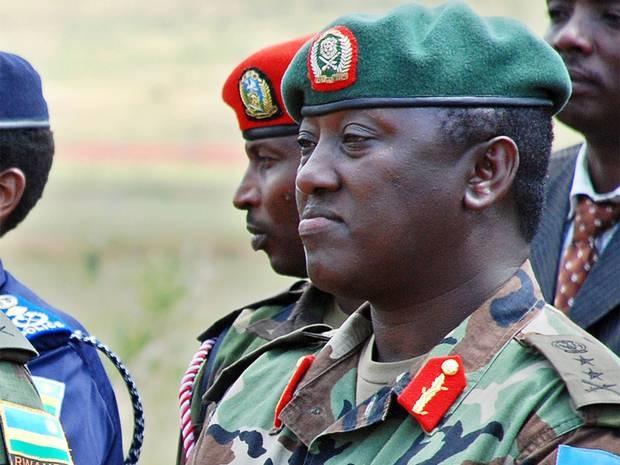 And arresting him is "a continuation of slavery, colonialism, arrogance and bigotry," Kagame said.
Meanwhile Mushikiwabo told the AU that, "What befell Karake is not a matter for him as an individual. It is a blatant attack…on the dignity of every African."
Mushikiwabo's Director General for Multilateral Affairs, Olivier Nduhungirehe, attending the summit tweeted that, "There is unanimous and very strong language against the arrest."
With an angry tone, Mushikiwabo wondered, "Should African judiciaries consider an African warrant for western leaders who are guilty. My response is why not?"
In Rwanda, thousands of Rwandans have been on the streets protesting the arrest of Gen. Karake.
After UK Magistrate, Quentin Purdy, granted bail, he conditioned to stay at Rwandan Embassy and report to court daily.
Tough lawyer Cherie Blair, the wife to former Prime Minister, Tony Blair, helped secure his release.
Before his release yesterday,  Kagame's press officer Stephanie Nyombayire, told KT Press that Kagame has not spoken to Prime Minister David Cameron neither has Cameron. "We are waiting for the results [court proceedings]," she said.
Meanwhile, Gen Karake's wife has spent nights camped with protesters at the British Embassy in Kigali.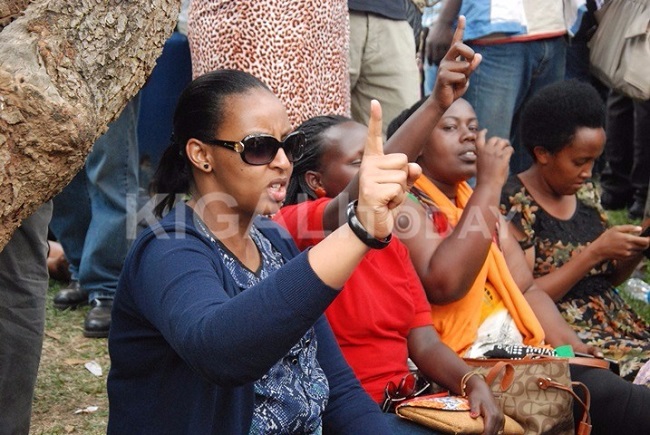 Before we went to press this evening, the business community in Kigali was meeting at Gorilla Hotel to raise the £1 million.
The Rwandan High Commission in London had placed £ 200,000, but the judge insisted it must be not less than £1 million.
The 'OnePoundCampaign', is being promoted by Rwanda private sector federation. They are requesting the public to donate money via SMS through all the three networks, MTN, Tigo and Airtel.
"We are initiating this, but we want the whole country to own it," says Eugene Nyagahene, one of the businessmen.