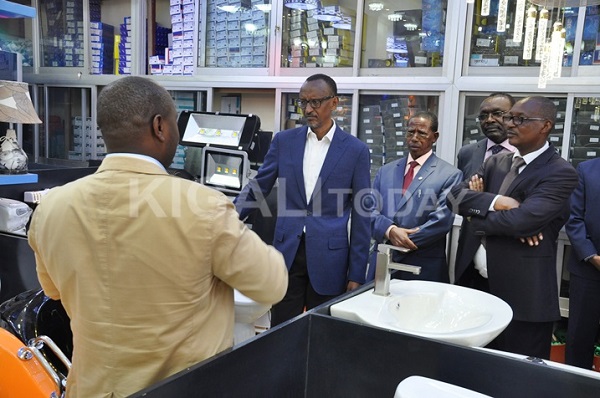 President Paul Kagame has intervened in matters affecting the business community.
The President said concerned authorities should harmonise penalties with committed business offences.
He made the remarks Wednesday at Gisozi sector, Gasabo district after a guided tour of a major shopping center built by a cooperative association of former hawkers and freelance technicians.
Members of the cooperative petitioned the President seeking his intervention on unfair penalties slapped on them.
"Mr. President, we have a serious issue of harsh penalties imposed on some business offenders beyond their capacity,"Gashayija Justin, head of Gakinjiro cooperatives, said.
"It completely forces a businesses to close when owners are fined between Rwf5 million to 20 million for a business worth Rwf1 million," he added.
Offences mentioned include tax arrears. But Gashayija said penalties for failure to declare or pay taxes sometimes disregard causes and circumstances.
He gave an example of a businessman who closes business due to illness and when he resumes business, the revenue authority ignores that period of sickness.
"We are not against punishments for offenders; we are concerned; the magnitude of punishments was not equivalent to particular business offences committed.
Kagame requested that such anomalies should be exposed and solution found. He promised to fix the matter as soon as possible.
"We need cooperation between government and private sector. This will help us move together and solve such issues," he said.
The cooperatives requested the President to revise the high taxes on imported timber which has made prices of wooden products more expensive.
Kagame said the matter will be addressed as well. "My colleagues will have trouble; I will make sure we address these issues as soon as possible."
Rwanda seeks to transform into a private sector led economy.
For Kagame, "The works of cooperatives are a sign of hope. When people work together, they achieve a lot compared to individuals. This is an example of possibilities."
Working together in cooperatives, Kagame said, is the fastest way to attain desired progress and saves time.
In all this, Kagame said, "time is very expensive. We need to work faster and save time…this is why we need to work together in cooperatives."
The President said critics say Rwanda is over ambitious and might not achieve its set goals.
Over1000 furniture makers and technicians are grouped under five cooperatives in Gisozi sector, and have constructed the mega commercial complex worth Rwf15 billion.
Trade Minister, Francois Kanimba, said the success of cooperatives is a sign that Rwandans have begun a journey to self reliance and contributing to the national economy.
"At first many people discouraged us saying the little money we earn would not achieve anything. When we launched construction works and hundreds lined up for shares," Justin Gashayija, chairmen of ADARWA that runs the site told KT Press.
Meanwhile, as Kagame promised a swift measure against harsh penalties imposed on traders, reminded that "Rwanda will move forward not through hard work of the few but of each of you. We want a work culture defined by ethics, accountability and respect for the rule of law."
He called for inclusive development. "When everyone has a stake and moves together, no one is left behind."