A Saturday is such a cool day for relaxing, at least for many. In Rwanda though; everyone is now used to it that the last Saturday of the month all year round, is spared for community work. And intense sometimes. It is community work, locally known as Umuganda.
Residents pick tools; hoes or a machete to clean up their neighbourhood. It could be helping to construct a house for a homeless family, or repair a damaged bridge.
President Paul Kagame, and all dignitaries, is no exception – he rolls up his sleeves, grabs a hoe and digs trenches, clears shrubs with community members.
After the work around noon, local communities discuss problems around the village.
Nobody gets paid, but the activity has economic and social impacts.
Empirical evidence obtained by KT Press indicates that Umuganda has massive economic impact that is monetarily quantifiable.
 "On average, this year's Umuganda activities were worth Rwf19 billion ($25 million)," Francine Tumushime, Director General of Community Development and Social Welfare in the Ministry of Local Government told KT Press.
The monetary value of Umuganda is equivalent to an average annual budget for two districts.
This value, Tumushime added, was measured from many activities such as; construction of houses for needy citizens, repairing feeder roads and building classroom blocks.
From July 2014 to June this year, broken down by provinces, Western province generated Rwf4.9 billion from Umuganda activities.
Southern Province had Rwf4.6 billion, Eastern province made Rwf4 billion, Northern Province had Rwf3.4 billion, while Kigali City ranked last with Rwf2.2 billion.
Kigali City Deputy Mayor in-charge of social affairs, Hope Tumukunde, told KT Press that she has not seen the report and cannot determine why the city lagged behind. "I haven't seen that report. I will first look through it and see why we ranked last."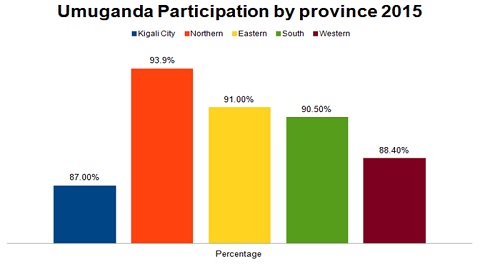 How was valuation done?
Local Government Ministry, in collaboration with the office of the Prime Minister, set a team of experts and activity evaluators to ascertain the value of each Umuganda activity and level of participation.
"The team works at national level with committees in charge of Umuganda right at grassroots level. They work closely with experts to measure the monetary value of each activity conducted," Vincent Munyeshyaka, the Permanent Secretary for Local Government Ministry, which oversees the activity, told KT Press.
After every Umuganda, the team measures value of activities and citizen participation before forwarding it to the Ministry.
The Ministry files a report to the Prime Minister, who later forwards it to Office of the President.
"When we put our hands together, there is nothing we cannot achieve," Kagame said on August 29, after joining residents of Kigali sector in construction of a feeder road that will connect 20,000 families.
According to Tumushime, Northern Province had highest citizen participation in Umuganda with 93%, Eastern Province (91%), Southern Province 90.5%, Western Province 88.4%, while City of Kigali ranked last with 87%.
Northern Province governor, Aime Bosenibamwe, told KT Press, "The culture of our citizens is clear. They always want to rank high in terms of participation and we mobilise them to support every government programme."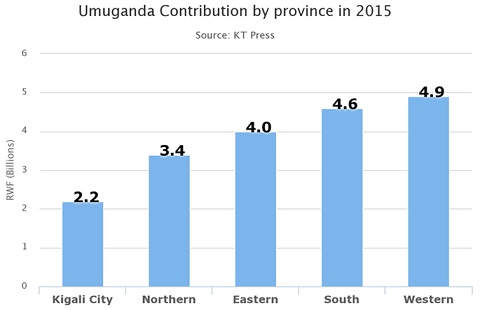 Professionals contribute to Umuganda
In July this year, members of Rwanda's elite and private sector, including engineers, medics, IT specialists, statisticians and other professionals, started actively involving in Umuganda activities.
For example doctors can organize and invite people with dental illnesses or eye illnes for free treatment.
Munyeshyaka told KT Press that the army week, where military personnel participate in social activities like building schools and hospitals, inspires the population to be very active as well.
Umuganda value has increased from Rwf12 billion in 2012 to rwf17 billion last year and Rwf19 billion this year.
With increase in the monetary activities, Umuganda has seen Rwandans build over 400 offices of micro finance institutions commonly known as Umurenge Sacco, 11,000 classrooms for the country's 'twelve year basic education' that has put Rwanda's school enrollment level at over 95% of children in Primary School, among other achievements.
Umuganda programme, loosely translated to mean 'coming together in common purpose', was derived from Rwanda's traditional culture of helping each other. In 2007, a law was established determining Rwf5000 fine for anyone dodging Umuganda.