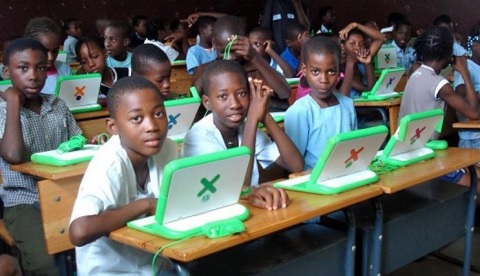 Through a laptop he was given at school under the 'One laptop per child programme', Arnold Byishimo Muhumuza 11, is close to fulfilling his dream of becoming architect.
Muhumuza uses the two programmes in his laptop to practice what he likes the most.
"I use scratching and e-toys to make drawings. With them, I draw cars and other toys that can be posted on school walls. I can also draw a person's sculpture," the teenager told KT Press.
Just like Muhumuza, a level five pupil at Ntwari primary school in the capital Kigali, children at some schools in Rwanda have developed skills through the 'One-Laptop-Per child programme.
For children to access IT applications in schools, 244,793 laptops have been distributed in 722 schools nationwide, says Eric Kimenyi, coordinator of One Laptop per child programme.
Three million students in the country's education system are expected to benefit from the programme. "It is an ongoing distribution process," Kimenyi told KT Press.
The distribution of laptops in schools ranked Rwanda the 3rd largest deployment in the world after Peru and Uruguay, according to Ministry of Education.
Roughly $130 million has been invested in a fibre optic cable rolled out on 3000km across the country to ensure rural schools get access to broadband connectivity.
In the past few years, ICT has been the driving engine for transformation of the education sector, and allocated with 20% of the national budget, approximately $494 million of $2.47 billion.
Speaking in Norway during the launch of the Oslo Summit on Education for Development in July this year, President Paul Kagame said that efforts made by his government to promote education and ICT has paid off, with the country now having the highest primary school enrolment level at 78% in the sub-Sahara Africa.
Other initiatives made in education sector include ICT training for teachers.
Science and Technology scholarships that are growing the number of ICT capacity have also been implemented.  Also School-net, a program aimed at improving connectivity and deploy ICT tools in 12-year basic education schools has been successful, according to officials in the ministry of education.
To achieve this, the government has been receiving external support from development partners especially the British Agency for International Development (DFID).
For instance, under its 'innovative education program', more than 200 Rwanda's French speaking teachers have gradually acquired English language skills through £11.9million (Rwf12b) programme to support 26 projects promoting innovation in country's education sector.
Silas Bahigansenga, the project manager in Plan Rwanda, which was given $1 million to learn the programme, told KT Press, "the programme will enable former French speaking teachers to reach 73,000 pupils every year.
"We bought iPods and installed them with reference materials where teachers learn from model tutors from other schools and reproduce the learner-centred methodology," Bahigansenga says.
Regionally, Rwanda has taken ICT as its main task under the Northern Corridor Integration projects that connect the country it with other East African Community member states of Uganda, Kenya and South Sudan.
With Transform Africa coming to Rwanda from October 19 to 21, the country is expected to outline other ambitious plans to boost ICT in the education sector.