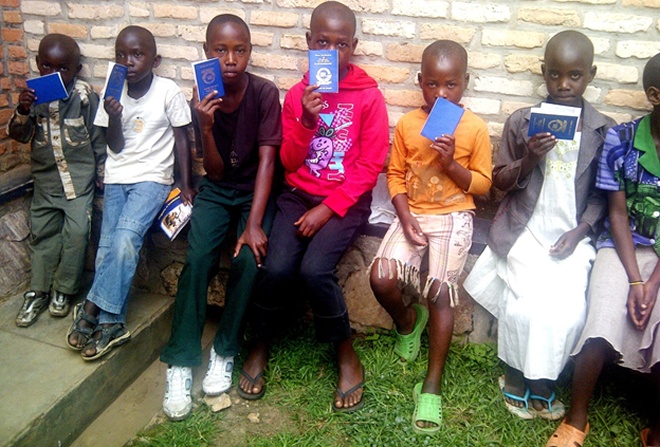 Sometime in 2013 on a busy morning at Saint André primary school in Muhanga district, Uwase Noella Chartine 12, was attentive in her grade four maths' class. Suddenly three men entered her class accompanied by the head teacher.
The head teacher asked Chartine's teacher to halt the lesson for an urgent message to be delivered to his pupils.
"We are here to tell you how you can own your money and buy things you like," said one of the men.
Pupils got more interested. The man continued to tell them that he was leading a team of bankers who wanted to teach them how to save. The maths class turned into finance lesson.
Pupils were told they could open an account for free, and they could start depositing the little they had.
"For example, when your mother gives you Rwf100 to buy chocolate, you can buy one for Rwf 50 and save the rest. You can grow vegetables in a garden at home, sell them and save the money," the bankers advised.
Through their savings, children were told they would be able to finance their tertiary education without relying on their parents' income.
The project sounded interesting. Uwase did not hesitate. She opened an account at CPF-Ineza, a microfinance institute from Muhanga town.  Some of her classmates did too.
Uwase encouraged her elder sister Ange Marie Happy Gikundiro to open an account too.
Today, the two sisters have learnt the art of frugality. They will go to the extreme to save a coin. "When we get a free ride to church, I ask my mother to give me the transport fee we would have used and I deposit it on my account," says Uwase.
Whenever Uwase visits her uncle, he gives her Rwf 500 for biscuits. "I, most of the time, take it to the bank," she says.
Uwase now grows cabbages in a small garden around her home. She sells them at Muhanga market and deposits the earnings on her account.
Last year, her mother awarded her with a hen after she emerged the best in class. She is now earning income from it.
"When it lays eggs, we eat them at home but pay her," says Uwase's mother, Chantal Uwamariya, the Manager of CPF Ineza.
Uwase has saved Rwf42, 000 so far and she is still counting.
"My objective for now is to buy a computer. It will help me do financial exercises, and school assignments. With the gadget, hopefully, I will get all it takes to prosper," she told KT Press.
Uwase's sister, now a college student, has also saved Rwf32, 000. She agreed with her sister that they will bring together the money and buy the first computer at Rwf300, 000 then save more for a second one.
Uwase is just one of the thousands of children on a saving spree. The disease is catching many.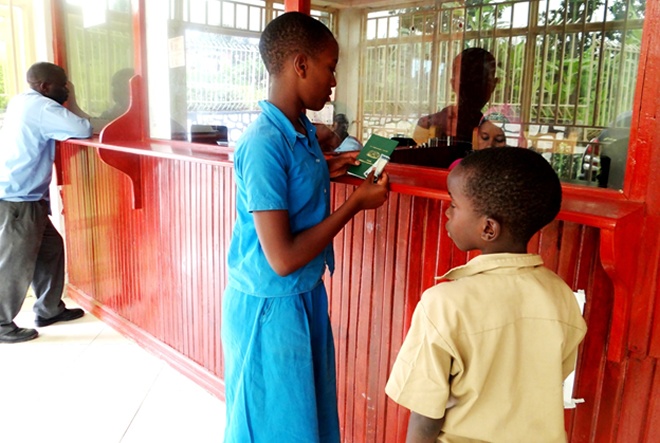 By October 2015, CPF Ineza Muhanga alone had 4000 accounts with over Rwf110 million in savings. Of these, 400 belong to children with combined savings worth Rwf15 million since 2013. On average, each child has saved Rwf37, 000 so far.
Children can deposit and withdraw, but cannot get a loan until they are 18 years or have a joint account with an adult.
Meanwhile, this saving campaign, an initiative of Association of Microfinance Institute of Rwanda, AMIR is not limited to Muhanga district.
In 2007, AMIR began training all microfinance employees across the country, but quickly realized that without creating public awareness and encouraging the population to save, training bankers was useless.
In 2010, they started a financial literacy program targeting financially vulnerable categories; women, children and the youths.
Jean Pierre Uwizeye, the AMIR's program Manager told KT Press that the children's program picked up quickly. "We meet children at school, or church and encourage them to save. The same children convince their parents, and help them save too," he said.
Teachers also help. In some institutions they encourage children to form clubs and, say, grow vegetables and sell to their school.
Currently AMIR has reached over 180 schools countrywide. In this campaign, 60,000 children have opened 4500 accounts, mainly group accounts.
Their savings are now estimated at Rwf400 million, equivalent to more than 60% of a district annual tax income in Rwanda.
Parents are now partnering with their children. "We encourage parents to save at least Rwf5000 every month," says Uwamariya.
If it is a child's account, they earn 4% interest every year.
If a child starts saving Rwf5000 from primary, they will have saved Rwf720, 000 by end of secondary school, twelve years later.
CPF has a product whereby every child gets a loan four-times (Rwf2, 880,000) the amount saved to start a project or to pay tuition fees. Currently, CPF interest rate stands at 24%, but children can get credit at 6%, same as coffee farmers, getting Rwf1 million at 6% interest.
Tuition fee at University of Rwanda is Rwf600, 000 per year, or Rwf2.4 million for the four-year undergraduate program. Without a savings, few Rwandans can afford this.
"The saving culture is a problem in our society. We are trying to inculcate it among the young Rwandans who are the future investors," Uwizeye told KT Press.
The percentage of persons aged 18 years or more with a saving account has risen from around 19% in 2011 to 30% in 2014, according to the Integrated Household Living Condition Survey (EICV 4) of September 2015.
Financial inclusion in Rwanda stands at 72% and the target is to reach 80% by 2018.
Seventeen microfinance institutions out of 62 are rolling out the savings program, on top of 184 out of 416 Umurenge Saccos.
Never the less, Uwase is a living example savings culture in Rwanda is taking shape.
On October 30, during the international savings week, Uwase was invited to speak as an expert on financial literacy. The curious girl three years ago in a maths class has become a master of financial gymnastics.