A sarcastic cartoon caricaturizing the captain of the National Football Team, Amavubi, pleading to the President of the Rwanda Cycling Federation to give him a bike so he can ride too, saying "because our football scores are awfully shocking Rwandans."
The cartoon shows the team captain dressed in his jersey, boots and holding the ball, knocking on the riders' dressing room. The cartoon is really funny. It has been circulating on various social networks.
The caricature is making fun of Amavubi for miserably succumbing to a recent 3-1 defeat against Libya during the Fifa 2018 World Cup qualifier match.
After the embarrassing match at Nyamirambo Regional stadium, fans began chanting, "Amagare!Amagare! Amagare!" meaning "Cycling! Cycling! Cycling!"
The humiliation happened a few minutes after spectators had learnt about results in the cycling.  Team Rwanda had made its second win in three stages, with Emile Bintunimana snatching the 120km Kigali-Huye stage.
Yet, earlier on Sunday, during the CHAN draws ceremony, President Kagame, also a strong soccer fan, said "no sport brings people in every corner of the world together like football does."
But the frustration Rwandans have for Amavubi's recent miserable performance, losing almost all international encounters over the past years, ranking 96th globally and 23rd in Africa, has diminished the support the sport commands in the country.
After the CHAN selection, Rwanda landed into the same group with Cote d'Ivoire, Morocco, and Gabon, who are 1st, 17th and 19th in Africa, respectively.
This has triggered worries within fans of Amavubi, doubting the team's prospect of wining any gameespecially that Rwanda is the host of CHAN and has lost all World Cup qualifier games.
Undoubtedly, Rwandans are now seeking redemption from another sport for hold the country's pride up high.
Hundreds of spectators line up along highways to have a close look at the team of 15 young Rwandan cyclists who made the country proud in 2014 after winning theTour du Rwanda title for the first time. This year they are fighting to retain it.
Rwanda Team is still on top after BoscoNsengimana, winner of the prologue, took first position in the Kigali-Musanze hilly stage and has continued defending the Yellow Jersey.
Villagers climb trees to have a clear aerial glance. Others pay Rwf500 to stand on rooftops of storied buildings. One spectator in Huye district, who sacrificed his hard earned money, told KT Press that, "You cannot afford to miss this game. They are making us proud than any other team in Rwanda."
For a common man, who barely lives upon a dollar per day, giving out Rwf500 just to enjoy a moment of not more than 10 seconds is very telling.
The ambiance becomes overwhelmingwhen racers reach their home towns. During the 140km Muhanga-Rubavu route, the home town to Nsengimana, racers found enthusiastic supporters blowing vuvuzelas and waving placards with slogans. "Bosco, gazon de tigre (Bosco, the tiger's garden)" and, "Team Rwanda, you will never work alone."
KT radio is broadcasting the competition giving live updates and receiving calling-ins from supporters. A minute after Nsengimana won stage 6 at the Nyamirambo Stadium finish line, a fan called-in at KT Radio and said, "These boys are wiping our tears we shade at Nyamirambo Stadium, I was there and now I feel happy we have something to celebrate."
"Congs to Rwanda cycling team! We are very proud to be called Rwandan [because] of your hard work; we rise up our hand to God for that," says Enock Niyigena on kigalitoday.com live updates website.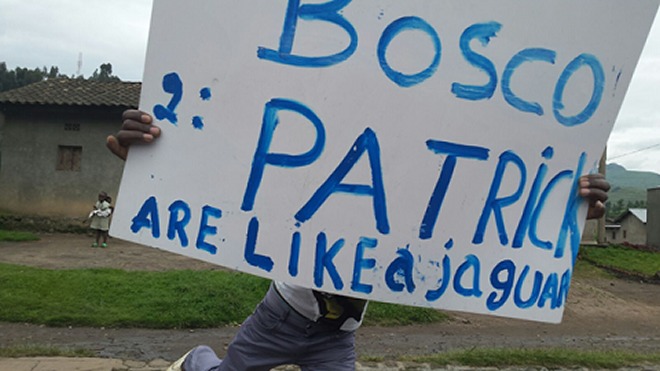 Others are following the race online, tweeter and Facebook, sharing snapshots and live updates.  Tour du Rwanda twitter handle has gained about 700 new followers since the start of the completion.
The diplomatic community is also following the race and has been showing support. Last year, the French Ambassador to Rwanda awarded the winner with a Sport bike.
Other diplomats this year chose to take a short break and follow the racers. Erica Barks-Ruggles, US Ambassador to Rwanda, was sharing important moments of the race in the 120km Kigali-Huye route on twitter. "The peloton…in action. [Team Rwanda] riding well," she twitted. Belgium Ambassador to Rwanda also drove to the 166.2km Musanze-Nyanza route to witness the race first hand.
The peloton has the biggest fan base, but it also has displayed excellence performance and consistent team work. Apart from hard training, the team exhibits determination to the sport.
Along the race, some have gone to the extent of grab a banana and throwing it down the throat to gain more glucose. This is what makes fans go wild. Apparently the love for the team is growing bigger day bay day.
After winning the 2014 tournament, President Paul Kagame hosted the team to a dinner at Serena Hotel and thanked them for not letting the country down and giving it the pride it deserves.
He has donated 23 sport bicycles, Pinarello Dogma, worth $ 14,000 each which they are using now. Chris Froome, winner of Tour de France 2015, rode the same bike.
"Rwanda's team has a big advantage. I was shocked when I saw their bikes-Pinarello brand like the one of Mr. Chris Frome," said Alnord De Leum, South African Team Manager, whose team has not won any stage in this tournament.
"It is a special gift from our president," said Aimable Bayingana, president of Rwanda Cycling Federation, Ferwacy.
The president catered for everything for Team Rwanda trainings, including food allowance. The young professionals train at Musanze based African cycling center where they spend most of their time in a year. Some even went to train in US, France and Brazil.
The least they are expected of is winning Tour du Rwanda and other competitions. Top 20 riders will be awarded with cash prizes, $320 for the winner of the prologue stage and $640 is reserved for each stage winner. The general classification winner takes $1800.
Meanwhile, Yellow Jersey holder Nsengimana, who has defended his lead after taking a solo win in today's stage 6, at a slippery cobbled climb, wet because of the rain where almost all riders had to walk uphill carrying their bikes, is poised to take the trophy of this year's tourney with one race ahead tomorrow.
As the national cycling team climbs to glory, other sports, such as football that has to prepare for CHAN, have to choose between boos or praise. The standard has been set now. The bar has been raised high. You either win and gain the support or lose and are shunned.