Executives from I&M Bank and government officials are in the Rwanda-DR Congo border district of Rubavu to showcase the bank's scheduled initial public offering (IPO) for the nearly 20% stake the government owns.
The trip to Rubavu is part of a local and international roadshow launched today to woo Rwandans and foreigners to buy into the new shares. On February 14, Rwanda government floated 99 million shares, equivalent to 19.81% shares in the bank on the local bourse which was meant to end on March 3, but was moved for an extra week amid huge investor interest.
The revenue from the sale will finance the government's equity for constructing Bugesera International Airport – where ground works have already kicked off.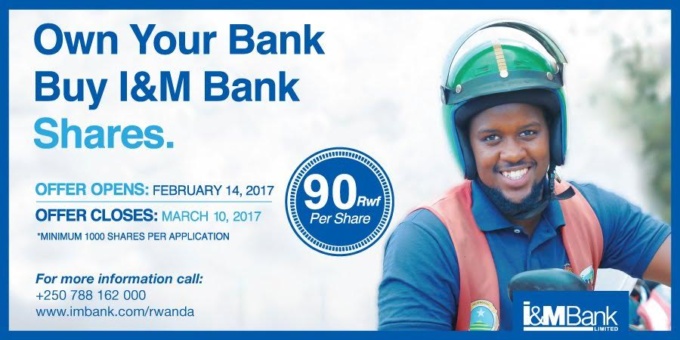 At the roadshow session in Rubavu town under a campaign "Own Your Bank", there were Congolese businesspeople and agents who also want a portion of I&M Bank – which is Rwanda's oldest. It is majority owned by Kenyan firm I&M Holdings.
Rubavu district shares a common border with DRC town of Goma which boasts of a sizable business community that has cashed in on the presence of tens of thousands of UN peacekeepers and staff of aid agencies. Many prefer to invest on the other side of the border as it provides assured security for their money. A large section of Rubavu is businesses and real estate property for Congolese nationals.
Last week, I&M Bank CEO Robin Bairstow also had a similar roadshow in London that was attended by Rwandan diaspora.