Four companies owned by members of 'Australian Davos Connection' have started investing in Rwanda's mining, agriculture and housing sectors – with more coming in soon to tap into the country's available opportunities.
The Australian Davos Connection (ADC) is a non-profit making organization founded in 1996. It brings together leaders from business, government, the public sector, academia and the broader community to improve their understanding of key issues affecting Australia.
ADC's delegation to Rwanda is made of experts in housing, agriculture, ICT and Education. They have been in the country for a 5-day official visit.
Today, they met with President Paul Kagame at his office and discussed how their companies can invest in Rwanda.
Michael Roux, leader of the 20-person delegation said that ADC has picked interest in investing in Rwanda due to conducive investment policies.
Without disclosing the investment volume and companies, Michael Roux said: "Four companies have already registered in Rwanda. We look forward to more coming in soon."
Minister of Infrastructure, James Musoni said that one of the companies based in US has expressed interest in working with Ministry of Health to develop App-based service delivery in health sector.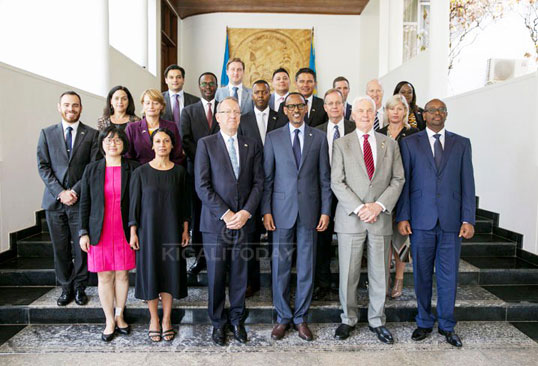 Trade between Rwanda and Australia remains small, but steadily growing. From 2012 – 2016, imports between both countries recorded $28.4 million while Rwanda's exports such as coffee, tea and ores registered $3.3 million.
Meanwhile, existing Australia originated key investments include ICM that invests in Rwanda's famous Lucki Rice, Property Mode that invests in ICT as well as Earth Systems that deals in environmental consulting.
Members of ADC delegation have established companies looking to grow their presence in Rwanda, as well as companies exploring investment opportunities.
Senior academic and tertiary institutions that are part of the delegation visiting Rwanda seek to build local capacity in technology, education and agriculture and to connect Rwandan people with their Australian counterparts.
Rwanda Development Board officials showed the delegation available investment opportunities in affordable housing, construction materials, manufacturing and ICT.
Maj. Gen. Michael Jeffery – former Governor-General of Australia from 2003-2008 is part of the delegation.