Rwandan businesswomen have been introduced to a platform that will connect them to more than 5000 traders from across the world – a development, its planners say will open more opportunities for them.
The International Trade Centre (ITC), a Geneva based international joint agency of the World Trade Organization and the United Nations today launched SheTrades in Rwanda to benefit local women.
SheTrades is an online App that allows women in business to connect with fellow women traders. Through www.shetrades.com , the App gives an option for computer and android phone users to find traders who are relevant to their field, and start business networking.
Having created a network of 5,232 women traders from across the world since September 2015, ITC's SheTrades intends to connect 1 million women to markets globally by 2020.
During the inauguration of this App at Radisson Blu and Kigali Convention Centre, the First Lady Jeannette Kagame expressed her hope that SheTrades "will inspire more women to join this initiative to access the same information and opportunity."
She indicates that such an initiative is timely because it links them to the world, instead of concentrating on petty and small-scale enterprising.
However, it was not out of the women's will to remain "small" traders, rather, several factors have been holding women back.
The First Lady mentioned four factors that societies should revisit to make sure they include women.
She said, the policy is still a hindrance to women in several countries; "The playing field is still not leveled in many countries with regard to legislation," said the First Lady mentioning the case of asset ownership; sharing of household, and family care, which does not allow women to get enough time to think of business.
Moreover, in some cultures a woman cannot own a bank account except when they have a males' consent.
"This is an impediment to women's economic empowerment and by extension a missed opportunity for economic growth," the First Lady said.
The 'SheTrades' platform, could open up unimaginable opportunities for women in trade, as would, for instance, training on how they could access government procurement opportunities," she said.
Currently, women-owned businesses have been unable to take advantage of this offering, procuring only 1% of all government contracts.
While several scenarios prevent women from doing business globally, Rwanda presents a different experience due to gender equality.
In the last five years, financial inclusion among women doubled to 39% in 2016 from 16% in 2010.
The Global Gender Gap report recorded this factor among others, and ranked Rwanda in 5th position for closing gender gaps.
For Mrs Arancha Gonzalez, the Executive director of  ITC, Rwanda having achieved gender equality, they will benefit from SheTrades because they do not have any hindrance to do business like their male counterparts.
Gonzalez said, SheTrades accessibility in Rwanda is an opportunity even in neighbouring countries; "When one country develops, so does its neighbour. It's in that lens that Rwanda was chosen," she said.
Meanwhile, some traders who are already on the SheTrades platform said they have started reaping big.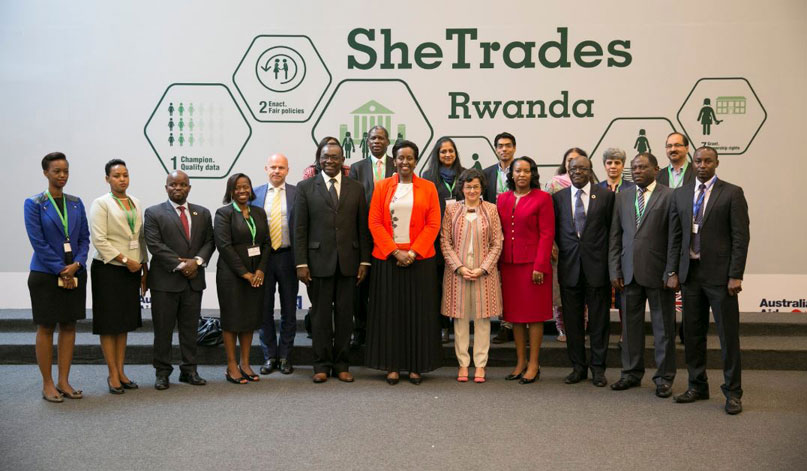 Mugabo Sonia the founder of  Sonia Mugabo, a clothing fashion house in Rwanda said she joined SheTrades last year and she encourages fellow women to join the platform.
"After I joined SheTrades, I have been invited to showcase my products in two countries and my networking is growing as well,'' she said.
During SheTrades launch in Rwanda, many commitments were made to support ITC hit 1million to market.
MTN Rwanda, a telecom company pledged to offer free download and browsing of the app.
"We are committed to connecting 2,000 women to markets by 2020 as we believe this is an urgent necessity for inclusive economic growth," said Bart Hofker, the CEO of MTN Rwanda.
SheTrades has been so far launched in Kenya, Liberia, Nigeria and Finland. The next country to be connected to the network is India.