Barely a month after Rwandan farmers suffered 'Fall Army Worm' – a deadly insect that has hit maize crops in almost every corner of the country, another unknown seed pest has attacked bean plantations in the northern province of Rwanda.
The new disease is creating more fears of a possible drop in anticipated output of the country's major food crops this season.
"It is the first time we see something like this. Our beans leaves are getting deformed, turning into a yellow color while they are still at early stages of growth" one of the farmers told KT Press.
He added: "We are worried of the output this season."
Speaking to KT Press, Jean Claude Izamuhaye, head of Rwanda Agricultural Board (RAB) in Northern Province, confirmed that the deadly insect – yet to be fully detected, has attacked beans crops in Rwamiko sector in Gicumbi district.
Technicians have already been deployed across the sector to detect the kind that has attacked beans, Izamuhaye said, adding: "We are not yet sure what kind of disease this is. We are yet to determine if this threat is serious. We will communicate the findings by the end of the week."
Rwanda is now in the agricultural planting season B 2017 – which started in February and ends in July. Beans and maize are the main crops that farmers have planted across the country.
The two staple food in Rwanda are being threatened creating fear of a bad season and later on, food insecurity.
Gicumbi residents largely depend on maize production and the district is among 23 districts that are affected by the famous army worms.
Mid this month, Rwanda was hit by a wave of a devastating seed disease- the "Fall Army Worm" outbreak which was reported in 108 sectors (among 416 of the country) in 23 districts (out of 30 districts), and affected more than 15,000 hectares of maize and sorghum crops.
The affected area represents 24.7% of the total area of 63,499ha on which maize and sorghum are planted countrywide, according to Rwanda Agriculture Board (RAB).
This damage is expected to affect Rwanda's crop yield and food production especially after last year's agricultural season was hit by prolonged drought most importantly in the eastern parts – forcing government to distribute food aid to affected communities.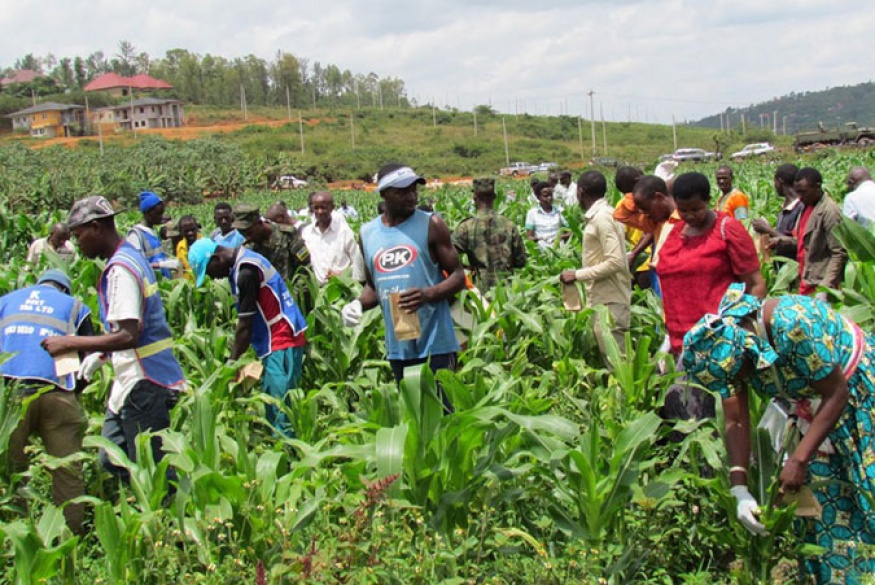 Over 374,000 tons of maize were produced in 2016, while over 781,000 tones of maize produce were expected in 2017 agriculture season A.
"It is still early to predict the maize and beans harvest as they are still in the growing stage. The only thing I can tell you is that the army worm pest can affect the production of maize though it is under control," Dr. Telesphore Ndabamenye, Head of Crop Production and Food Security Department at RAB told the media recently.
"We are already seeing some recovery in the affected areas."
The Army worm outbreak has put government officials on pressure to find lasting measures.
Rwanda defense Force (RDF), in collaboration with the Ministry of Agriculture and Animal Husbandry and Ministry of Local Government launched a countrywide operation aiming at eradicating the Fall Army Worm by spraying pesticide (Pyrethrum EWC+).
If the worst takes course, Rwanda may be forced cut on its food exports to relief programmers in Burundi and South Sudan. The UN's World Food Programme Global Commodity Management Facility (GCMF) has recently acquired 508 metric tons of beans for Burundi.