The 15 Risky Projects That Could Have Brought Down Government
When the late founding father of Singapore Lee Kuan Yew took over power in 1959, a simple but radical formula got to work: "creativity of leadership, its willingness to learn from experience elsewhere, to implement good ideas quickly and decisively through an efficient public service."
Halfway the globe away and another example rose, Dubai. In less than 30 years, it became the world's city. The rule-book is no different from Singapore. The Emir Sheikh Mohammed bin Rashid has been quoted as saying; "To take risk and fail is not a failure. Real failure is to fear taking any risk", and, "An easy life does not make men, nor does it build nations. Challenges make men, and it is these men that build nations". He has shaped Dubai on a "build it and they will come" philosophy.
Singapore and Dubai have been extensively courted by Rwanda government in . The virus in these countries may have mutated from same source. KT Press goes beyond headlines and brings you the 15 development projects that left many grinding in anger then, but now smile from ear to ear at the sight of the benefits.
Polythene bags
Science tells us once these materials end up in the soils, they never decompose. If small Rwanda used them, in a few years there could be no space for food and life. Well, for government of Rwanda, that made a lot of sense. In 2005, polythene bags were banned.
Six years ago, Rwanda lawmakers at the east African legislative Assembly (EALA) raised the possibility of a regional ban, the proposal only merited a mention in the house. The political cost of such a move in Rwanda's neighbours was so high none is willing to risk. Two weeks ago, EALA finally voted for the law. But then, the hard work now begins for national governments to implement.
---
Methane gas
In 1963, Belgian scientists told the Rwandan government that there were huge reserves of methane gas beneath Lake Kivu. Exploration started. Then the search went cold. Amid a combination of desperate urgency for power and political decision in 2009 at the highest levels of government, methane gas had to be tapped into at whatever cost.
As the scientific community was debating the merits of extracting methane gas, Kigali had one goal: power for national grid from lake Kivu no matter the consequences. The technology had never been tried anywhere. A similar lake in Cameron killed thousands when it was disturbed.
When Kagame was switching on a 26MW plant in May last year, he said; "Many people thought it was impossible to be successful with this but we are happy today that things have proved to be different…[this project) is an example of what Rwanda stands for, we keep trying until we succeed."
And by the way, at some point the equipment sunk! But that was simply a tickle for Rwandan bureaucrats. The target is generating 100 MW.
---
Degazetting land for conservation
Imagine more than 3 million people at your border waiting to return to country with scarce land and resources. In addition, another 20,000 are on the way following a UN cessation clause. As if that is not all, tens of thousands of refugees want shelter escaping chaos in DR Congo. This is the dilemma the Rwandan authorities faced following the 1994 genocide against the Tutsi.
The priorities at the time though were enormous. The same government declared in 2003 setting aside a huge portion of the country for conservation of biodiversity and forest resources. One of the ambitious policies, included a goal of increasing forest cover 30% by 2020 from a baseline of 10% in 2000.
The result was a bitterly contested relocation of communities, locking out those who remained so they never run to conserved areas for hunting, firewood and illegal mining. Cases in point: Volcanoes, Gishwati and Akagera national parks. Gishwati alone had been degraded from initial size of 250,000 hectares in 1951 to 1000 hectares.
Not many such life-changing political decisions exist. When the tourism office releases its annual numbers, nobody remembers the price that has been paid!
---
Agaciro Development Fund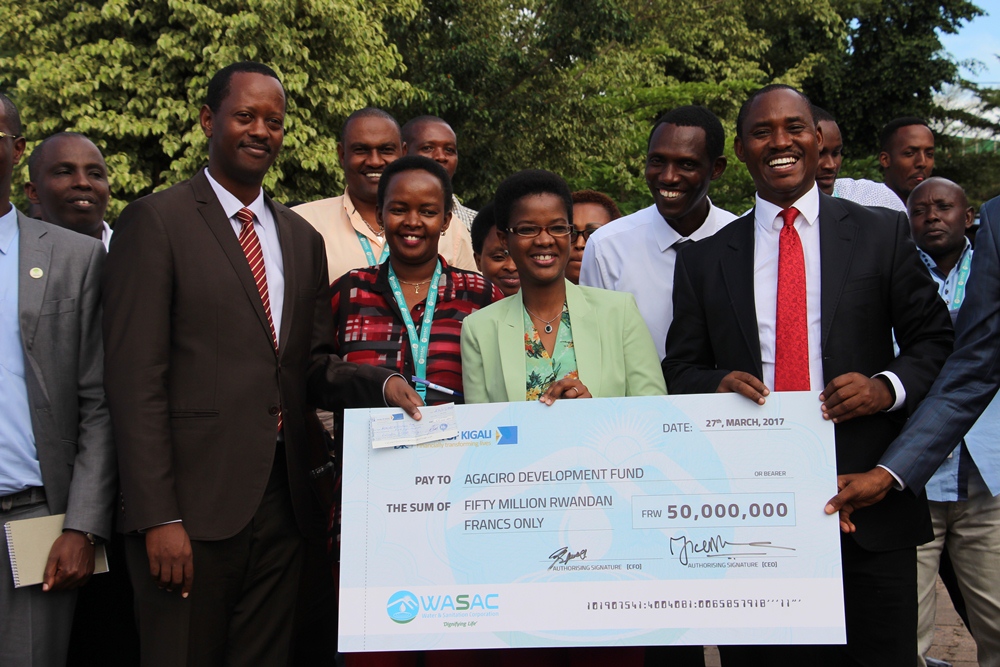 Wealthy nations have billion dollar sovereign funds. Some countries  set aside percentage of annual budget to be hidden away. For those rich in natural resources like oil and natural gas, part of the revenue is by law saved.
In Rwanda, neither does it have God-given wealth nor surplus tax revenue. How then does a government decide to go around telling citizens that they have to dig deep into their meagre incomes to contribute to something called 'Agaciro Development Fund'. That is exactly what happened in 2012.
By end of last year, the fund had reached Rwf 38 billion.
That is Rwanda for you!
---
     5. RwandAir
Up until recently, no report from the International Monetary Fund (IMF) went without expression of reservations over RwandAir project. Government also kept lid on the back-to-back fight with donors and economists that openly doubted the carrier's viability.
In mid-2015, President Paul Kagame went on record telling two separate regional events in Kigali of how his minister had been tormented by donors. He settled on placing RwandAir directly under his office, absorbing some $10m annual losses.
"If you compare the so-called 'loss' and how much money local businesses have made, the benefits are significant, and I am yet to be proven wrong," Kagame told a Kenya-Rwanda business forum attracting a loud applause. He revealed some had branded the project "crazy".
Kagame said government logic was not to manage airline business but a tool enabling ordinary Rwandans to make "100 times more money" than the $10m from state coffers. Unconfirmed reports have suggested that the airline, currently boasting of 23 destinations and 12 aircraft, has been classified as a national security investment.
More madness just became a reality – a new $818m international standard airport under construction in Bugesera district.
---
Land redistribution
In 2008, President Paul Kagame paid a visit to Nyagatare district in Eastern Rwanda. He had been receiving reports about land grabbing in the area. The President personally supervised land redistribution exercise. Land was distributed equally between owners and the landless each getting not more than 25 hectares, down from hundreds for a select few. This solved an issue of landlessness that was caused by an influx of Rwandan returnees.  It was not by the willingness of land owners but by law.
---
Kigali Convention Centre (KCC) and Kigali Serena Hotel
At the time government decided to use taxpayers money to fund luxury facilities, among several others yet more than 60% of the population was living in extreme poverty. To make a bad situation worse, these facilities went over-budget and lasted ages. The two hotels cost close to $400million – nearly half of the country's annual budget at the time of initiation. Government stayed put!
With all the wars done and dusted, the fierce critics came to sense. In 2011, the World Bank Group commissioned a study to assess the economic impact of the then 148-room Kigali Serena Hotel, finding: US$85 million of economic activity in its first few years of operation; employed 350 permanent staff and supported over 1,100 homes along the supply chain; US$16 million in tax and 89% of the wages and salaries were paid to local Rwandans.
Without KCC, it would not have been feasible to host the 2016 African Union Summit and Amendment of the Montreal Protocol – both of which brought thousands of delegates.
---
8. Gacaca courts
Wrap your mind around this; for each of more than 1 million Tutsi massacred during the 1994 genocide, at least three perpetrators were involved, according available compilations. It means nearly an entire section of Rwandan society turned against another. To prosecute all these suspects, some victims would have had to wait for another 110 years for justice.
Despite the imperfections that emerged, within 10 years, nearly 2 million genocide cases were tried by the Gacaca traditional courts at fraction of the $2.5 billion spent by the international court which handled about 80 suspects. Worse still, Government was back in the villages to convince aggrieved survivors to accept the released killers back into the community. At least by the state of affairs today across Rwandan villages, the sacrifices have worked.
You would have to be out of your mind to live in such a country!
---
Universal Health Insurance
Can you believe your government tells you that by having a public health care system, you will be paying your hard-earned Francs for the health care of the poor and unemployed people? The thought of it frightens and angers many. It is the same reason some of the wealthiest nations cannot try it out. Government in Rwanda encountered the same spirited resistance when universal health insurance was introduced in 1999.
Today, hospitals are constantly full – because the slightest feeling of illness sends many to the doctors. The scheme caters for over 90% of the population, with beneficiaries paying only between Rwf3000 and Rwf7000 every year – depending on the revenue of a household.
---
Kwita Izina
In September, the world will flock to Musanze district in Northern Rwanda for the 13th edition of the annual Mountain Gorilla naming ceremony commonly known as 'Kwita Izina'. The annual baby gorilla naming ceremony is a national celebration of conservation and sustainable tourism achievements reflected by the growing population of the endangered mountain gorilla species.
The gamble here was to create a buzz about the rare animals with hope that tourists would forget the obvious destinations elsewhere. The gamble worked! The tourists are so many that gorilla permit prices doubled to $1,500 to limit them. By the way, it is way cheaper in regional neighbours to see gorillas but the technocrats in Kigali seem unfazed. The revenue numbers do not need explaining. That is Rwanda!
Last year, 22 baby gorillas were named, among them a set of twin babies. The last registered gorilla population was 480 in 2010, revealing a 26.3% growth from 380 in 2003.
---
Orphanages Closed
Is there an African country that has no orphanages? It will be hard to find one. Let us look at it from a different perspective; partly due to the country's history, there are tens of thousands of children with no parents and homes.
Five years ago, the government of Rwanda undertook the ambitious challenge of closing all orphanages within the country in an effort to provide Rwanda's orphans with homes, family members or foster and adoptive families.
"Unfortunately, orphanages do not address poverty, which is the underlying cause of child abandonment, much less the kind of psycho-social support needed after the genocide," wrote President and CEO, Global Communities. "Very often the orphanages divert energy and resources from other initiatives that could strengthen the capacity of vulnerable families."
Some 3726 children have been adopted leading to closure of 23 orphanages. Some 1200 still remain in these facilities. If Rwanda is successful in closing all its orphanages by 2020, it will become the first African country to do so.
---
Land consolidation
More than fifteen years ago government put to the books a requirement for all Rwandans to live in well gazetted communities called "Umudugudu". It means, unlike in many countries with abundance of land, you cannot decide to live next to your farm. The understanding in government was that with people living in organized administrative locations, they would easily access physical infrastructure such as schools and hospitals. In consequence, more land would be available for extensive agriculture production.
As a result, 1.5 million hectares of arable land emerged. 63% of it (600,000 ha) were deemed as needing urgent irrigation. Some 40,000ha have so far been utilized. American billionaire and philanthropist Howard G. Buffett has put $500 million in Rwandan agriculture.
---
Drop the traditional cows
For centuries, Rwandans were as deeply bound up with a quasi-mystical relationship to cattle. Social evolution turned milk consumption into a privilege of a few and, as such, cows played a somewhat divisive role in Rwandan society.
Government wanted no more of that. It wanted a new society where all people share the same values. As a result, instead of the 'have many cows' philosophy, the 'have few productive ones' was born.
To convince local villagers to abandon their multitudes of traditional cows milked for home consumption, to a handful hybrids that would supply milk for home and markets, was perhaps one of the biggest political suicides.
---
14. Political reintegration
The Rwanda Patriotic Front-led administration has consistently asserted its intention to model a civilian democracy rooted in ethnic reconciliation, purged of ethnic stereotypes and hatred, and equipped with rule of law. The men and women who demonised a section of Rwandan society are the same people working in the villages to maintain social harmony.
The political elite that helped craft Rwanda's destructive course, are today planting seeds of solid development. The soldiers who battled each other are today manning the same checkpoint or protecting a refugee camp in other war-torn nations where Rwandan peacekeepers have been deployed.
---
15. Citizen participation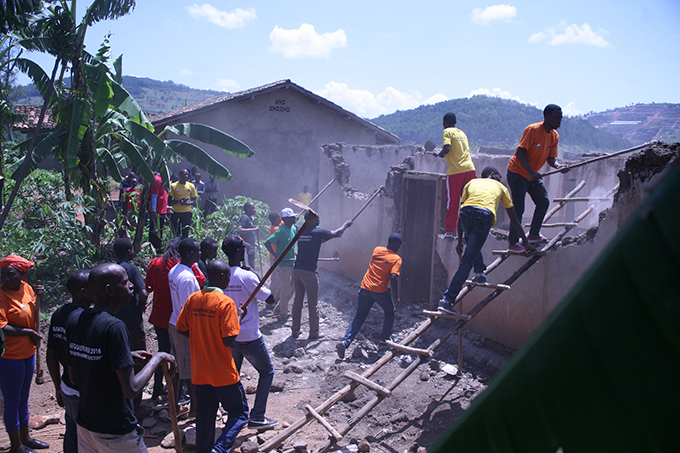 In Rwanda, villagers collect money to build a police post, health center, school and sometimes a communal road. The psychological burden cannot be wished away. The central government has established Community Development Committees (CDCs) that make every adult get involved in taking decisions that affect their village.
To an outside reader, it sounds like government is absconding its responsibility to provide for its people. Over the years Rwandans have shown that they are willing to take over management of their own communities when given the opportunity, training and resources.