The 2017 battle for votes is down to three candidates. All campaigns have packed their bags for a very tight schedule spanning only 20 days.
It may not be possible to return home for the new candidates on the ballot. The terrain is hostile out there. They have to work more because they have no record to speak for them.
To understand what the new candidates will encounter on the their national trail, you need an idea on what happened in the 2010 presidential campaigns. The other candidates had no audience to address when they arrived in rural Rwanda.
The ordinary Rwandan had never seem some; but had held meetings with incumbent Paul Kagame who answered their questions directly or put officials to task to respond.
This Friday July 14, the campaigns will kick off with RPF's candidate Paul Kagame facing Philippe Mpayimana, an independent candidate and Frank Habineza, a flag-bearer of Democratic Green Party of Rwanda (DGPR).
In 2010, the biggest three political parties had a flag-bearer, with the ruling party represented by Paul Kagame, against the Social Democratic Party (PSD) and Liberal Party (PL). A woman, Dr Alvera Mukabaramba, currently in cabinet, was in for PPC.
Like it happened in 2010, expect many surprises in this presidential campaign. Here is how it all unfolded in the last, to help you forecast what the next 20 days have in stock.
Humans Write "PAUL KAGAME"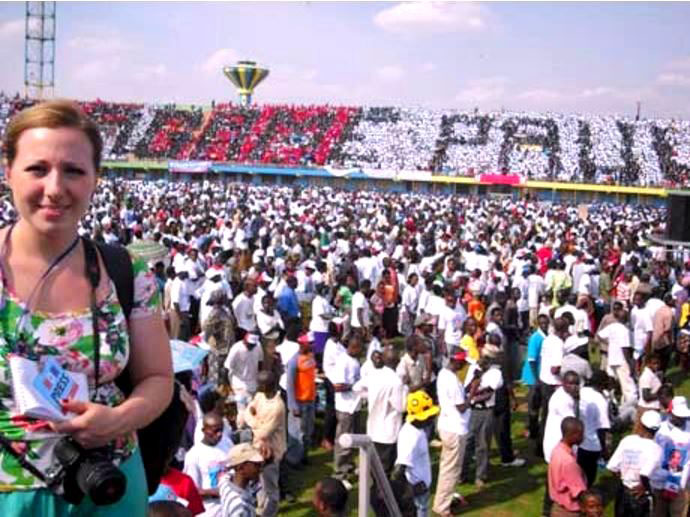 When the campaigns kicked off on July 20, 2010, Amahoro National Stadium had been booked by RPF, and by lunch time, the 30,000-seater stadium had nearly double its capacity with supporters waiting for their candidate Paul Kagame.
In one pavilion, supporters sat in a pattern that displayed words 'PAUL KAGAME'.
To a thunderous welcome, Kagame arrived at about 3pm. The RPF launched its campaign with a "light of hope". Kagame led the candle-lighting. Then thousands of supporters lit their candles from Kagame's. The event was filled with so much symbolism; many could be seen wiping away tears on screens beaming in the stadium and state TV.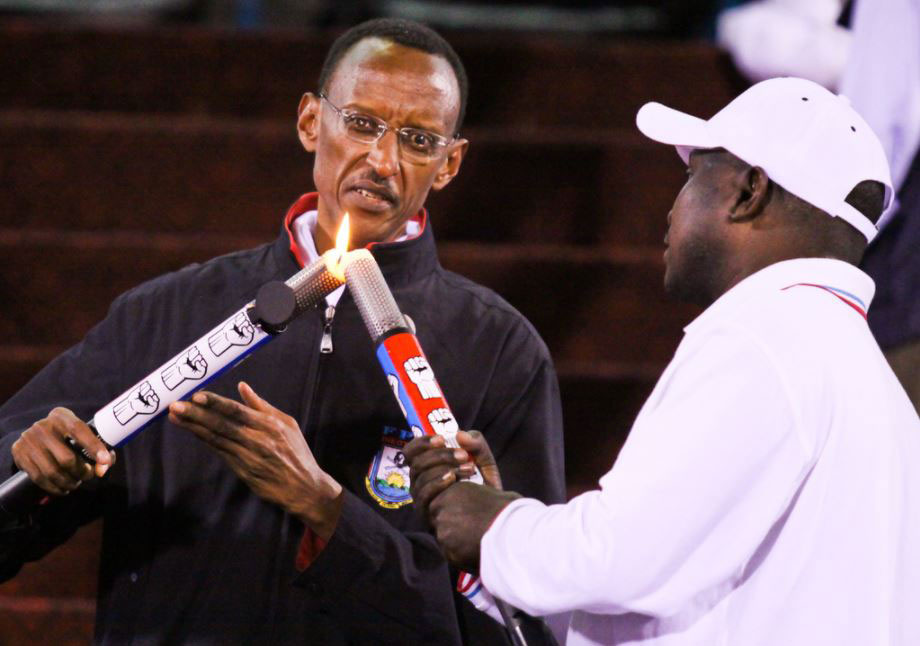 Rulindo and Gakenke:Upcountry Campaign Starts on High Note
On day two, the RPF candidate went to woo voters in rural Rulindo and Gakenke districts in Northern Province. One supporter would reveal that she travelled more than 10 kilometres to be at the rally.
A demobilised soldier from the former government army (ex-FAR) testified how his life has been transformed under Kagame and RPF leadership. He had been integrated from ex-FAR into the RDF and later became a successful businessman owning a poultry farm with up to 10,000 chickens. He had attained all his wealth from a cow given to him under the One-Cow-Per-Family program, one of the RPF signature programs.
Like the previous day, the turn-out in Rulindo and Gakenke was huge with supporters covering an entire hill and valley below. In Gakenke alone, there were an estimated 60,000 supporters.
Musanze district: The LITTLE Hug
From Gakenke and Rulindo, Kagame proceeded to Busogo in Musanze district. The moment that remains in minds of many that attended or later saw the trending photo, was that of girl aged about 4years. Kagame picked this small girl from the crowd, they hugged – and the thunderous chanting and singing followed.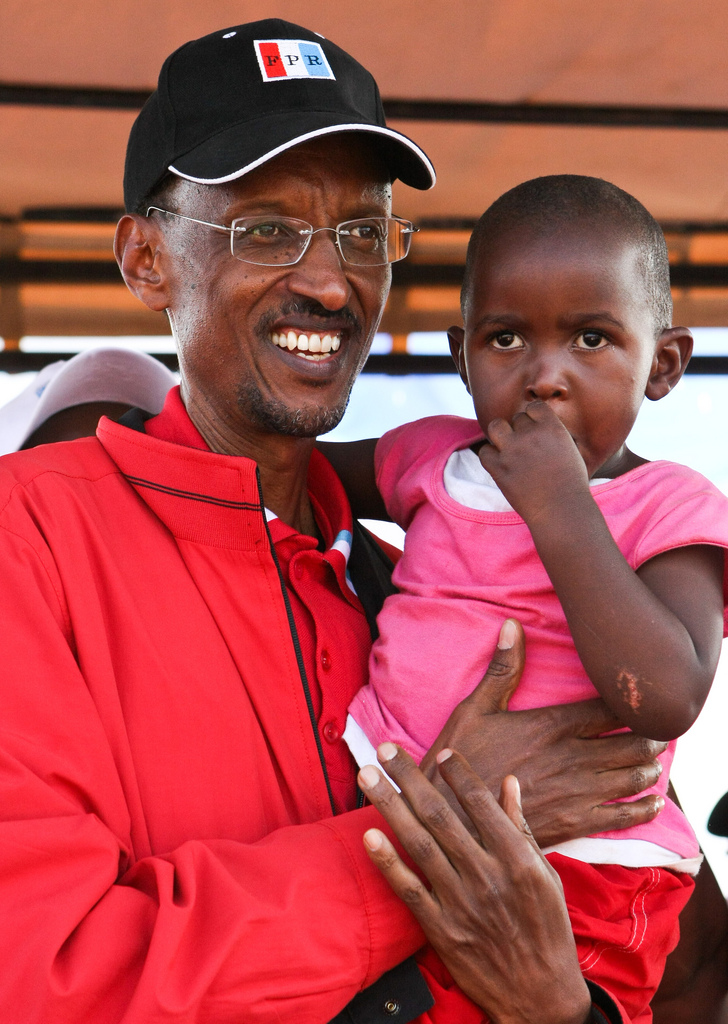 Ex-president Juvenal Habyarimana Home
From Musanze in the North, Kagame headed to the west, starting with border Nyabihu and Rubavu districts. When Kagame and his rally team reached Rambura in Nyabihu, the birth area and stronghold of former president Juvénal Habyarimana, thousands chanted "Tora tora Paul Kagame", the signature theme song of the RPF campaign, like no other previous stopover.
In Rubavu, a message inscribed on a hill overlooking the town and campaign venue could be viewed very clearly from the sky and kilometres away.
From 1994 up until 1999, this region suffered from a bitter insurgency. Militias that executed genocide against Tutsi had fled across to former Zaire. They  regularly crossed back making constant incursions leaving carnage. Tens of thousands were in camps inside Rwanda.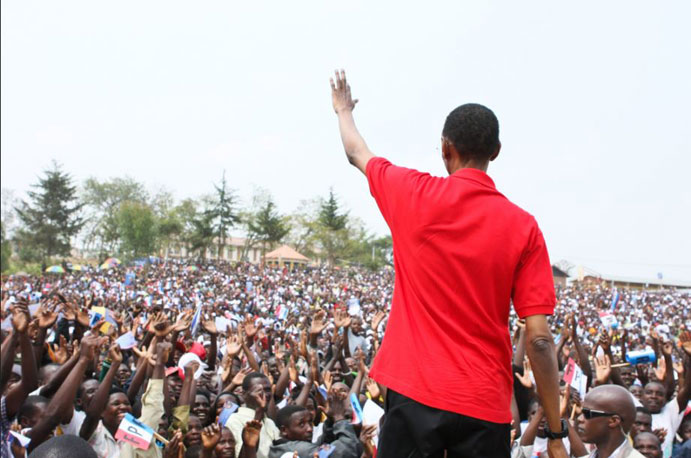 After enjoying some 10 years of stability, there was no better way to pay back.
Right from Rubavu, the boarder with Democratic Republic of Congo (DRC), Kagame drove back to Ngororero district, still in Western province. Ngororero is another district where the genocide militia nearly destroyed.
In March 1997, the militia then known as 'abacengezi' crossed from DR Congo and surrounded Nyange School. The militia ordered Hutu students in their dormitories to separate themselves from Tutsi students.
However, students defied the militia orders saying; 'We are all Rwandans'. The militia immediately killed all defiant students on spot while 19 sustained fatal injuries. They have been declared national heroes.
In Ngororero, the media estimated attendance of the RPF rally at 100,000.
First Family for "First Time"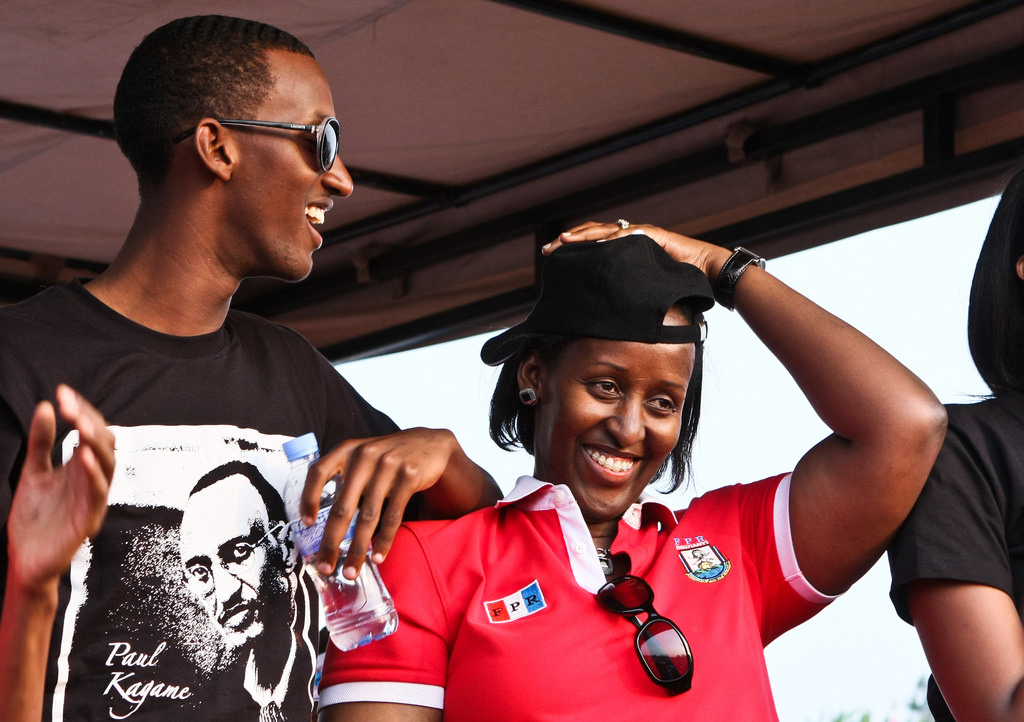 From Ngororero, Kagame headed to Karongi and Rutsiro, the districts which also border Lake Kivu. The First Family was there: First Lady Jeannette Kagame, Ange Kagame and Ivan Cyomoro.
The supporters wore T-shirts of all colours and forms with RPF flag, but only one man thought of designing a t-shirt inscribed with:
"Development Airlines"….you read the rest for yourself.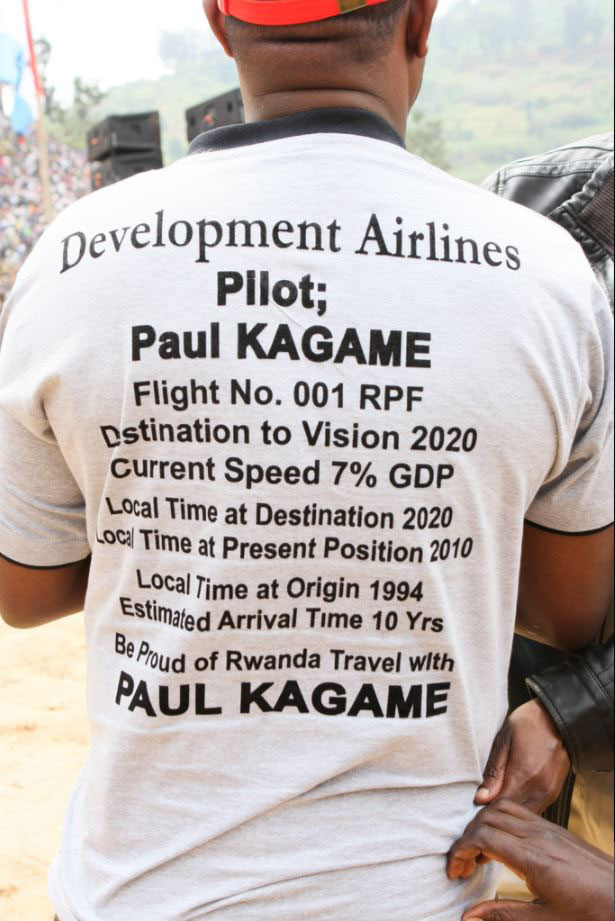 Kagame "Returns Home"
The family continued with Kagame, to Kamonyi, then Ruhango district. The turnout was so huge that the organizing team set up giant screens to allow everybody enjoy following the party. Kagame's parents fled Ruhango region in the 1950s with the young Kagame.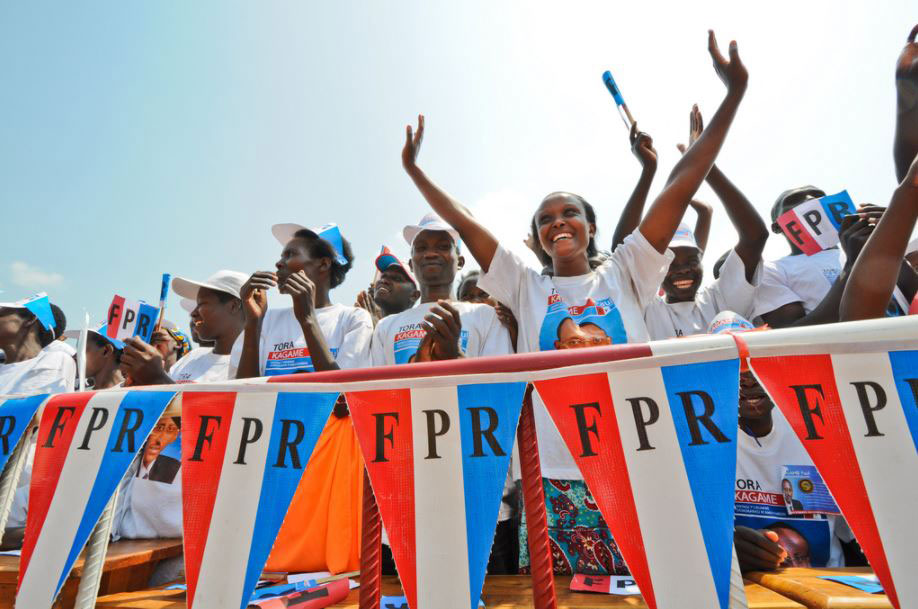 Home of the First Lady
It was the turn of Huye and Nyamagabe and more precisely, Cyanika sector. A huge gathering in Cyanika flew placards reading: "Kagame 100%".
Centrist Democratic Party members in their yellow T-shirts also showed up and pledged their support to Paul Kagame. They had printed many copies of Kagame's portraits and had RPF flags.
The First Lady hails from Nyamagabe district along with many top government officials.
Rubavu: Mukabaramba Promises Pay to the Unemployed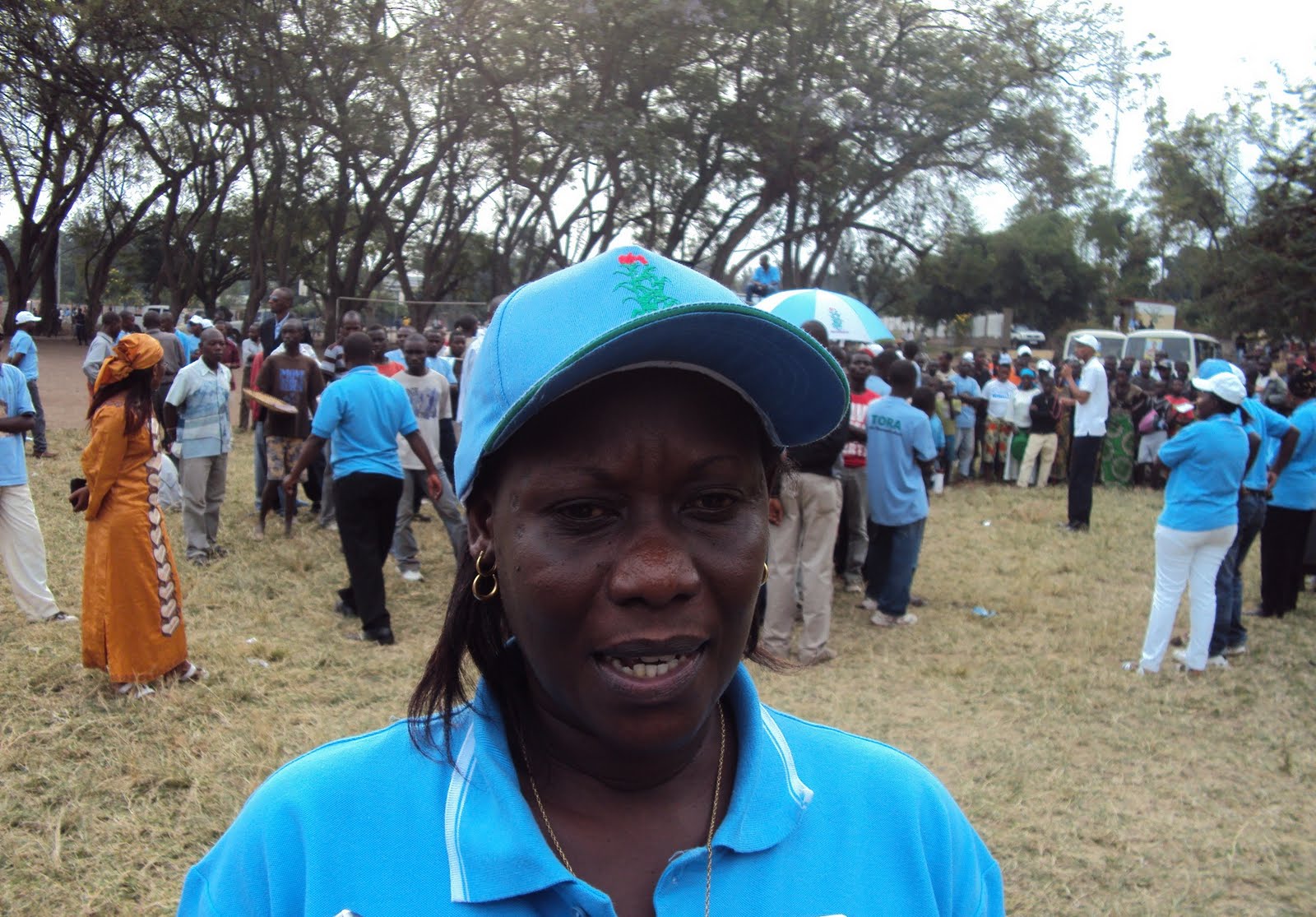 As RPF candidate was moving towards the far South in Gisagara district, The Presidential candidate from the Party for Progress and Concord (PPC), Dr. Alivera Mukabaramba drove to Rubavu on the 8th day of the campaign. She told 150 supporters who attended her rally that would she win the polls, she would ensure unemployment benefits.
The remaining challenge to him was to convince them that she did not pull out from the campaign after a rumor circulated that she abandoned the rally.
She said that some people mistakenly confused her with senator Agnes Mukabaranga, whose PDC party preferred to support incumbent President Paul Kagame of the RPF.
"People should differentiate between Agnes Mukabaranga of PDC and Dr Alivera of PPC who wants to be the president of this country. We're confident that we shall win the race."
We are not Quitting the Race – Liberal Party's Higiro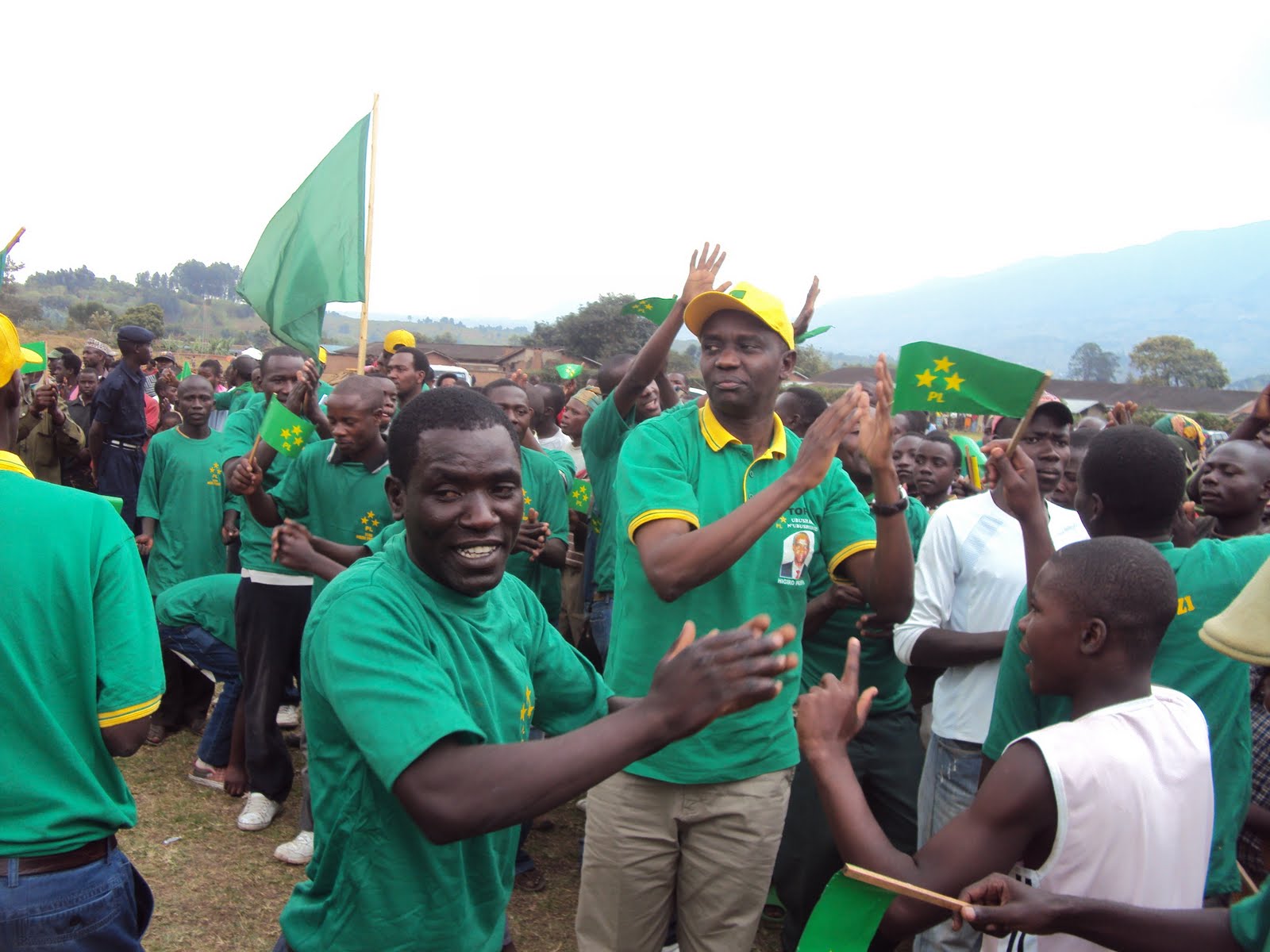 Same concern of the Rubavu voters on a candidate whom they though was just loosing their time was expressed to Prosper Higiro of the Liberal Party, PL. Higiro dismissed rumours that he was about to quit the race.
at Nyundo Parish, Higiro said that claims by some media outlets that his party would eventually hand their votes to Rwanda Patriotic Front (RPF), candidate, Paul Kagame, were baseless.
"We have our manifesto, and what we're doing is to sell it across all districts …we're not just playing and about to give up, we mean business," Higiro said.
Gicumbi Pulls Biggest Crowd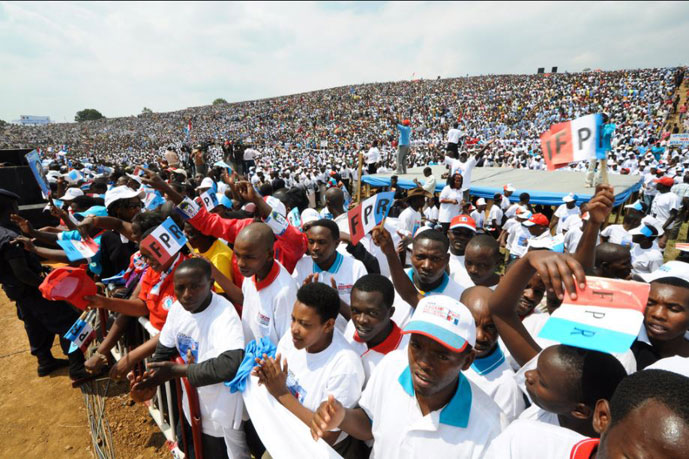 Of all the campaign venues, Gicumbi district may never be forgotten. At the place that served as an important military base during the liberation struggle, estimates put turnout at more than 150,000. The podium where their candidate spoke was so far, many only heard his voice from the loudspeaker.
With such a crowd behind him, Kagame saw it fit to poke at his virulent critics.  "…those who don't want to see what is happening can go and hang themselves," he charged.
Kagame said it was high time Rwandans enjoyed their right to make own choices. It is a theme he has maintained ever since. It features in nearly all his speeches.
Nyagatare and Gatsibo: Even Cows Dressed in RPF Flags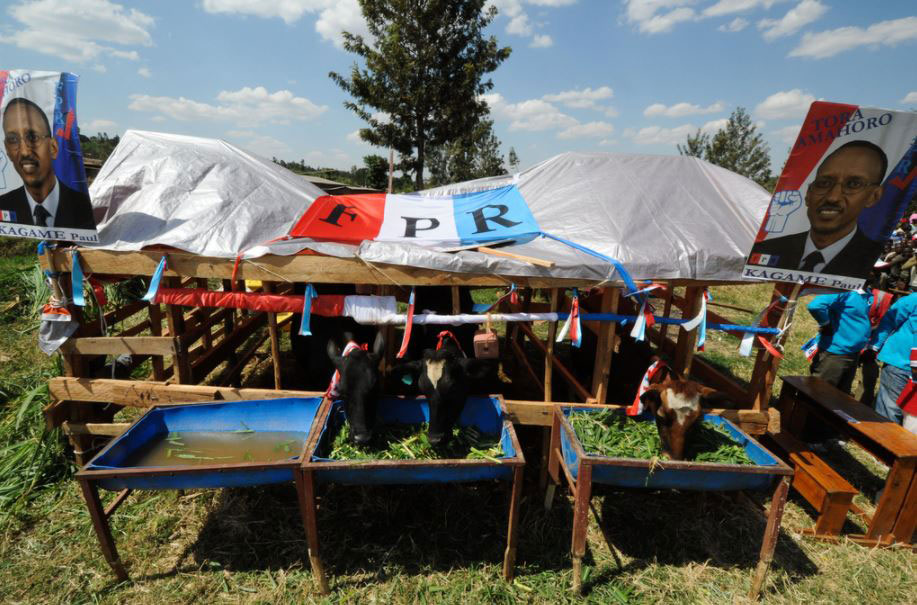 At the country's store of livestock, Gatsibo and Nyagatare district which was also the first gate of liberation struggle, Kagame met a huge gathering of supporters. Everything wore RPF party colours, including cows, the iconic symbol of wealth in that region.
August 8: Happy Birthday Dr Jean Damascene Ntawukuriryayo
On August 08, a day before the elections, one of the candidates had to pause for a while to cut a cake with family.
PSD candidate Dr. Jean Damascene Ntawukuriryayo had a birthday.
"I rested at home with my wife and two daughters," said Ntawukuriryayo. "They prepared for me my delicious meal with green banana and meat. They sung for me happy birth day early in the morning, and offered me a nice bouquet of rose flowers."
He added: "I am happy to celebrate at this vibrant democratic period of my country."
Ntawukuliryayo would go on to garner only 5.15% of the total votes in the August 9, 2010 polls.  Prosper Higiro, then senate vice-president and flag bearer of Liberal Party PL got only 1.37% and PPC's Alvera Mukabaramba got 0.40%.
Paul Kagame was re-elected with 93 percent of the vote.