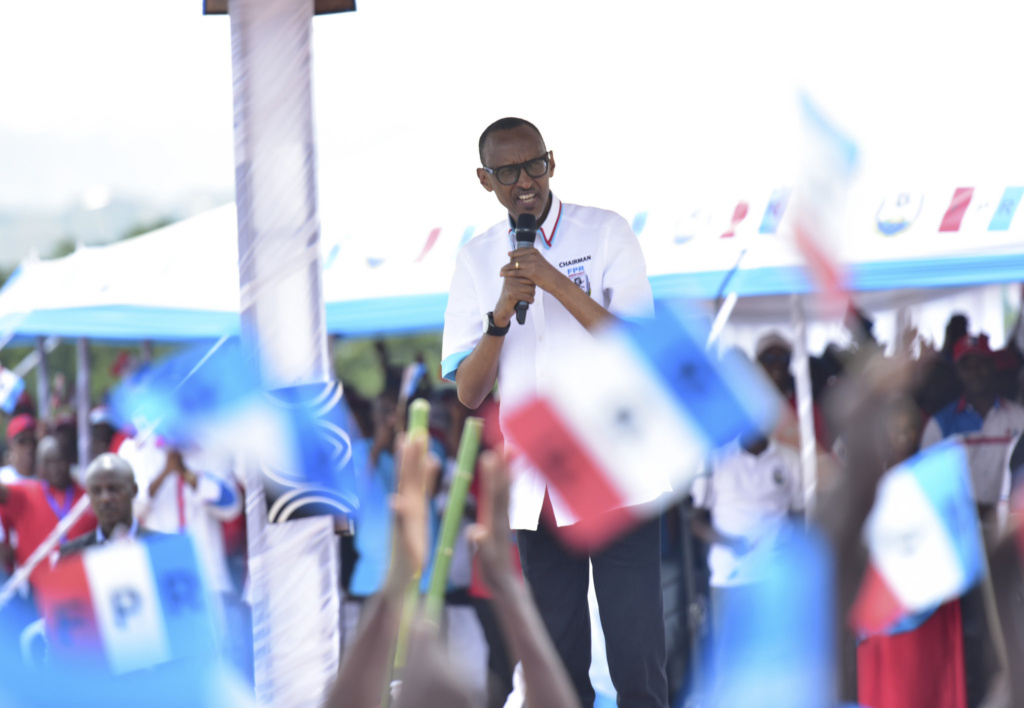 Paul Kagame the presidential candidate for the Rwanda Patriotic Front (RPF) Inkotanyi has started his rally with a promise to win elections.
Accompanied by the family, Kagame started his campaign rally in Ruhango district where thousands of supporters of RPF party and other 8 parties welcomed him with enthusiasm.
All along the way, thousands supporters in RPF flags welcomed Kagame. They painted trees in the tricolor flag of RPF.
In Ruhango, he said his victory was obtained in December 2015 when Rwandans voted in a referendum to amend the constitution to have him back.
"If you follow news, let me tell you. Journalists write that our elections are just a game because the results are known. I am even glad that the outcomes are known," Kagame said.
"The election results are already known. Whoever this hurts is their own business."
Kagame said that if more than four millions petitioned parliament to have him re-run. According to him that was already a victory, "the victory is assured."
"If they think that pretending that you do not know… is that democracy, they are wrong," he said.
The president told voters that he was confirming the wish to have him back also supported by 8 political parties as it was during the referendum.
"If yes, then the elections are over," Kagame said.
"My coming here to meet you is another assurance that we shall work together towards the construction of the country and we shall do better."
Kagame fired back against critics who tend to qualify him as a dictator just to mislead.
"They ask; is the RPF candidate a saviour or a dictator and then they conclude: he is a dictator. If thousands of supporters gathered here agree I am a dictator, then I take the blame," he said.
"They tried to put forward candidates but they forgot that they do not vote. Those shouting are people that immersed Rwanda where it came from. If they were people that have common sense, they would have joined us."
Kagame said, such people should never distract the Rwandan drive to progress.
"Let us focus on improving what we started and multiply by so many times," Kagame said.
"We want to provide electricity for everyone, schools for all our children – good schools that really give knowledge and ways to development."
He said more focus will also be put in healthcare, for Rwandans to be wealth and live longer the way they wish.
"Let's develop roads and trade with the neighbors. Rwandans should be rich, be secure, keep progress, have right to do what they wish to."
"Let me conclude by the beginning; the outcomes of these elections are known, and indeed they are known. If someone minds, it's up to them."
Eight opposition political parties that endorsed Kagame as their preferred candidate in the on-going presidential campaigns were recognized.
For all these parties including; PL, PSD, PDC, PDI, UDPR, PSR, PPC and PSP.