Team Rwanda and reigning Tour du Rwanda champion Joseph Areruya has set a new cycling milestone as he becomes the first Rwandan to win the 2018 La Tropicale Amissa Bongo Tour, a UCI 2.1 race, which climaxed on Sunday in Libreville, Gabon.
Areruya won the first continental race of the year as he maintained his heroic performance finishing the last competitive day from Bikele to the Gabonese capital city Libreville ranked 24th in 03h07'26 to grab the overall tour victory in 23h52'24 after riding over a five-day tour which covered 1011km.
Italian Luca Pacioni (Wilier Triestina-Sella, Italy) won the cycling tour while Australian Jones Brenton (Delko Marseille Proven) finished second.
The victory means that Areruya is the only third African rider to win the Tropicale Amissa Bongo after Eritrean Natnael Berhane in 2014 and Tunisian Rafaâ Chtioui in 2015.
Areruya started the race on a bright note and with 60km left to arrive in Libreville from Bikele, he was one minute and forty seconds behind the leading peloton, keeping the yellow jersey in full control.
With 50km to the finish line, Areruya fought back to take control of the peloton before his bike's tyre suffered a puncture which was immediately replaced hence falling back behind the peloton,
However, the hard working rider defied odds and with 35km to the finish line, he benefited a two minutes and forty minutes advantage to return back into the leading peloton which was composed of Delko Marseille Proven Australian rider Jones Brenton and Italian Pacioni Luca.
At 15km to the end, Areruya was still well placed in the peloton as Eritrean Okubamariam and Italian Nicola Toffali put a one minute and thirty-five seconds ahead of the pack.
With 7km to go, Pacioni Luca and Jones Brenton intensified the tempo in the leading peloton but the Rwandan maintained his calm as he rode carefully as he crossed the finish in a group finish to end ranked 24th but well assured of the tour victory as he maintained an 18-seconds lead ahead of the second-placed Holler Nikodemus.
Algerian Regungui Youcef who rides for Sovac-Natura4Ever finished third in a group timing of 03h07'26.
In the General Standings, Areruya maintained his 18 seconds lead going into the final day as he clocked 23h52'24 with Bike Aid's rider Nikodemus clocking 23h52'42 while French rider Gaudin Damien (Direct Energi) clocked a total of 23h53'14 respectively.
En-route to the historical victory, Areruya started on a poor note as he finished 41st on the first day which saw riders heading to Lambarene from Kango; 78th from Ndendé to Fougamou; 22nd from Fougamou to Lambaréné; 1st position from Ndjolé to Mitzic; 8th position from Oyem to Ambam; 3rd position from Bitam to Oyem and finally 24th from Bikele to Libreville respectively.
The UCI Africa Tour Action will now shift to the African Continental Road Championship which will be held in Rwanda from February 13-18, 2018. This will be second time that Rwanda will be hosting the championship after 2010.
Tropicale Amissa Bongo Tour
Stage 7 Results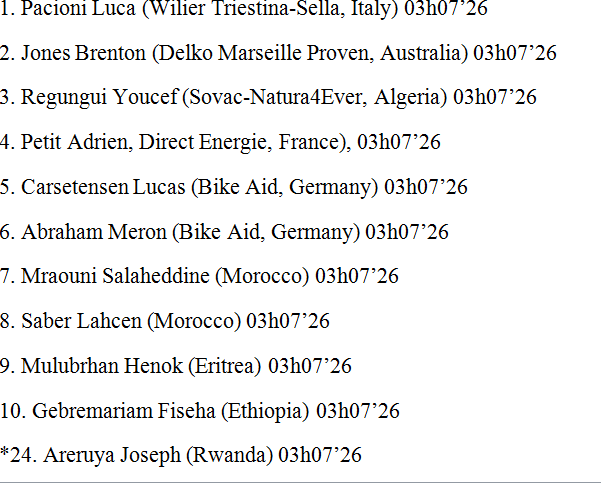 General Classification (Top 10)