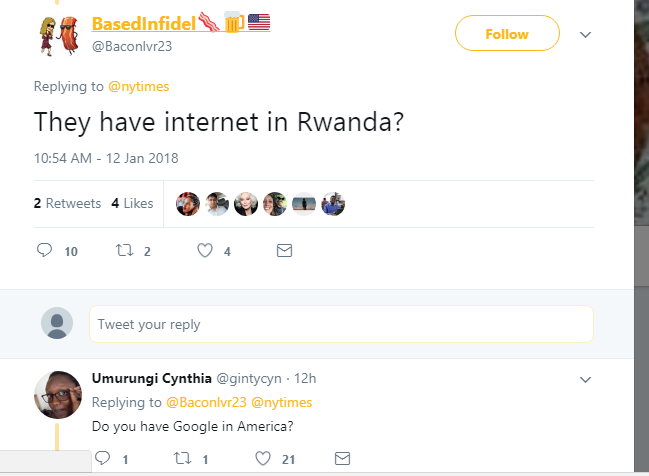 Barely a day goes by without a story on Rwanda in one of the global networks or publications – many of which are American. But for one soul, that barrage of information has all but been picked. For one particular American, Rwanda is so far detached, they don't believe it exists anyway!
Then a spark emerged this Friday in form of a story about President Donald Trump's latest outburst calling African countries "shithole". The story LINK HERE quoted Phoebe Mutesi supposedly in Rwanda saying: "Trump is a troll." She added: "He is trolling the world. Don't feed the troll."
An account on Twitter, which we have analysed and found is a constant defender of Trump, fired back: "@nytimes They have internet in Rwanda?"
The account @Baconlvr23 has some 800 followers, doesn't have a clearly identifiable name. And one thing is for sure: it is not a machine (or bot). There is a human handling it, going by it's constant engagements on anything Trump.
By Rwandan standards, the followers of this account are peanuts. And it couldn't have been worthy of our news report, but the comment is strange it is unbelievable there is such an ignorant person anywhere in the 21st century.
Of course reaction to the post was quick and simply to put it: in the same sarcastic medicine.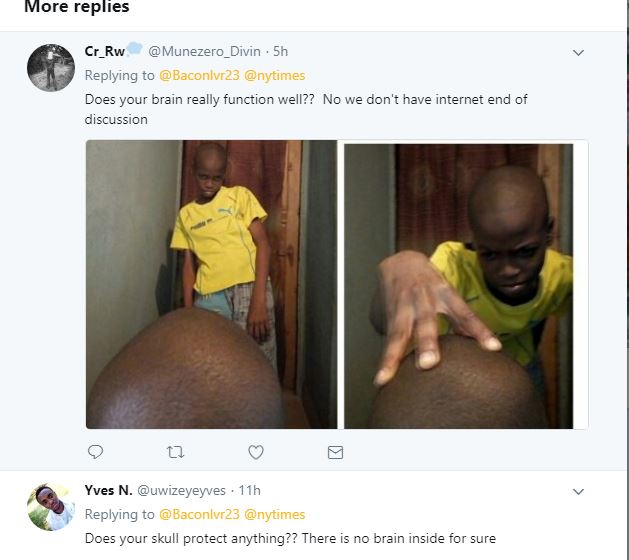 "@Baconlvr23 @nytimes Do you have Google in America?," wrote Cynthia Umurungi.
Another wrote: "@gintycyn @Baconlvr23 @nytimes ??? do you have a homeless problem in US ?"
In March 2015, the Obama administration officially announced that over 98 percent of Americans have access to 4G LTE, the current broadband speed that allows you to download a movie in minutes.
KT Press is not going to provide government of Rwanda statistics. Instead we will use those of Korea Telecom, a firm from one of America's closest allies South Korea.
As of this January, 4G LTE coverage in Rwanda is at 95%, says KT Networks Rwanda, the Korea Telecom subsidiary. It's the firm that has been contracted by Rwanda to expand broadband coverage.
Data available from local telecom firms MTN, Airtel and Tigo shows more than 80% of the Rwanda's 12m population have a phone, many of which are smartphones.