In 2014, when Bruce Kan completed his primary studies at Wisdom School in Musanze district, his family moved to the United Sates of America. To pursue his studies, he had to do an entry test for senior 1, and got 100% in Mathematics, English and Science.
"The head of his new school called me to ask if the boy was really from Rwanda. She didn't understand how Rwanda could be at that level," Elie Nduwayezu, Wisdom School Headmaster told KT Press.
"After one month in senior 1, they realised that Bruce Kan was far better than his classmates, and he was promoted to senior 2," Nduwayezu added.
As Wisdom School keeps following up Kan's progress, Nduwayezu says the child keeps doing well in his studies.
The same experience happened to his classmate Patrick Iradukunda who went to the United Kingdom in the same year. Interestingly, after maximizing in the tests he was given, Iradukunda was promoted to Senior 3, skipping Senior 1 and Senior 2.
Nduwayezu says that such defying stories amazed members of the Rwandans living abroad and parents started sending their children home to fetch knowledge and education from Wisdom School.
"After news in the USA Diaspora about Wisdom school, two families sent their children to us in 2016," the school headmaster told KT Press, adding that they registered two more students from Rwanda Diaspora in the USA for the next academic year.
What it takes
To shine, it does not matter how long you have been in business, what matters is how much energy and mind you dedicate to your job.
On January 8, 2018 when the Ministry of Education released Primary and O'Level examination results, it was a big day for Wisdom School – the Musanze based Nursery, Primary and Ordinal Level school which is barely 8 years old but is defying the odds.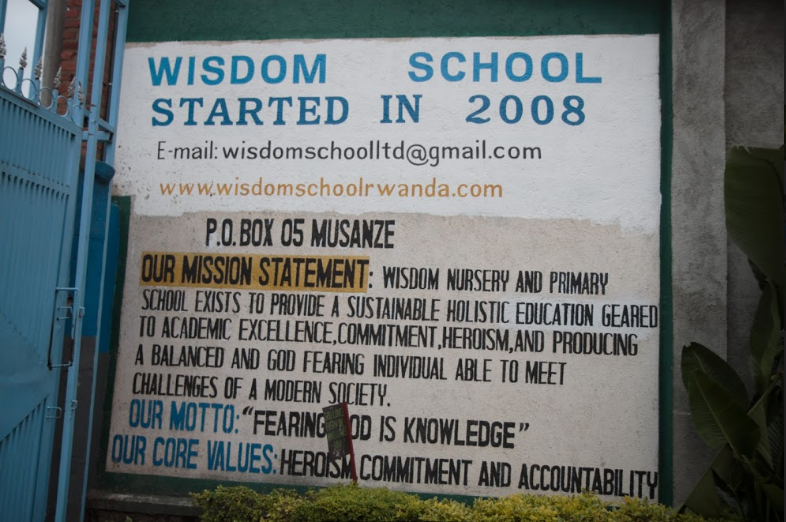 The school had woken up to good news that all its students passed  at 100% with the best grades.
For instance, out of the 162 students who sat for Primary Leaving Examination (PLE), 157 passed in First division.
According to Rwanda's Primary Education grading system, their results aggregates range from 5 marks to 15 while other 5 came in division II, aggregates ranging from 17 to 18.
The score automatically gives them admission to a secondary school they have chosen while registering for the national exam.
"All our students will get the Ministry of Education letter of admission placing them in an excellent boarding school," Nduwayezu told KT Press.
"For us, what matters is not just sitting and passing an exam with whatever score. In fact, we consider having succeeded 100% when all our students have secured a place in an excellent local school of their choice."
Wisdom School opened doors in Musanze District, Northern Province in 2010, and registered students from nursery to Primary 4.
"We took three years to prepare our students before they sat for national exams," Nduwayezu said adding that ever since, the school has made it a tradition to shine.
In 2012, when they sat for their first national exams, Wisdom School had 60 students and they all passed well.
The following year the number had increased to 90 students and they all passed.
In 2014 when the third intake sat national exams, the school not only produced candidates with the highest grade, but also started registering candidates on the list of top ten best candidates nationally.
From that intake, all the 120 candidates who sat for PLE passed and 1 of them was among 10 students nationwide.
"This gave us more energy and commitment and in 2015 we got 2 students among the 10 best students countrywide," said Nduwayezu.
In 2016, Wisdom School kept its pace and all its 160 passed well in primary leaving examinations with 3 appearing among the best in the country.
In the last national exams, 2017 intake, the school outshined with all 162 students passing with excellence – leaving only 5 students to appear in division II while the rest of the candidates passed in Division I.
Meanwhile, after realizing a tradition of excellence in Primary education, parents made a request to the school to open an ordinary level (O level) – the first three years of secondary school which is also part of the 12 Year Basic Education Program.
The school which promises to always give the best to the society listened. The first intake enrolled for national exam 2017, and it marked a success.
"We actually opened high school because parents urged us to do so, and this was our first O'Level Examination," Uwayezu said.
In O' Level, he said, Wisdom School had 45 candidates. Of them, 27 scored excellently – division I while 18 came in division II.
Nurturing Critical Thinking, the Wisdom Way
In the Wisdom School way, discussion is paramount. The school puts students into groups of 20 where they debate different issues including class materials, Rwandan culture and values. Each group is led by two students and a teacher facilitating them.
"We also encourage our students to carry research to compliment class materials. I think this is at the heart of our success," Nduwayezu said adding that the school has got a big library with more than 100,000 books in all disciplines.
Wisdom School also gives tests to its students every month to assess if they mastered what they have studied, and there is a parents' school visit every month.
In addition, the school sets a goal that would characterize them every year. Last year's Wisdom School goal was "Discipline, Hygiene, and Performance."
"Our aim was for 95% our students to pass with over 65% in all examinations and that none of our students goes under 50%," Nduwayezu said adding that "We always pass 100%, but we never accept to have even a single student going below 50%."
This year's school performance adds languages and environment protection. In Wisdom School, they teach 4 languages including English, French, Swahili and Kinyarwanda, and every student is trained to become fluent in all languages.
On Monday and Wednesday, students are urged to speak English and on Tuesday they must speak French while Thursdays are reserved for Swahili and Kinyarwanda for Fridays.
"A student who fails to comply with language use instructions is given small punishments, including cramming new ten vocabularies," the School Headmaster said.
Godly values
According to the school administration, Wisdom School provides a sustainable education geared to academic excellence and producing a balanced and God fearing individual able to meet challenges of a modern society.
"We actually train them to read the Bible and Koran! We are not behind any religion but these books contain many values including Rwandan values," said Elie Nduwayezu, adding that "Be it heroism, integrity, and honesty, you will find all these in Bible and Koran."
Wisdom School has got 1,124 students in three branches. At its headquarters in Musanze, the school has got 870 students, including 750 in primary and nursery sections and 120 in the high school section.
The school also has 180 students in its Nyabibu Branch at Mukamira and 74 students in Rubavu while they plan to open another branch in Kidaho, Burera District, Northern Province.