On Friday, Tanzanian Star Diamond Platinumz left his home early morning for Kigali, not for a concert, rather for a hybrid mission; social – business trip.
He is badly looking for a residential house in Kigali.
On a two day trip to Rwanda, Diamond wants to prove his love for Kigali, the capital city of Rwanda, Africa's greenest and cleanest city according to several rankings.
Upon arrival to Kigali International Airport on Friday at 6am, he first requested to be ushered to a charity action in Kigali where he can contribute.
He was escorted to Jordan Foundation, a charity organization which supports the visually impaired children in Gatsata sector, Gasabo District.
"The story of the children who would hear him but never see him touched him a lot. So, he chose Jordan Foundation," said Lee Ndayisaba, the organizer of Diamond's trip.
Jordan Foundation is home to over 20 visually impaired children. Diamond pledged to cover their medical bill for a period of one year.
After the visit, Diamond who was caught with emotions to see the affection and passion of Jordan Foundation owner promised to become the Foundation ambassador.
He then headed to Kigali Marriott Hotel, and explained thoroughly why he dedicated this weekend to Kigali.
"My Kigali fans always see me on stage, in pair of glasses, but this time, I want to walk across Kigali streets, greeting them, showing them that I have actually grown up," he said adding that at on Saturday11am, he will meet fans at Nyamirambo playground – Tapis Rouge.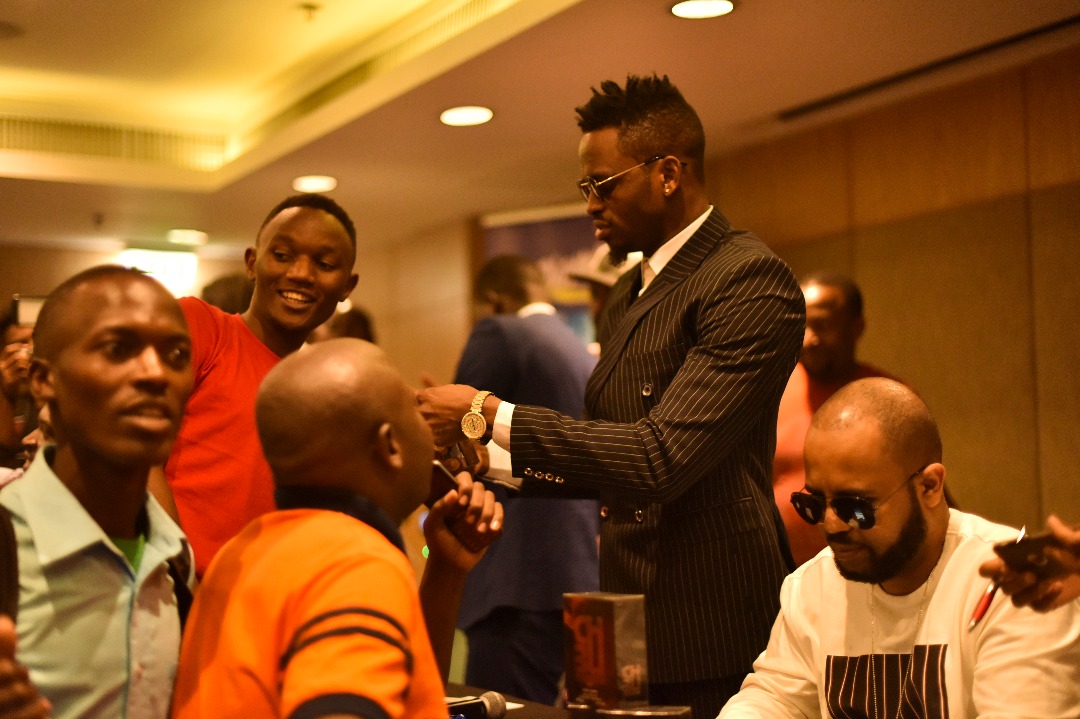 Most importantly, he said he will combine this event with the search of a residential house in Kigali, and this has an explanation.
"Kigali is a very secure and clean city, with a very smart president," he said during a press conference in Kigali.
No wonder, Diamond is advertising his products; nuts and a perfume which he said, he would take to several markets in Kigali on Saturday.
He is also announcing his intention to launch his Wasafi studio branch in Kigali.
A 'Uniform Week-end'
As Diamond will be touring Kigali, hundreds of teens in school uniform will be bidding farewell to parents/guardians, brothers/sisters and friends as they report back to School.
Starting from January 19th, students in boarding schools from across the country have started reporting to school to prepare for the opening of the academic year scheduled for January 22nd.
It's already a habit in Rwanda; all transport business is put on hold until all children reach school. It is organized in such a point that children report to school by province, and buses have to drop them at the main taxi park of the area.
Every child has to be in uniform, to avoid any escapade.
A student may choose to dodge uniform, at own risk.
"When you arrive to school late, you are sent back home and with this, you don't have any explanation to your parents as of why you reported to school late," said Bella Rushingabigwi, a student in Senior six at GS Christ Roi – Nyanza.
The National Police is also vigilant to make sure that every child reaches school safely.
 The Beauty Queens
Auditions in Miss Rwanda contest will this weekend head to the Southern province and Eastern Province respectively.
On Saturday, January 22nd, the jury will meet the girls at Huye district, while on Sunday, they will head to Kayonza district.
At each site, they will be looking for six girls who will contest at the national level.