More than 300 senior leaders from Rwanda's Central Government, Local Government, parastatals and the private sector will not be in office for the next four working days.
On Sunday afternoon, they boarded buses and headed to the RDF Combat Training Centre in Gabiro (Gatsibo District) for the 15th National Leadership Retreat.
The National leadership retreat is the highest leadership retreat in Rwanda where officials present the report of achievements, pending businesses and discuss way forward.
Chaired by the Head of State, the national leadership retreat has always been a test where every leader comes ready to be held accountable for shortfalls in their respective domain of intervention.
It was always held around this time and in 2017, President Paul Kagame told government officials to stop bragging about the already known achievements but do more.
"We keep congratulating ourselves for good results but why don't you do more of what you are capable of doing," Kagame told officials at the opening of the National leaders retreat in Gatsibo district February 25th2017.
He said that owing to the country's history, "achieving what we have set out to achieve for ourselves is really not for the halfhearted…"
It was from the last leadership retreat that the number of days it takes was increased from 2 to five.
The president said he wanted leaders to put more time and focus to the retreat so that it yields good results instead of everyone coming physically, the heart being elsewhere.
The 2018 annual National Leadership retreat now in its 15th edition will be held at the RDF Combat Training Centre in Gabiro (Gatsibo District) from 26 February to 1 March 2018.
Important points that will be discussed include the following; where is Rwanda today in relation to the country's development targets, prerequisites for transformational growth, transformation through enhanced urbanization and competitiveness.
They will also discuss how Rwanda's education will transform Rwanda into a knowledge-based economy.
On this particular point, quality education, and issues of management of university of Rwanda may feature.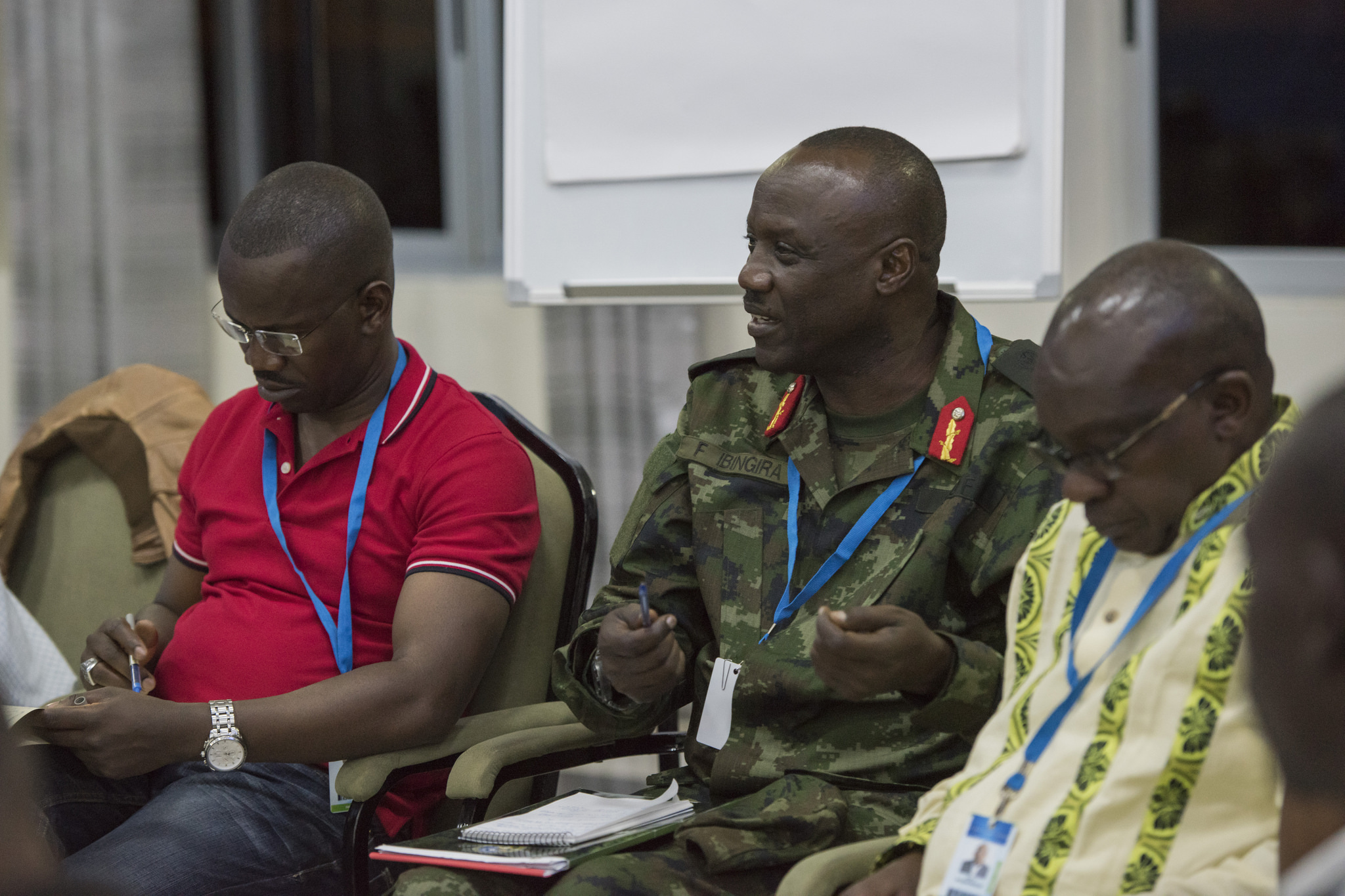 General Fred Ibingira making a point at 14th National Leadership RetreatImproving the quality of health services, Rwanda in Africa and Beyond are also other points to be discussed.
President Paul Kagame will chair the Retreat and deliver opening and closing remarks. It will also feature a presentation from Prime Minister Édouard Ngirente on the implementation status of 2017 Leadership Retreat recommendations.
The National Leadership Retreat commonly known as Umwiherero refers to a tradition in Rwandan culture whereby leaders would convene to reflect on issues affecting their communities.
The objective of these meetings was to identify solutions and commit to achieving them. Today, Umwiherero has become a unique governance tool that allows Rwanda's leaders to hold themselves accountable.
It provides with them an opportunity to reflect on the country's progress and identify strategies to accelerate delivery of national priorities while solving ongoing challenges.
Despite the National leadership retreat being an event where accountability is at play, apparently leaders also get a room for social discussion, away from office. They also practice sport every morning for fitness.