Rwanda's two biggest soccer clubs and traditional rivals, Rayon Sports and APR Fc will lock horns at Amahoro Stadium on Sunday afternoon.
Rayon Sports and APR Fc are meeting in the first round of the rescheduled match day 10 of the Azam Rwanda Premier League fixture and the question on everyone's mind is: Who will win this derby?
Sunday's action will be the 85th official match that has pitted both teams in all combined competitions and the 47th league meeting since 1995.
In all the 84 combined matches, APR Fc has registered 34 victories while Rayon Sports Fc have managed to win 27 matches with 23 matches ending in a draw from both sides.
In 46 league meetings, Rayon Sports has won 13 matches while APR Fc has won 18 matches while 15 matches ended in a draw.
The military side has had a high goal scoring record in the derby as they have a total of 122 goals to Rayon Sport's 116 goals in 238 goals scored between two sides.
In the last 25 years when APR Fc was founded by the Rwandan Patriotic Army (RPA) before it was named to its current Rwanda Defence Force (RDF) in Mulindi, Byumba, Northern Province, APR Fc has won 16 league titles.
On the other side, Rayon Sports Fc, founded 50 years ago, has managed to win only 8 league titles.
Of recent, Rayon Sports Fc has had an upper edge over the military side with both teams opting to employ former Amavubi legends to manage their local sides.
The fact that APR Fc is managed by former APR Fc and Amavubi player Jimmy Mulisa while Rayon Sports managed by former APR Fc and Amavubi skipper Olivier Karekezi has enhanced rivalry between the two clubs.
Since joining Rayon Sports at the start of the current season which begun in September 2017, Karekezi has managed to beat his former teammate and good friend, Jimmy Mulisa twice in four meetings, while the later has managed one win and one draw.
Karekezi's two victories include the 1-0 win in Agaciro Development Cup and 2-0 triumph in the Super Cup while Mulisa's APR side beat their arch-rivals on final day of this year's Heroes Cup.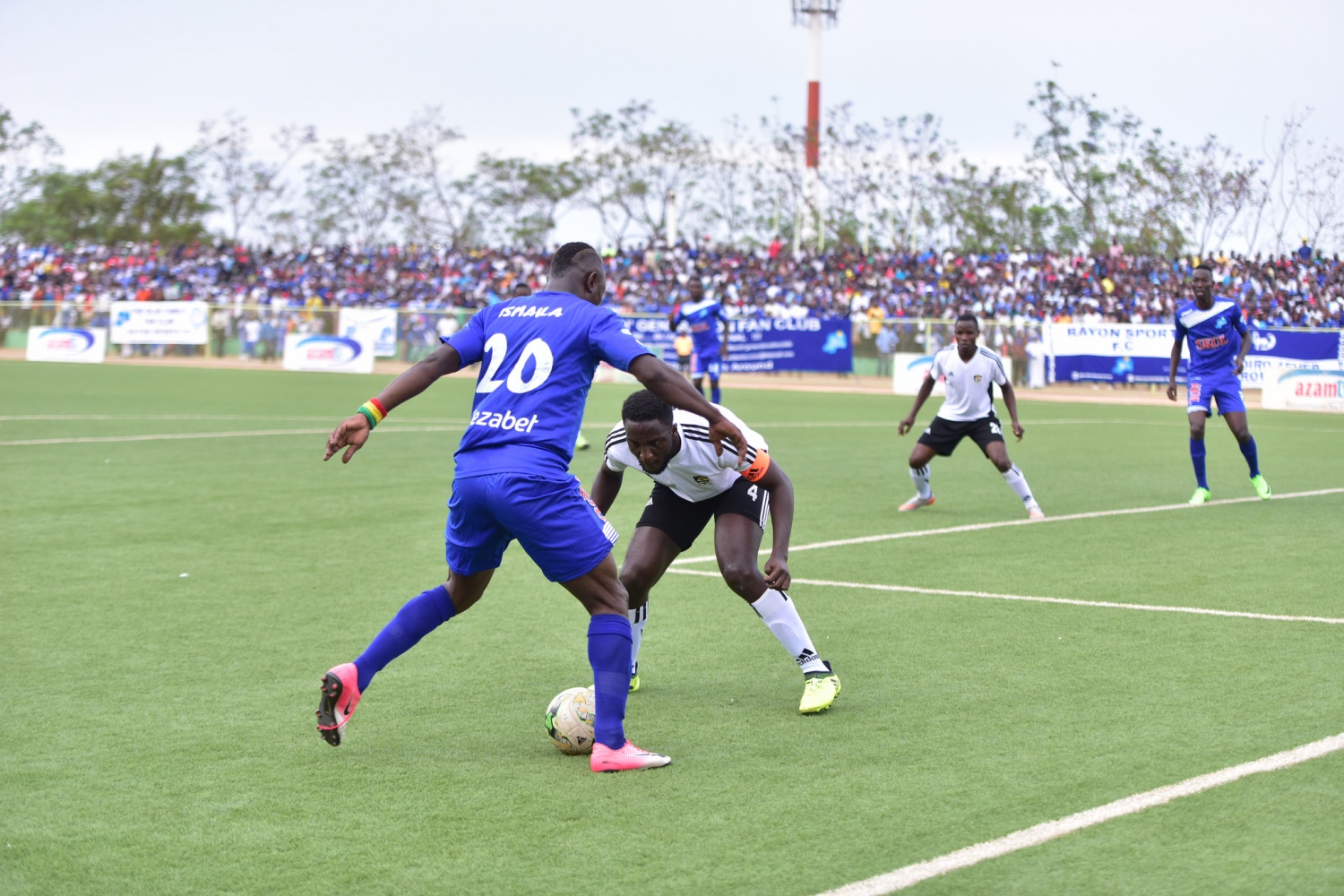 Prior to Karekezi's reign, Rayon Sports Fc which was under Masudi Djuma registered a 4-0 win over APR Fc in the first leg of the Azam Rwanda Premier League of 2016/17 season before APR Fc won the return leg and the Heroes Cup final with a respective 1-0 goal margin in each of the two matches.
Early this month, APR FC defeated Rayon Sports Fc 2-1 in the final game of the 2018 Heroes Cup tournament.
With a rich and good competitive record between the two youthful coaches, Karekezi and Mulisa, there will be no love lost again as either coach is eying to register supremacy over each other.
Both sides will go into the thrilling derby with heads high following their excellent performances in the preliminary round of the CAF interclubs competitions where APR FC eliminated Anse Reunion FC of the Seychelles and Rayon Sports fc eliminated Burundi's Lydia Ludic Académic.
Rayon Sports Fc will be missing key signing striker Hussein Shaban commonly known as Tchabalala to his fans. Signed from Amagaju in January, this year, the player has scored twice in Rayon Sport's qualification to the first round of the CAF Champions League where they will face South Africa's Mamelodi Sundowns in March.
However, Coach Karekezi is optimistic that without Tchabalala, the rest of the players are ready to battle for a win against the military side.
Karekezi told the media on Friday, "We are the defending champions and will go into the game on Sunday ahead of APR in the league table standing, so you could say we're in a good position to face them, but we also know it's going to be tough because they will come looking to win,"
"The players know the task ahead and the challenge we're faced with, so motivation won't be a problem, we are ready for the game and our aim is to win," the 34-year-old rookie coach explained.
APR Fc are without suspended pivotal midfielder Djihad Bizimana and new signing Savio Nshuti Dominique who will be allowed to feature in the return leg of the Azam Rwanda Premier League following his transfer from AS Kigali in January 2018.
Mulisa said, "We are well prepared for the game, players are ready and  despite missing Bizimana Djihad and Savio Nshuti, we are confident in the rest of the players whowill be picked to play, we trust and believe they will deliver against Rayon Sports Fc,"
What will play as a decisive role in this game is the recent transfer of players from each side over the past years.
Players such as experienced goalie Ndayishimiye Eric 'Bakame', Rwaubyaye Abdoul, Yannick Mukunzi, Nova Bayama, Eric Rutanga and  Usengimana Faustin crossed from APR Fc to Rayon Sports while Imanishimwe Emmanuel, Ngabo Albert, Djihad Bizimana and Nshuti Savio Dominique crossed from Rayon Sports to APR Fc.
Currently, a both sides are separated by just one point in third and sixth positions on the Azam Rwanda Premier League standings. Rayon Sports Fc are third with 18 points, after five wins, three draws and two losses while APR Fc are in sixth place with 17 points after four wins, five draws and one defeat.
SC Kiyovu lead the table with 23 points, two ahead of second-placed AS Kigali, but five ahead of Rayon Sports Fc and APR Fc, who have both placed one game less. Espoir Fc and Miloplast Fc are struggling in the relegation spots with 9 and 8 points respectively.