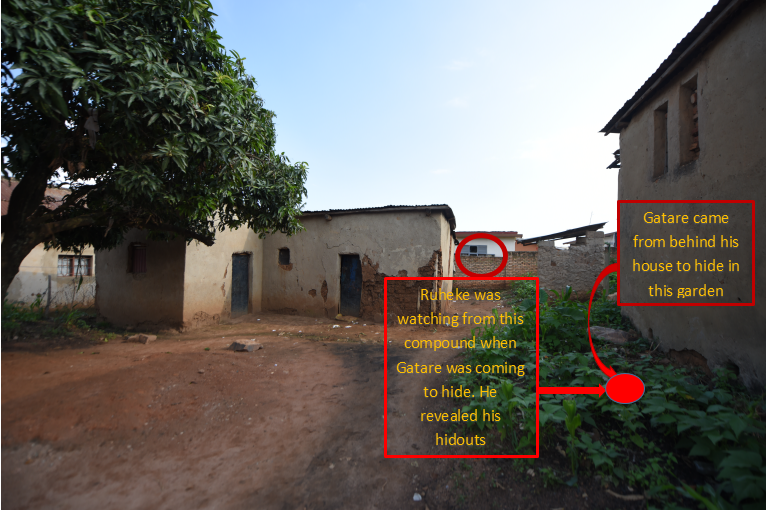 The time, the day and the place are still fresh for the survivors. It is 24 years since the horrific scene in this photo was captured.
For anybody browsing the internet for photos of the 1994 Genocide against Tutsi in Rwanda, not more than a handful appear showing the 100-day horror like this particular image.
Not many pictures sum up the death and destruction witnessed then than the pixels in this photo.
KT Press has also identified the French journalist who took this picture from a moving vehicle headed to the airport. He was among foreign nationals that were being evacuated out of Rwanda by UN peacekeepers.
The motionless victims laying on the ground had children, mothers, nieces, husbands – and a long line of relatives. They also had names, dreams and aspirations.
On April 10, 2018, Karangwa Arnaud and the remaining family members conducted what has been, and will remain an annual trekk for generations.
Every year, they carry flowers to the Kigali Genocide Memorial Centre where more than 250,000 other victims are laid to rest.
Karangwa vividly remembers all the massacred victims in the photo and the location. Here is who they are:
– The exact location is in Samuduha, located short distance from Kanombe sector offices in Kicukiro district – and few meters to the current Rwanda Agriculture Board (RAB) headquarters.
Before April 7 when the Genocide began, the spot in the picture was referred to as "kwa Gatare" (At Gatare's).
The reed fence to the house was and is still directly adjacent to the road, which was the only one serving the ISAR agricultural institute (current RAB offices).
And when the genocide began, a roadblock was erected on the road directly next to Gatare's home. The spot was named by the genocide militia as "ku iseta" (the joint). In the vicinity was also home of a then-renowned military officer Col. Gasake.
-The male victim directly at the entrance is Silas Gatare – after whom the spot was named, and that was his home.
– The female victim next to Gatare is Odette Mukabutera and she was the mother of Karangwa. Despite the pain that viewing this photo brings, Karangwa accepted to speak to KT Press.
– The next female victim is Magnifique, who was the wife of a well-known veterinary doctor – Joseph Kagabo. He was also killed but from a different location and brought to the scene.
– The female victim at the extreme end was Mariya, a person many in Samuduha fondly called "Tante" (aunt). Karangwa tell us Mariya was killed on April 9 and her body was left laying there until the next fateful morning when the other victims were killed.
Recently, KT Press reporters walked house-to-house to trace this same area to be able to recreate the scene. The small house where the victims were killed is still standing.
After several hours searching for the place, KT Press finally met Dieudonne Niyonzima – one of the few survivors of the massacre in Samuduha.
When militias came looking for Gatare, he was hiding near the small house seen in the photo. "The militias came looking for him and his neighbor called Nzeyimana a.k.a Ruheke got out of the house and directed Interahamwe where Gatare was hiding," Niyonzima told KT Press.
"That's how they got him," he added.
How Karangwa's mother ended up here
During the Genocide commemoration period in 1999, Karangwa was watching state TV when suddenly an image appeared on the screen. "It lasted just seconds but I immediately noticed it was 'Kwa Gatare' and my mother was on the image," narrated Karangwa. "I was in shock!"
The story of how Karangwa's mother ended up at this spot is horrible – to say the least.
On the night of April 6 the presidential plane explodes over Kigali. Early morning on April 7, Karangwa parents were aware what awaited them, they carried their children and head to ISAR laboratory which was located outside the institution's compound. But did not reach because militias were roaming everywhere.
They sought refuge at the home of a neighbour for that night. That person told them to leave his house explaining that he didn't want his family to be killed for hiding Tutsis.
The next day, April 8, the Karangwa family made it to ISAR laboratory where they stayed until early morning of April 10.
The Gendarme guards at the institute chased them away.
Today, Samuduha is sprawling residential area, but was mainly bush back in 1994. So the Karangwas were able to hide through the thicket to find another hiding place – this time at the home of one Alphonse the guard of Colonel Gasake's plot, who was neighbor to Karangwa's grandmother.
Rumour was also circulating at the time that only Tutsi men were being hunted.
"My mother and my young brother remained at Alphonse's house while the rest of us proceeded to our grandmother's house," Karangwa narrates.
In the wee hours of April 10, the interahamwe militia stormed Alphonse's house. They identified Karangwa's mother. The militias were shouting so everything was clearly audible to those hiding nearby.
"A communal police guard who was with the militia shouted that if they threatened to kill the wife, the husband would come out from hiding," narrates Karangwa of his mother and father.
It was now around 10am. The interahamwe matched Karangwa's mother and headed to the roadblock which was on the main road next to Gatare's home. Despite his tender age, Karangwa says there was a sudden upsurge of courage urging him to follow the militia trail quietly. He made sure they never saw him.
From a safe distance to the roadblock, the militia hammered Karangwa's mother to the ground in Gatare's compound.
"Before they could finish her, Mama pleaded with them to let her read some verses in the bible she was carrying. They accepted," Karangwa says. "I don't know which verse she read. But I saw her pointing the bible at the interahamwe. One of them hacked her with a machete on the head. Others followed to make sure she was dead."
Imagine you are 13years watching your dear mother being left for dead. That is what Karangwa witnessed. Had he emerged from the hiding spot or made any noticeable noise, he would be no more today.
After witnessing her mother being killed, Karangwa gained composure and returned to the spot where his siblings had been hidden by their father before he sought a separate location to hide.
Late that day around 5pm, Karangwa returned to the roadblock area hoping the mother could have somehow survived and crawled to safety.
Again from a safe distance, Karangwa watched as the interahamwe and soldiers loaded bodies on a truck. He had to come to terms with fact that Mama was no more!
"Up until today, we don't know where those bodies were dumped," Karangwa told KT Press in calm voice. "For some time we kept going to any place where new remains of victims had been discovered to pray and lay her to rest on the assumption that she could be among them."
"Today, we honour Mama and everyone else by going to Gisozi site. Maybe she is among those innocent beings."
Sometime days later, Karangwa met one female interahamwe called Kimpaye dressed in the clothes as those worn by his mother the day militias killed her. He is convinced they are her clothes.
To Mama, Karangwa was "Kibondo"
All mothers love their children equally. But at some point, there is always one of their sons nicknamed 'mama's boy' and so was the bond between Karangwa and his mother.
But of the entire special bond he had with her, one last assignment from Karangwa's mother still haunts him:
"Before we separated, Mama handed me our 5 months-old brother. She told me 'look after your siblings no matter what it takes…"
Karangwa vividly recalls how humble and caring his mother was. "She always used to call every child "Kibondo".
Twenty four years later, the toddler is all grown up and busy working. Karangwa and their father survived along with three girls and two boys.
He hates to see any of his siblings fail in life.
At some point, his father who survived, warned him against beating his children.
"But I told him we share responsibility of looking after them," Karangwa told KT Press.
And the killer in the photo?
Karangwa and siblings were all born in Samuduha. He never ever wants to live there anymore.
Apart from making occasional drive-bys when visiting friends that live in Samuduha, Karangwa has visited the site where his mother died only once in 2004.
On that day, remains of victims had been exhumed behind Gatare's house.
It is hard to imagine that human barbarity can reach such an extent. But this is exactly what the man in this photo had become on that fateful day: a living example of human-turned-devil.
It is clear he had been waiting for the day when all those victims were no more so he could enjoy the spoils.
Imagine the fake smiles that beamed on his face whenever he met any of these victims days, months and years prior to this madness.
On this April 10, 1994 though, the monster was looting everything he could and unashamedly carrying it over the dead.
His name is Fabien Kabagema. It turns out – killing was not new to him. KT Press has established that some years before, this man had hacked his wife to death.
He lived in Samuduha with his more than ten children. During the genocide, they were among the rampaging interahamwe. Karangwa doesn't know the whereabouts of the looting Kabagema.
Samuduha area of Kigali has been rated as the place harbouring the most hardcore people. While the killers and others who never took part have come out to confess – and also point to locations of mass graves, in Samuduha nobody wants to say anything.
There have been suggestions that since it was the location of ISAR institute, the area was inhabited by many elites. It has been a same phenomenon for people in such areas not to say anything about the Genocide.
This photo summing up a painful history for the Karangwa family was taken by photojournalist Pascal Guyot.
It is currently in the online archives of Getty Images, a global photo agency based in Seattle, United States. Guyot was at the time a photographer for French news agency AFP.
All other photos by Plaisir Muzogeye