From a process that started from village level last week, it emerged on Sunday during primaries at district level that many of the long-serving current lawmakers want to return to the House.
Today, members of the Rwanda Patriotic Front (RPF) – Inkotanyi across the country held the district level primaries to elect parliament flag bearers.
Current Members of Parliament have featured in the polls which gave 4 people per district from which the party will select candidates for the September elections. The names that emerge will constitute the RPF list. It could be about 200 candidates.
The polls have two rounds; voters who were in thousands at every district had first to vote 20 contestants from the candidates who won at cell level (two from every cell of the district) and from this list, to choose 4 candidates including two males and two females.
In Muhanga district, MP Barthelemy Karinijabo emerged as the winner with 750 votes out of 1064 voters followed by Gaston Nteziyaremye among men.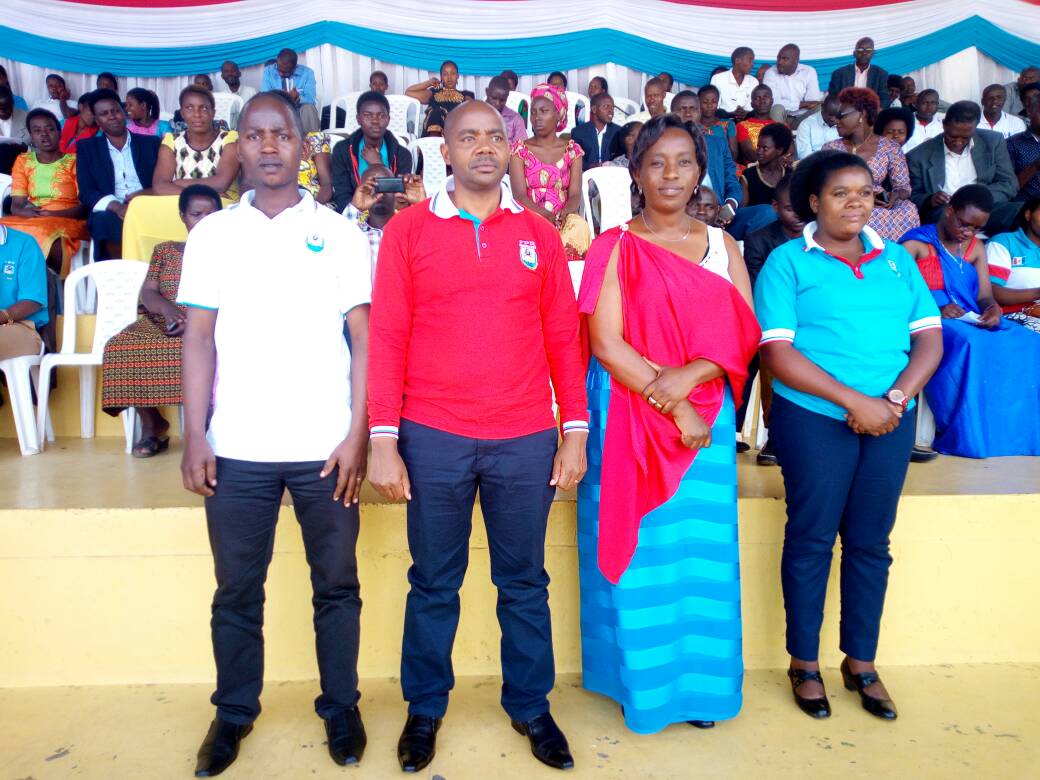 MP Kalinijabo(2nd Left) won in Muhanga district primaries
Karinijabo got parliament seat in 2016 replacing Marie Rose Mureshyankwano who was appointed governor of Southern Province.
On the women's ticket, Marie Florence Uwanyirigira, the Executive secretary of Mushishiro sector won the primaries with 740 votes followed by Clemence Nyanzira a teacher at GS Nyabikenke with 172 votes.
Musanze dances with tight voting
Dancing and celebration in Musanze district preceded the voting exercise as RPF members were led by Mayor Jean Damascene Habyarimana – the chairman at district level, in several party songs and dance gigs.
At least 1064 voters participated in the exercise which also had a delay in the counting of votes forcing candidates and observers to wait for the outcomes.
The voting was held at Centre Pastorale Notre Dame de Fatima in Muhoza Sector.
But at the end of the day the women's ticket ended up tight between Winfride Mpembyemungu, the former mayor and Marie Therese Murekatete, a member of parliament – who had equal votes.
However in a return Mpembyemungu managed to scoop 984 votes followed by Murekatete (942 votes).
"I have been to parliament and managed to advocate for construction of health centers. This time around I will advocate for Ruhengeri hospital to be overhauled to modern standards and also fight for erosion caused by rain water from volcanoes," said Murekatete.
On the men's ticket Diogene Sirimu (574 votes), and Ephrem Munyandamutsa (338votes) won the primaries.
Meanwhile, counting of over 6000 votes in Gasabo district could have been the toughest exercise in these primaries. The counting started at 11am ending at about 3.30pm.
Francis Karemera, a district councilor, and members of parliament- Cecile Murumunawabo, Theoneste Karenzi, the Deputy Chair of Parliamentary Public Accounts Committee (PAC) and Jeanne d'Arc Nyirasafari, a business woman in Kigali got the confidence of the RPF electoral college at district level.
Also in Kicukiro district, members of parliament- Fidèle Rwigamba, Tengera Francesca Twikirize won the district seats joined by Dr. Omar Munyaneza, and Jane Mutamba.
In Nyarugenge district MPs Eugene Barikana, Mukabagwiza Edda were followed up by Brigitte Gafaranga, a district councilor and Lambert Mucyo.
Other districts
In Gatsibo district winners were Logan Ndahiro, Elivanie Mukamwiza, Teddy Mukanziga, and Emanuel Twiringiyimana.
In Kirehe district Gaudence Mukama, Gloriose Mukeshimana swept the women's tickets while Bugingo Emmanuel and Ntabyera Emmanuel took the men's seats.
In Nyagatare, members of parliament Jeanne d'Arc Uwimanimpaye and John Ruku-Rwabyoma retained their confidence to go back to the House winning the Nyagatare trust.
In Huye district, winners were Winifrida Niyitegeka, Alphonsine Murekatete, Albert Ruhakana and Assumani Birikumana.
Primaries in other district will take place on Sunday June 10.
Additional reporting: Ephrem Murindabigwi, Servilien Mutuyimana, Simon Kamuzinzi, Sebasaza E. Gasana, Marie Claire Joyeuse.