Prime Minister of India Narendra Modi who is visiting Rwanda between July 23-24 is coming with a gift of 200 cows to give to Rwandan farmers.
Giving someone a cow in Rwandan culture, is a symbol that you love them and us also a wish of prosperity to the recipient because cows were the 'currency' in ancient Rwanda.
They are still a key component of Rwanda's economy where around 80% are farmers.
According to indianexpress.com, PM Narendra Modi once in Rwanda, will travel to Rweru model village in Bugesera district-Eastern Province.
Officials said the cattle will be sourced locally since they are adapted to the natural surroundings of the region.
Built in 2016 by Rwanda Defence Force Engineering Brigade, the village includes more than 400 families that were relocated from Mazane island which was a high risk zone.
The village was inaugurated by President Paul Kagame on July 4, 2016 on the occasion of Liberation Day celebrations.
At model villages that Rwanda is building in all districts across the country for the homeless and the needy communities, government gives fully furnished modern houses to the beneficiaries.
The houses are also given with basic needs including a cow per family and a small piece of land whenever possible.
However, Rwanda has another national program to give a cow to every Rwandan family that does not have one.
The program locally known as 'Girinka Munyarwanda' has given more than 350,000 cows.
An initiative of President Paul Kagame which he started in 2006, the program is now being embraced by the Rwandan community in general, and friends of Rwanda in particular.
In December 2016, the Rwanda private sector federation (PSF) made a pledge of Rwf 1 billion for the program before President Paul Kagame.
The cows are being given out through three members of the civil society platform.
The love of the cow by Rwandans and their president is becoming common knowledge.
Latest gift of a cow was given to President Kagame by Dr. Abiy Ahmed, Prime Minister of Ethiopia in May 2018.
Meanwhile, as Modi prepares to board to Kigali, President Filipe Nyusi of Mozambique is holding a meeting with the business community in Kigali.
The meeting is his last activity before bidding farewell to Rwanda after concluding a three-day state visit which he started on Thursday.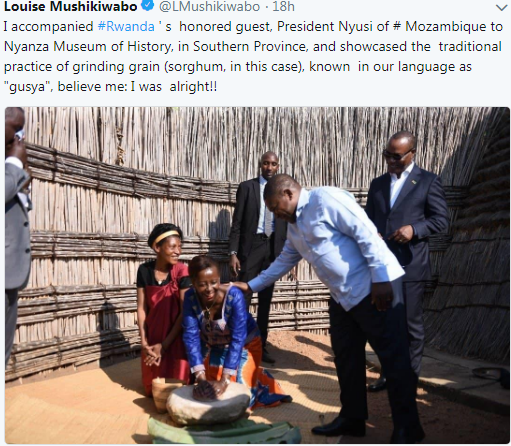 Nyusi visited the Kigali Special Economic Zone and the technology hub of Rwanda-Telecom House.
He also visited the Kigali Genocide memorial to understand the atrocities of the 1994 Genocide against Tutsi.
Also in the context of history, he visited the King Palace Museum in Nyanza in Southern Rwanda.
Nyusi also witnessed the technology advancement at Rwandan borders while visiting Petite Barriere, one of the busiest borders between Rwanda and Democratic Republic of Congo (DRC) in Western Rwanda.