President Paul Kagame and his Mozambican counterpart Filipe Nyusi have witnessed the signing of five agreements that will help business flow and exchange of knowledge between both countries.
Signed in Kigali on the second day of President Nyusi's visit to Rwanda on Friday, the agreements include bilateral cooperation agreement which in near future will include, opening embassies in respective countries.
President Kagame already announced Rwanda's plan to open the embassy in Maputo.
Another agreement that was signed is the visa requirement which exempts visa fee for diplomats from both countries.
They also signed bilateral air service agreement which will allow national carriers of Rwanda and Mozambique to fly to either country.
The list also includes a Memorandum of Understanding between Rwanda Development Board (RDB) and the Mozambican Investment Agency to further trade between both countries.
Both countries signed agreement to exchange Science and technology, education and professional training.
The Heads of State addressed a joint press conference where they agreed to deepen trade and diplomatic cooperation.
"We have defined some areas that are key for either country including; energy, tourism, and infrastructure. For us (Mozambique), we have sugar, tea among others, but this country also has a lot to share especially the technology." President Nyusi said.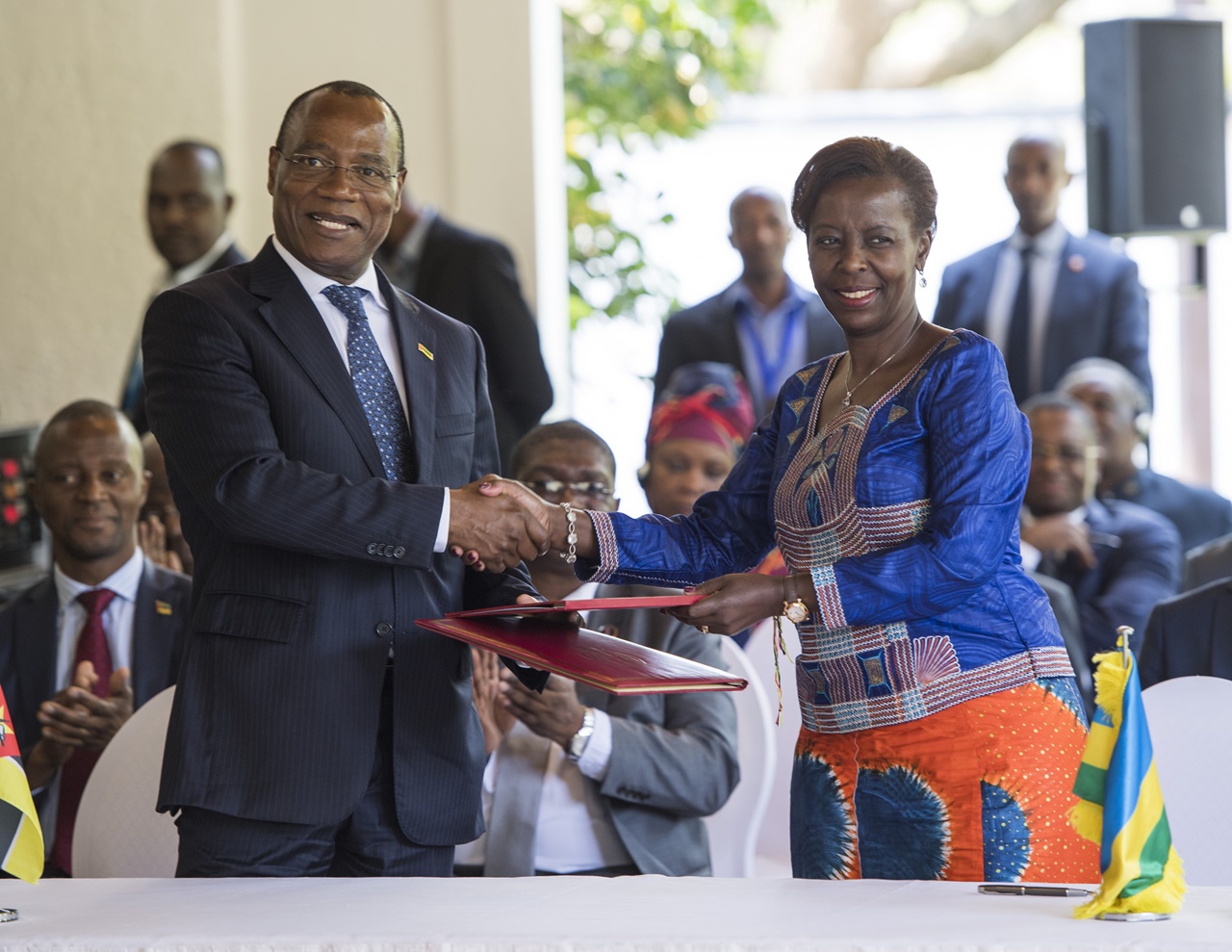 Louise Mushikiwabo and her Mozambican counterpart after signing cooperation agreement
The media was eager to ask the input of Nyusi's visit in the bilateral relationship of Rwanda and Mozambique, but the answer from President Kagame was straightforward.
"My experience with President Nyusi…he is one man who is always asking about the time. Well, bureaucracy can sometimes delay things but I don't see much business taking place as usual," Kagame said.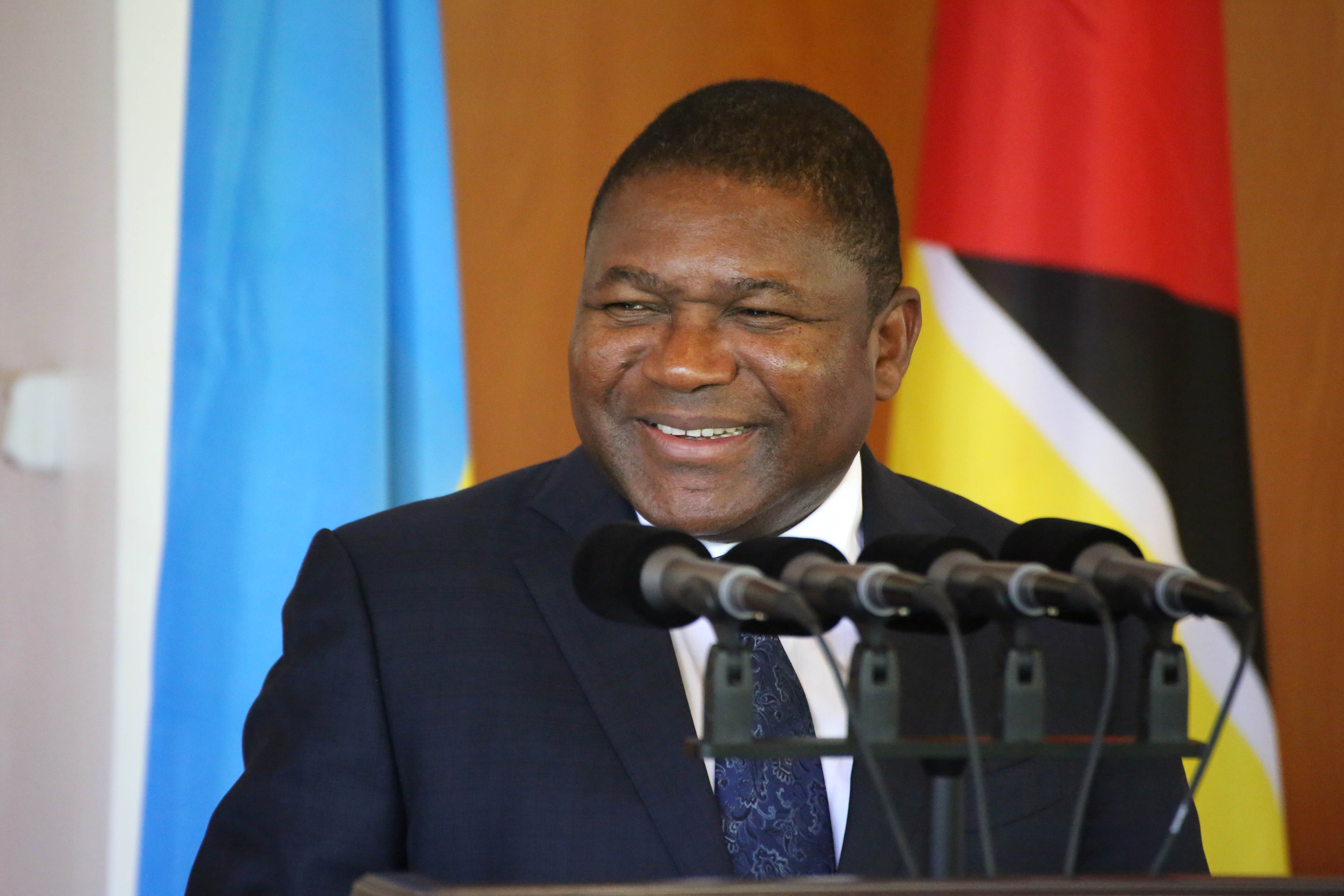 President Nyusi also complemented while saying that both Presidents are not that kind of people who meet for mere talks.
President Nyusi will visit several activities in the country, ranging from culture with a visit of king palace museum in Nyanza – Southern Province and La Chroniche, the border post between Rwanda and Democratic Republic of Congo in Western province.
However, he already visited the Kigali special economic zone, the Kigali Genocide memorial and technology centers including KLab, a forum of local App developers and Olleh Rwanda which provides 4G Internet.
Through these tours, President Nyusi noticed something which helped him to answer a journalist who asked him what Rwanda is offering to Mozambique in this cooperation.
"This capacity of Rwandans to reconcile after the genocide tragedy that happened here, is a big lesson to us," Nyusi said.
"Wherever you go in Rwanda, you see a very young generation which is transforming knowledge into wealth, yet the culture of hard work is key to transformation."
President Kagame also confirmed this reconciliation as an enabler of progress in Rwanda.
"Reconciliation is work in progress. There is no time when we can call a deadline but as we address the economic, social issues, we also make our citizen understand the good in working together, that countries do not work like in pocket, but work together," He said.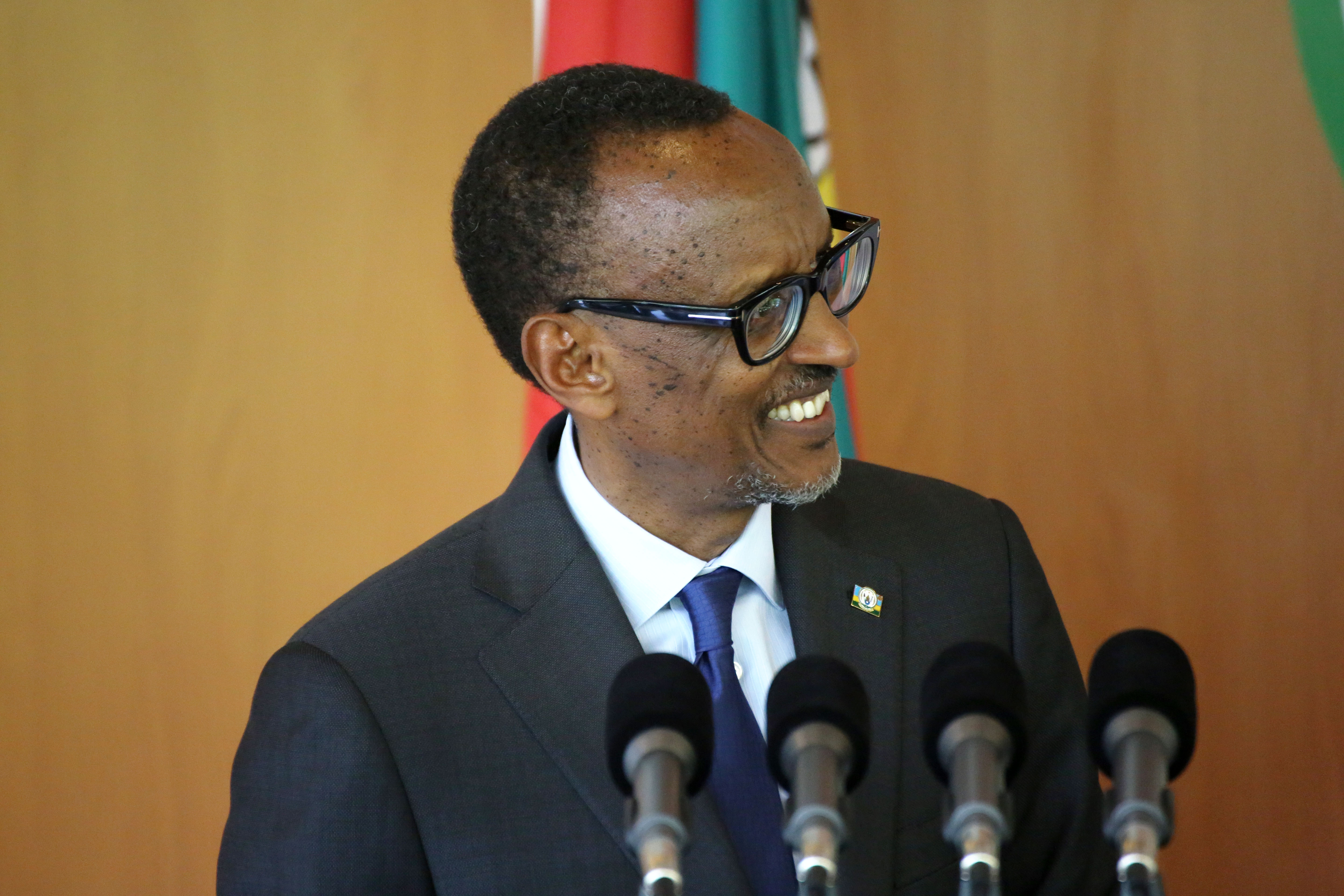 The Heads of State pledged to deepen trade and diplomatic relations and to transcend challenges that are brought to the continent by external players, in the benefit, not only of Mozambique and Rwanda, but also the continent as a whole.
President Nyusi said "This is a very clean city where traffic rules are respected, there are no crimes. I am not saying this to mean that because our country has crimes."