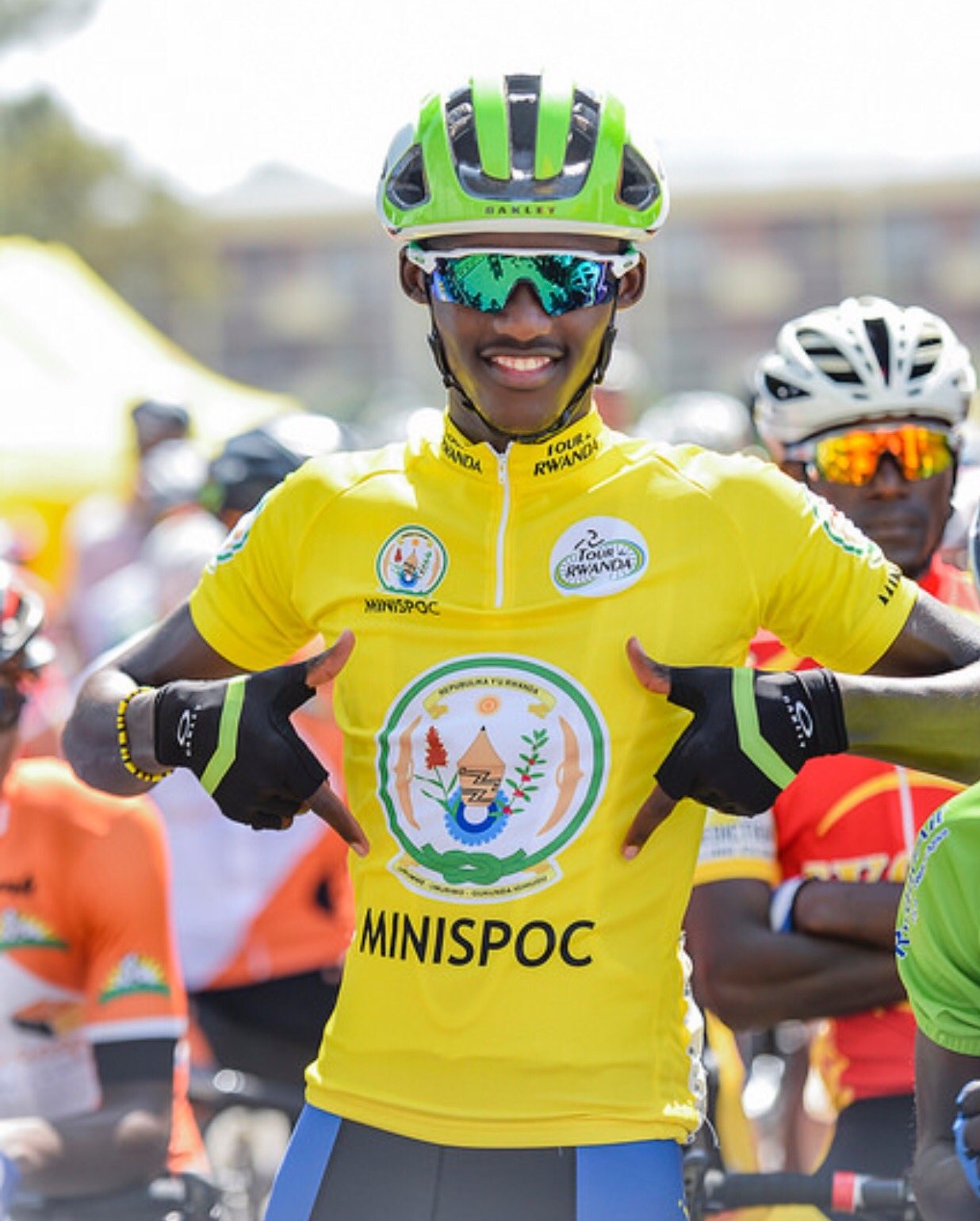 Rwandan Mugisha Samuel staged brilliant performances on Saturday to maintain lead of the 10th edition of the Tour du Rwanda which will climax on Sunday in Kigali City.
The 20-year-old Mugisha, who also races for World Tour development team Dimension Data for Qhubeka maintained a 21-second lead over his nearest rival and fellow countryman Jean-Claude Uwizeye (POC Côtde Lumiere) after Saturday's stage 7 race which started in Musanze District and climaxed in Kigali, covering 107.5km.
Spanish rider Lozano Riba David of Team Novo Nordisk won stage seven in a total time of 02h48'18, followed by Rwandan trio of POC Cote de Lumiere pair of Ndayisenga Valens and Uwizeye Jean Claude and Team Rwanda rider Mugisha who finished in fourth slot.
Other Rwandans who finished inside the top ten include Nsengimana Jean Bosco of Benediction team, Mugisha Moise of Les Amis Sportifs and Byukusenge Patrick of Benediction who finished 6th, 8th and 9threspectively.
The final stage of Tour du Rwanda climaxes on Sunday with riders set to tackle twice the famous 500-metre 'Wall of Kigali', a 12 percent steep climbs of cobblestones which traditionally attracts hundreds of fans.
On Sunday, Mugisha will be required to maintain good performances and keep watch his closest rivals on the general classification to ensure that he wins his maiden Tour du Rwanda title.
10th Tour du Rwanda
Stage 7 Standings (Musanze-Kigali)
1. Lozano Riba David (Team Novo Nordisk) – 02h48'18
2. Ndayisenga Valens (POC Cote de Lumiere) – 02h48'35
3. Uwizeye Jean Claude (POC Cote de Lumiere) – 02h48'35
4. Mugisha Samuel (Rwanda) – 02h48'35
5. Kamau Gichora Joseph (Kenyan Riders Safaricom) – 02h48'53
6. Nsengimana Jean Bosco (Benediction) – 02h49'01
7. Rugg Timothy (Team Embrace the World) – 02h49'10
8. Mugisha Moise (Les Amis Sportifs) – 02h49'13
9. Byukusenge Patrick (Benediction) – 02h49'14
10. Gathiambo Joshphat (Kenyan Riders Safaricom) – 02h49'14
General Classification-After Stage 7
1. Mugisha Samuel (Rwanda) – 22h20'27
2. Uwizeye Jean Claude (POC Cote de Lumière) – 22h20'48
3. Hailemichael Mulu (Ethiopia) – 22h21'37
4. Lagab Azzedine (Groupement Sportif Des Petroliers) – 22h21'53
5. Lozano Riba David (Team Novo Nordisk) – 22h22'00
6. Ndayisenga Valens (POC Cote de Lumière) – 22h22'43
7. Temalew Bereket Desalegn (Ethiopia) – 22h23'17
8. Doring James (Team Descartes Romandie) – 22h23'53
9. Munyaneza Didier (Rwanda) – 22h24'12
10. Goudin Valentin Haute Savoir Auvergne Rhone) – 22h25'31