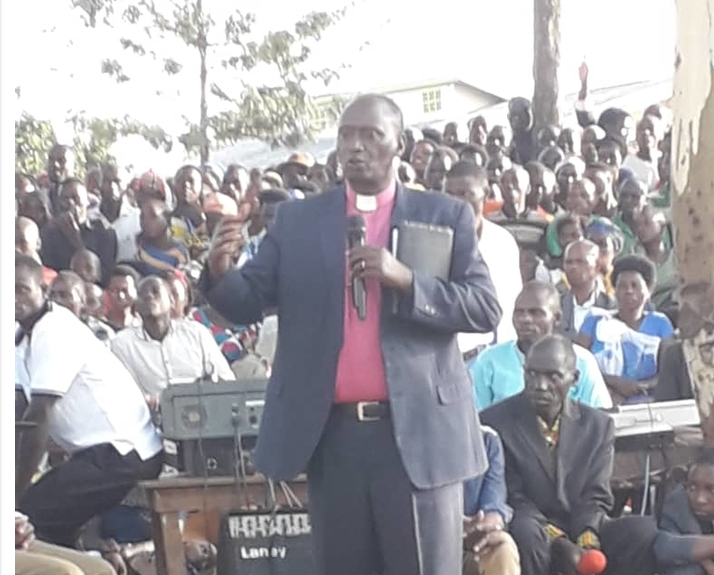 Bishop Alex Birindabagabo during an anti drug campaign in Eastern province
Responding to a Rwanda National Police (RNP) mapping report which showed the Eastern province to be a major transit route for illegal drugs and local brews, religious leader in the region have committed themselves to take the anti-drug message to their respective congregations.
As of October 22nd a number of initiatives were put in place, to use places of worship in the Eastern province to spread awareness against drug abuse.
The Eastern province's proximity to neighboring Uganda, Tanzania and Burundi, make the region a target for illegal traffickers from these countries.
Speaking to KT Press, Theobald Kanamugire RNP Spokesperson in Eastern Province, said that Rwf50 million worth of illegal drugs and local brews was seized only last month.
He said the police was calling on religious leaders to use their positions in the community to make their congregations aware of the dangers of drug abuse.
"We are calling upon religious based organizations to intervene in fighting drug abuse, using their access to large gatherings of people, especially the youth," he said.
The police addressed faith-based groups at a gathering in Tabagwe sector, Nyagatare district, to discuss how to raise awareness against drug abuse.
Sheik Bashir Islam, head of Nyagatare Mosque told KT Press that fifteen minutes would be added to the five times a day prayers known as Salat, to remind the faithful of Allah, or God, and to seek his guidance.
In addition, Mosques will have weekly Umuganda, or community service after work, to reach out to younger believers with an antidrug message while an extra thirty minutes will be added to Jumu'ah and Zuhr, or Friday prayers, for drugs awareness discussions. The main target is the youth.
"God does not record earthly good work for any drug abuser because the holly book says once someone starts abusing drugs he/she losses consciousness," said Bashir Islam.
Similar initiatives will be repeated in Churches.
The Bishop of Anglican Church – Gahini Diocese, Alexis Birindabagabo is one of the leaders of the inter-faith efforts against drugs. He said the churches have dedicated thirty minutes to preaching the anti-drugs message.