Louise Mushikiwabo, outgoing Rwanda's Minister of Foreign Affairs and Cooperation has handed over to Richard Sezibera at the Ministry headquarters – Kimihurura.
At the handover, Mushikiwabo said that the Ministry's performance on key matters is without precedent, but coordination between staff still needs improvement.
"From a department to another, the Minister of State to the PS (Permanent Secretary), I would want us to join hand and improve coordination and exchange of information," she advised.
"In my view, we perform very well in other important duties, but we are lacking more coordination among staff at the ministry headquarters and between our headquarters and embassies and between the Ministry of Foreign Affairs and Cooperation and other ministries."
Mushikiwabo however, said she is leaving the Ministry "in good hands."
Coordination and communication between staff at Minaffet is not an issue the new Minister would afford to take lightly.
In the past, President Paul Kagame expressed his concern, that staff working together in institutions don't communicate, which undermines performance.
At the handover, incoming Minister Richard Sezibera said that Rwanda's diplomacy evolves with time and context.
"The more we develop, the more our diplomacy develops. The wartime diplomacy and country reconstruction was useful in its time. The diplomacy of building the country according to the citizen's aspirations also served in its time, and the current diplomacy of a respectful Rwanda also has its place," Sezibera said.
"The diplomacy leading us to vision 2050 will be different."
Sezibera said that it has been a long journey, but expressed confidence that the Minaffet team will keep working together to the betterment of Rwanda's diplomacy.
Diplomatic Success Story under Mushikiwabo
Since October 18, 2018, Louise Mushikiwabo is former Minister of Foreign Affairs and Cooperation and will any time soon start sharing statements as new boss of the International Organisation of Francophonie (OIF).
Mushikiwabo served Rwanda as Minister of Foreign Affairs and Cooperation between 2009 and October 2018, a period of nine years.
In her acceptance speech after her election at the helm of Francophonie in Yerevan – October 12, Mushikiwabo said she has gathered experience in serving in a country at the wake of the genocide.
"I can assure you that I am a pragmatic lady. The nine years that I have spent at the helm of the diplomacy of my country – Rwanda, I have learnt to find concrete solutions to real problems," she said.
"Coming from a country that is recovering from the Genocide and had overcome several challenges of reconstruction, I expect to exercise at the Francophonie, her role as a forum of mediation, dialogue, reconstruction and negotiation."
Back home, President Paul Kagame while presiding over the swearing in of new Ministers including Mushikiwabo's successor, congratulated her for the job well done, and wished her well in the new position at OIF.
What did Rwanda Achieve under Mushikiwabo?
KT Press has gathered some of the diplomatic success stories, diplomatic wrangles and how they were addressed under Mushikiwabo.
In 2012, some of Rwandan partners tested the resilience of the country by cutting their financial support.
This came after a report by the United Nations which was contested by Rwanda said the country was supporting armed groups in neighbouring Eastern Congo, including the M23 group.
Cutting some of the financial support included the United States of America, Germany and The Netherlands but Rwanda came out triumphantly. While commenting about the situation at the time, Mushikiwabo replied in simple and concise words.
"This child-to-parent relationship has to end … there has to be a minimum respect," she said in an address to a Kenyan business club called Mindspeak in June 2012.
"As long as countries wave check books over our heads, we can never be equal."
Mushikiwabo further said that, "Rwanda had been in much worse situations than dollars being withheld from us."
Immediately, Rwanda found a resilience formula and launched Agaciro, a sovereign fund where citizens themselves contributed voluntarily to a fund that was meant to defy the shock in August 2012.
Currently, Agaciro Development Fund which has an independent management has collected more than Rwf40 billion.
Agaciro is a resilience fund but it is part of other achievements. Currently, Rwanda finances own budget at a tune of 84%.
Besides Agaciro, Rwanda showed her resilience on several other issues that came to test firmness to find own solutions from home.
Early last year, the United States of America threatened to remove countries that are not friendly to the second hand clothes import from the African Growth and Opportunity Act (AGOA), a duty free trade of some African products at US market. Rwanda is part of AGOA.
Rwanda's stand remained the same; to promote local industry and phase out progressively the import of second hand clothes.
In the current budget, taxes on second hand clothes were increased to $4 per kilogram from previous$2.5 per kilogram.
In the last nine years, Rwanda improved relationship with several countries including the Vatican.
The country joined important organisations including Commonwealth and gained new friends from all worlds; Arab countries, Francophone countries, to mention but a few.
This also opened wide the gates to the National carrier – RwandAir which took advantage of the free airspace agreements with several countries.
The agreements were in most cases triggered by Rwanda, which is spearheading the campaign of an Africa with free movement, free trade.
The continental Free Trade Agreement (CFTA) that was signed in Kigali by African Union member countries in March 2018 is in this context.
In other cooperation areas, several dignitaries were in Rwanda, some attending international summits, others in a state visit.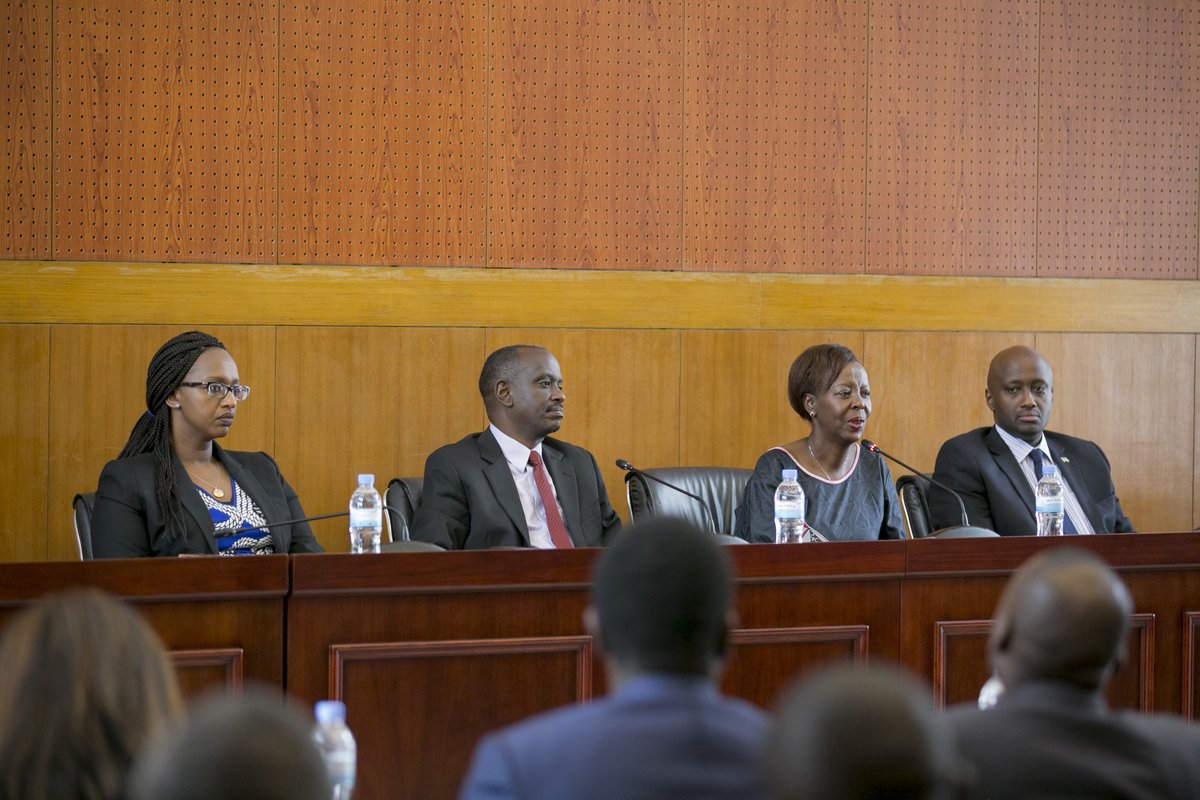 For the first time, a Chinese president visited Rwanda. Xi Jinping, the President of the People's Republic of China visited Rwanda on July 22, 2018.
The following day, July 23, Rwanda received Narendra Modi, Prime Minister of India in a State visit.
Other dignitaries include Sergey Viktorovich Lavrov, Minister of Foreign Affairs of Russia and Prime Minister of Israel Benjamini  Netanyahu. Rwanda reciprocated all the visits.
Meanwhile, Rwanda also gave her stand on a case of African migrants in Israel. In 2017, it was alleged that both countries were striking a deal to force the migrants into Rwanda.
"The situation of migrants in Israel, and the process of their leaving, is an internal Israeli issue. As long as legal requirements are met, Rwanda, within its means, will be willing to assist any migrant in need," said Mushikiwabo in February 2018.
Rwanda hosts 152,428 refugees as of UN refugee Agency statistics of July 2018.  Congolese refugees constitute 52% of them.
Burundian refugees make up 47% of the total refugee population and have the biggest camp of the country with more than 50,000 refugees in Mahama, Eastern Rwanda.
Richard Sezibera, a diplomat who was once an envoy of President Paul Kagame in Great Lakes region will have, among others, to improve relationship with the neighbours and to advance the East African Community dividends.