The presence of the Big Five has been felt for several decades now in Akagera National Park in Eastern Rwanda, including more than a hundred elephants.
Of all them however, only one had a nickname, and this will explain why his passing in September caused grief among Akagera Park visitors.
Grief engulfed wildlife lovers all over the world, especially those who visited Rwanda in the past. On September 27, 2018. Mutware – or "the chief" – the oldest elephant in Rwanda's Akagera national park, breathed his last.
The 48-year-old Mutware had become an icon of the park – that is now generating over $1.6 million in net revenues as of last year, from 37, 284 visitors.
Mutware died of natural causes according to Akagera National Park officials said.
The oldest elephant which was mourned by hundreds of friends including Justice Minister Johnston Busingye, was one of the original 26 young elephants, who were all under the age of eight years, brought to Akagera from Bugesera in 1975.
History has it that during the 1994 Genocide against Tutsi, Mutware sensed the threat innocent Rwandans were facing and became furious and rebellious.
From Volcano Park Expansion to 'Obasanjo's Baby Gorilla'
In January this year Rwanda was given extra 27.8-hectares of by African Wildlife Fund to expand the Volcanoes National Park.
This property adds to the 16,000 hectares that had formerly comprised the national park.
Home of the critically endangered Mountain Gorilla, the Volcanoes National Park has decreased by 54% since its establishment in 1925.
Rwanda continued to have partners that are willing to safeguard the endangered gorillas.
In May Ellen DeGeneres – American TV personality offered to set up gorilla fund and campus in Rwanda.
Speaking to KT Press then, Tara Stinski – President and Chief Executive Officer at the Dian Fossey Gorilla Fund said: "The cost of the campus is $10 million so far and it will be completed in May 2020."
President Paul Kagame hailed Ellen DeGeneres for her new initiative to promote gorilla conservation.
The President, who tweeted his picture with daughter Ange Kagame, and another with Ellen DeGeneres and partner Portia de Rossi, said he was impressed the gorilla population has significantly grown in the last eight years.
"Encouraging seeing the mountain gorilla population in the Virunga has grown by 25% in the last eight years.
Conservation efforts must continue. Thank you @TheEllenShow & Portia for coming to Rwanda & getting involved," Kagame tweeted.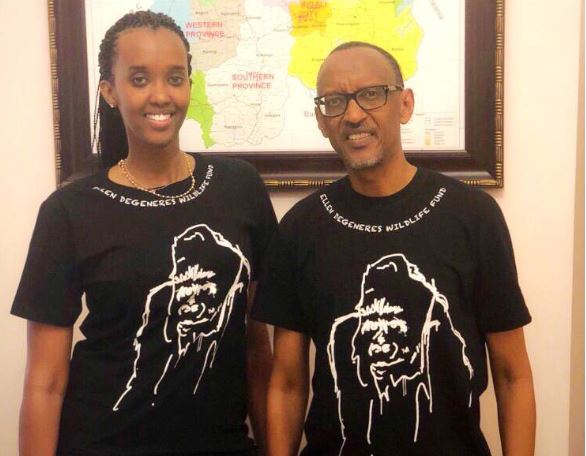 Meanwhile, a baby Gorilla was, in September this year, made a star beyond its home, when former Nigerian President Olusegun Obasanjo, named the baby Gorilla his middle name.
At the ceremony which took place on September 7th in Kinigi, Musanze district in Northern Rwanda, Obasanjo, whose full names are Chief Olusegun Mathew Okikiola Aremu Obasanjo, named a baby gorilla his middle name; 'Aremu'.
"In my language, Aremu means every baby is useful in a family," Obasanjo said after naming one of the 23 baby gorillas at a colorful event attended by other high profile delegates.
However, tourism in 2018 was not all about wildlife.
Paramotoring Comes to Rwanda
In June this year, RDB in collaboration with Rwanda Flying Sports Club introduced paramotoring in demonstrations by two paramotor professionals which took place at Huye Airstrip.
Paramotoring or Powered paragliding is a form of paragliding where the pilot wears a motor on his or her back (a paramotor) which provides enough thrust to take off using an adapted paraglider or paramotor wing.
It can be launched in still air, and on level ground, by the pilot alone without assistance.
According to RDB, the new tourism package was introduced to bring in an additional excitement that will attract repeat visit to the destination hence more revenue.
Visitors can enjoy paramotoring via the Rwanda Flying Sports Club at a cost ranging from $50 to $100.
It also serves to note, that 2018 was a year of great tourism deals.
Visit Rwanda: Arsenal FC – Rwanda Deal and the controversy it ignited
In May, Rwanda Development Board shocked the world, when it announced a three-year deal with Arsenal FC – one of the giant British Football Clubs to promote the country's tourism.
This was probably RDB's biggest surprise to Rwandans and the world. In fact, the news not only shocked the world, but sparked so many criticisms from western media as well as politicians.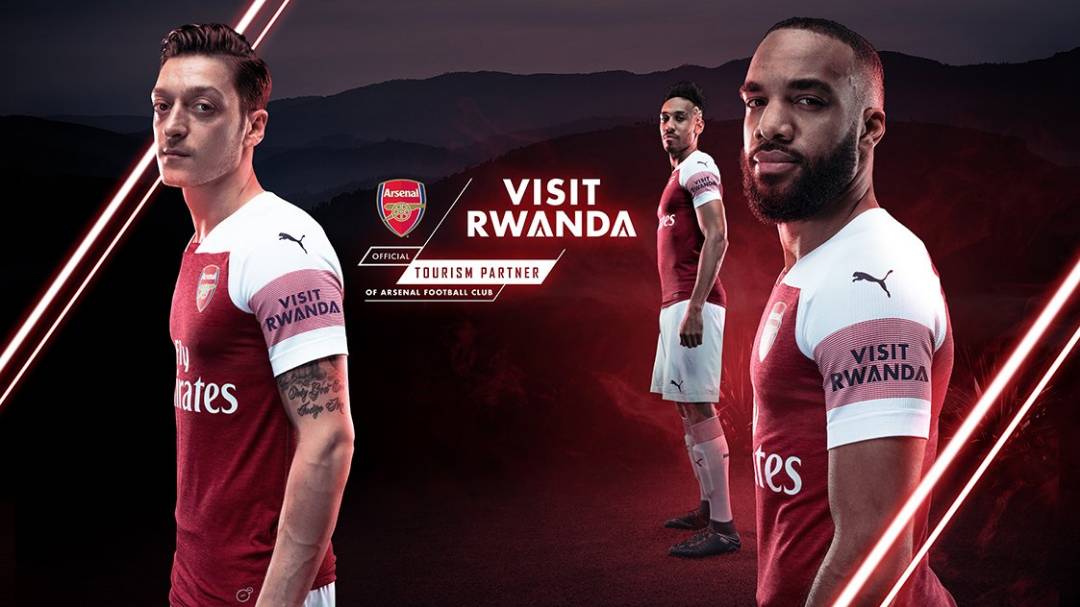 For instance, De Telegraaf – the biggest Dutch newspaper published a story quoting Dutch members of Parliament and politicians calling for their country to revisit its aid to Rwanda as a punishment for the country that signed a deal with Arsenal.
The Dutch newspaper quoted members of the Christian Union – a Christian democratic political party in the Netherlands, criticizing Rwanda as 'poor' to be able to sign the deal with Arsenal.
MP Joël Voordewind was quoted as saying he is outraged "that a country where we provide solid financial assistance has now spent as much as 34 million euro shirt sponsorship." Synonym
The criticism, however, has since gone silent. On August 20, Emmanuel Hategeka – Chief Operations Officer at RDB, cleared the air on the deal.
Speaking to KT Radio in August this year, that"…By the way they approached us because they love Rwanda. They said 'by the way can we do something together. And if so what could that be? How could we promote you? How can we work together?…."
Alibaba's travel deal
In October this year, Rwandan tour guides and entrepreneurs in the sector were left with smiles.
Alibaba's travel services platform, Fliggy, and RDB signed a deal to promote Rwanda as a tourist destination through a Rwanda Tourism Store for booking flights, hotels and travel experiences and a Destination Pavilion.
In the deal, Chinese consumers can learn about visiting the country, including its beautiful natural parks, through engaging video content.