In 2018, another Ebola outbreak happened in the neighbouring Democratic Republic of Congo (DRC) and many people lost their lives. Every time this happens Rwanda is threatened by it due to the big movement of people between the two countries.
Rwandans get to hear news about the horrible symptoms of this infectious disease and most of them consider it to be a myth because for all the times it has happened, Rwanda manages to contain its spread into the country.
In July 2018, the Ministry of Health in DRC declared a new Ebola Virus outbreak in North Kivu Province which neighbors with Rwanda.
As of December 10, 2018 the epidemic had claimed around 300 lives and 500 new confirmed cases, according to statistics of the World Health Organization (WHO).
Early October however, WHO had warned that Ebola was expected to last another three to four months and could spread at any time to Uganda and Rwanda.
Officials in Rwanda's Ministry of Health have always confirmed country readiness to contain Ebola.
"We are ready as a nation, but we request the population to provide all information whenever they suspect Ebola symptoms on a patient," said the Health Minister, Dr Diane Gashumba, on October 19th.
Rwanda began Ebola screening at all border posts and other high risk zones. Three health facilities, including; Nyarushishi in Rusizi District, Rugerero in Rubavu District and Gatsata of Kigali-City were equipped to be permanent  Ebola treatment centers.
The ministry and partners also conducted simulation exercises aiming at assessing the medical personnel and other stakeholders "on the readiness and general conduct during a probable Ebola outbreak in Rwanda."
The worst Ebola epidemic occurred between 2013 and 2016 when it killed about 11,300 people in West Africa as it surged through Guinea, Sierra Leone, and Liberia.
Ebola is passed from human-to-human by contact through the mouth, nose, or broken skin with blood or other bodily fluids by those infected.
The drugs scourge
While Rwanda was able to contain Ebola, the country was in 2018 almost surrendering to a more serious but avoidable disease – drugs whose fight has become a puzzle.
In a vivid interaction with youth at "Meet the President" session on August 1, President Paul Kagame warned Rwandan youth to desist from taking drugs.
 "Drugs, drugs, young people; There is no such thing as investment in you. Absolutely nothing. You are just destroying your life," Kagame said.
Responding to a Rwanda National Police (RNP) mapping report proving that the Eastern province is a major transit route for illegal drugs and local brews, on October 22nd, religious leaders committed to use churches to spread awareness against drug abuse.
Family Planning
On a positive note however, in November, Rwanda hosted the International Family Planning (ICFP2018) with 4000 experts, leaders, researchers and academics to discuss how investing in Family Planning is "Investing for a Lifetime of Returns."
Rwanda Prime Minister Edouard Ngirente challenged leaders at ICFP2018 to stop the old narrative that family planning is woman's business.
"We all converge to the fact that quality family planning services are strong means of improving the lives of women, children and families. Family planning is therefore not only a woman's issue, it involves men as well," the Prime said.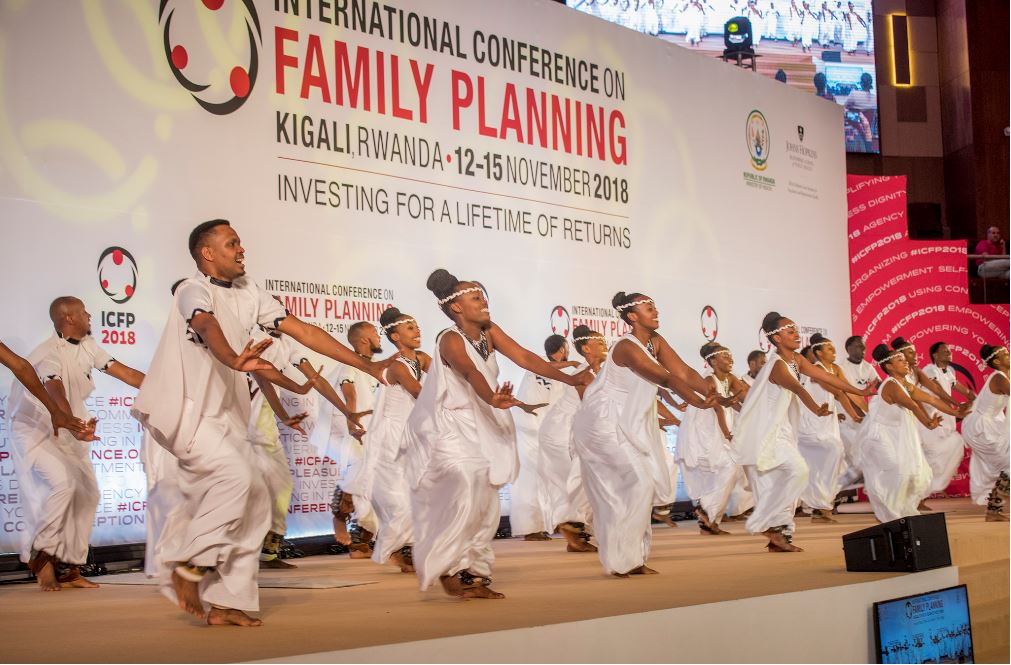 In Rwanda, Maternal mortality ratio dropped steadily from 476 per 100,000 live births in 2010 to 210 in 2015 whereas the country's total fertility rate was reduced from 6.1 in 2005 to 4.2 children per woman in 2015 according to statistics from the Ministry of Health.
In the same conference, the First Lady of Rwanda, Jeannette Kagame, dismissed the 'More Children, More Wealth' mentality.
"Larger families were often associated with greater pride, as well as a solution for economic stability, since children would take care of their parents, once they could no longer work," she said tasking participants to find short, medium and long-term approaches that foster positive mindset shift in todays' societies.
Big health promises were made
In July, Dr. Clet Niyikiza, Founder, President and CEO of L.E.A.F, brought relief to patients who have been spending a fortune to seek medication abroad.
His global pharmaceutical company whose mission to discover, develop and commercialize innovative and safe therapies for cancer is soon establishing in Rwanda.
Dr.  Niyikiza revealed that L.E.A.F. will focus on establishing Rwanda as a hub for biotechnology Research and Development (R&D) as well as pharmaceutical manufacturing in Africa.
In February this year, Yves Mugabo, another Rwandan medical student discovered diabetes treatment that if approved could save millions of patients worldwide.
Mugabo is a Post-doctoral researcher in Diabetes and Cardiometabolic disorders studies at "Centre de Recherche du Centre Hospitalier de l'Université de Montréal", in Canada.
Also in February this year, Professor Jacques Marescaux, French – Rwandan National announced a plan to pioneer a modern medical surgery and research institute in service of his newfound home country – Rwanda.
Marescaux is President and Founder of Research Institute against Digestive Cancer IRCAD France.
This would become Africa's first facility of computer assisted surgery Institute for non-communicable disease such as digestive cancer will cost $7 million.
Other innovations in this sector include a Computer Assisted Surgery.
In June 2, 2018 in a similar context, Prof. Sir Magdi Habib Yacoub – an Egyptian-British cardiothoracic surgeon announced plans to establish a world-class heart centre – the first of its kind in Rwanda.
What they said….
In front of these achievements and many more, some imminent personalities in health sector expressed their viewpoint on Rwanda's progress.
During his 2-day visit to Rwanda, World Health Organization (WHO) Director General, Dr Tedros Adhanon Ghebreyesus visited Mayange Health Centre in Bugesera district.
At the centre, 105 Community Health workers dedicate part of their day to domestic chores and another, to the health of their neighbors.
They diagnose and treat malaria, diarrhea, and pneumonia; give family planning advice; facilitate outreach for vaccination, and sensitize residents on HIV.
"Rwanda is one of the few countries that achieved Millennium Development Goals. From what I see on ground, there is no doubt this country will also achieve Sustainable Development Goals," the WHO Boss said.
Early August, philanthropist and billionaire Bill Gates said that in the aftermath of the Genocide against Tutsi, Rwanda was hopeless with no vaccination of children and epidemics like cholera were alarming in refugee camps, but today Rwanda health system is a miracle.
"Today, Rwanda is a stunning global health success story—one I often cite when I'm asked about examples of health and development progress," he said.