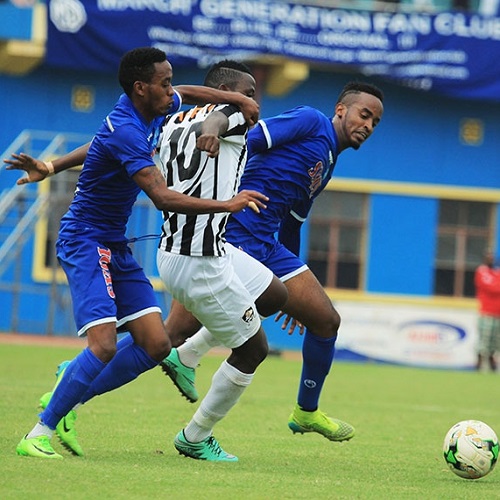 There will be renewal of rivalry at Amahoro Stadium on Wednesday evening when Azam reigning champions APR Fc host perennial rivals Rayon Sports in the biggest match of the Azam Rwanda Premier League match.
Rwanda's traditional arch-rivals APR Fc and Rayon Sports FC face off in a highly anticipated league first leg clash scheduled to be staged on Wednesday (December 13, 2018) with kick-off set for 18h00.
The local giants are the biggest clubs in Rwandan football, and are expected to take their domestic rivalry to another level when they lock horns again in the Match Day Eight top liner.
Both sides come into the crucial game tied on 15 points but separated on goal differences with the military side having a superior goal difference (+3) in third spot while Rayon Sports is placed fourth on the league log.
The military side has a game in hand against Sunrise Fc which was not played on time following their participation in the CAF Champions League where they were bundled out in the preliminary round to Tunisian side Cub African on a 3-1 goal aggregate earlier this month.
The visitors are sailing smoothly having won five matches and lost twice and will be aiming for a win over the military side as they aim to start an early surge for the league title victory.
Former APR FC and Amavubi play-maker Jimmy MUlisa is in charge of the military side while Brazilian Roberto Oliveira 'Robertinho' Goncalves de Calmo is at the helm of the Blues.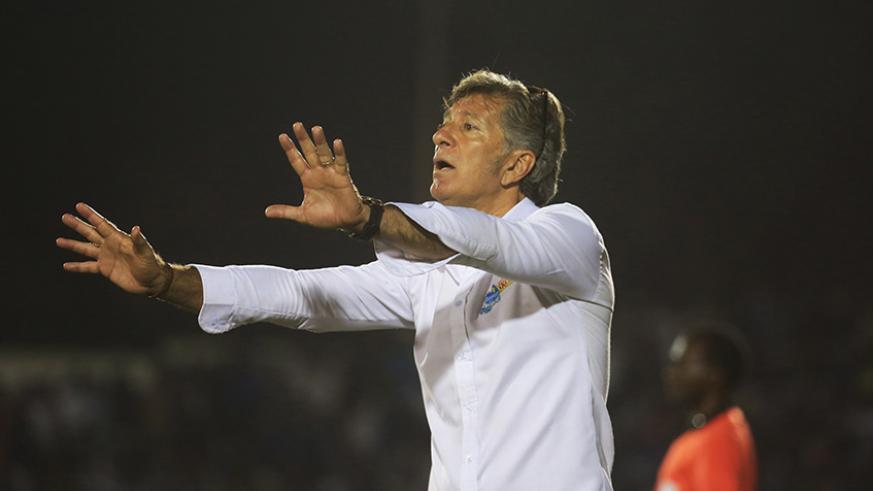 Speaking to KT Sports, APR FC skipper Mugiraneza Jean Baptista said, "We have prepared well for this important game and our mission will be securing bragging rights over Rayon Sports. It's the biggest and most important match for us and since we are aiming to defend the title, we need to win this encounter"
"Players are well motivated and ready to win this crucial game," added skipper Mugiraneza.
On the other hand, Rayon Sports coach Robertinho expects a tough and tricky game but has assured his club fans that his side will stage good performances.
"We want to win this game against APR FC and a victory will boost our campaign of winning the league title though it's still early. I firmly believe that my players are poised for maximum points. We will do everything to win the game," said Robertinho.
This is the first time that the Brazilian tactician will be making his coaching derby debut in the Azam Rwanda Premier League since taking over the Blues. However, in August, he guided Rayon Sports to the Agaciro Cup after his side edged APR Fc 1-0 in the final match.
Rayon will be looking for revenge after losing out on their recent matches against APR FC. Last season (this year), APR Fc won their two derby matches against Rayon Sports, winning the first leg tie which was away to Rayon Sports 1-0 courtesy of Hakizimana Muhadjiri's goal while in the return leg which was hosted by APR FC, Hakizimana scored a double with Burundian Kwizera Pierrot scoring the only consolation goal.
In 2016/17 season, APR Fc won the first leg thanks to Issa Bigirimana's lone goal before drawing 1-1 in the return leg with Bigirimana finding the net before Malian international Tidiane Kone equalized.
Besides the bragging rights, the game goes a long way in deciding the future of the coaches of either side.
APR FC are chasing a record-extending 18th title while Rayon are eyeing a ninth league title overall following their 2017 league title, which they won under Olivier Karekezi.
Since 1995, both sides have met 85 times in official matches with Rayon winning 28, eight behind APR FC, whilst 23 others ended in stalemates. A total 243 goals have been scored in all those matches with APR Fc scoring highest number of goals -125 compared to Rayon Sport's 118 goals respectively.
Goals galore
The clash between the two giants always produces all sorts of entertainment and talking points on and off the field. The last time the two sides played to a barren draw in recent times in the league was on 2016/17 edition.
During the 2003-2004 season, APR FC won 3-1 in the first round and 1-0 in the second while the season before Rayon won 1-0 in first round and 4-1 in the corresponding fixture.
APR Fc players and supporters will never forget the 4-1 humiliation of Rayon Sports on August 18, 2001, when their team went on to win the league with 61 points, just one ahead of their rivals.
Former national team forward Jimmy Gatete, who played for both sides, holds the record for scoring the most goals in the meetings between the two sides – four goals for either club.
Jerome Sina has scored the most goals for Rayon Sports against APR – six goals, while Masudi Djuma, the current coach of AS Kigali scored five goals for APR against Rayon.
Ugandan international Kasirye Davis remains the only player who has managed to score a hat trick in the Rwandan derby. Kasirye snatched a hat-trick for Rayon during the 2015/2016 in a game where Rayon Sport routed APR Fc 4-0 in May 2016.
Former players like Jerome Sina, Gentil Salita Kambale (Papy Kamanzi) and Labama Bokota for Rayon Sports as well as St Preux Lionnel, Farouk Ruhinda, Ndjoli Bokungu (for APR) and currently Hakizimana Muhadjiri, all have scored two goals in one game.
Ex-Rayon Sports coach Raoul Shungu has a record of 16 matches in the Rwandan derby; 7 wins, 5 draws and 4 losses.
Familiar faces
APR Fc graduates Rwatubyaye Abdul, Rutanga Eric, Nova Bayama, Yannick Mukunzi, Tuyishime Eric, will come up against their former colleagues namely Ngabo Albert, Imanishimwe Emmanuel, Nshuti Dominique Savio, Nsengiyumva Mustafa.
Former APR Fc player Djamal Mwiseneza will be on the technical bench assisting Rayon Sports.
Other players who played for both sides include; Usengimana Faustin, Ndayishimiye Eric Bakame, Bizimana Djihad, Haruna Niyonzima,Jimmy Gatete, Bokota Labama, Janot Witakenge, Masudi (now coach), Bonaventure 'Gangi' Hategekimana, Tumaine Ntamuhanga, and Karim 'Mckenzie' Nizigiyimana.
Entertaining and tricky midfielder Butera Andrew and striker Sugira Ernest are the only players who will miss the derby on APR Fc's side while Rayon Sport is likely to miss new signing Mugheni Fabrice who sustained a shoulder and foot injury in their previous match against AS Kigali but they will be welcoming Kevin Muhire who is from Egypt following a two-week trial stint with Egyptian side Misr Lel Makasa.
Rayon Sports will also be welcoming Brazilian Jonathan Da Silva who was recently signed from Brazilian side Sousa Esport Club.
Former player and Current APR Fc coach Mulisa will be managing his first game for APR Fc in a derby encounter acting in the head coach role. He has however for seven times met Rayon Sports serving as an assistant coach. In those seven encounters, he has won three, drawn one and lost three matches respectively.
Azam Rwanda Premier League, Match Day 8 Fixtures
Tuesday Results
SC Kiyovu 1-0 Gicumbi FC
Kirehe FC 1-0 Musanze FC
Etincelles FC 0-0 Police FC
Mukura VS 3-1 Espoir
Wednesday, December 12
Marines FC vs Amagaju FC (Stade Umuganda)
AS Muhanga vs Sunrise FC (Stade Muhanga)
APR FC vs Rayon Sports FC (Stade Amahoro, 18:00)
Thursday, December 13
AS Kigali vs Bugesera FC (Stade de Kigali