Only the Head of State and the Minister of Foreign Affairs and probably the State protocol team, leave alone all technical teams that organize state events can tell how diplomatically busy 2018 was.
Apparently, in 2018 Rwanda became a Must Visit.
African Heads of State and Government came on state visits throughout the year or sent delegates either for consultations, attending important summits or fixing diplomatic loopholes here and there.
The list included not only regular visitors but also new visitors who showed that Rwanda is a diplomatically mature country and a key player on the international scene.
One such a visitor was received on July 22, 2018.
Chinese President Xi Jinping and First Lady Peng Liyuan arrived in Rwanda for the first visit of a Chinese president to Rwanda in 47 years of bilateral diplomatic relations.
Fifteen agreements related to trade, infrastructure development, ICT to mention but a few were signed between both countries.
The agreements included construction of a road Kigali – Bugesera International airport and Huye – Kibeho road totalling 121 kilometres.
They also include visa exemption for diplomatic and service passport holders, culture and scientific operation, and Silk Road Economic Belt cooperation.
After Morocco in 2017 with 22 agreements, this was the biggest number of agreements Rwanda signed with any other foreign country.
China is strengthening ties with Africa and Rwanda has special assets that Xi appreciates.
"I have seen first-hand a vibrant and well organized country. The country enjoys social harmony," Xi said.
"This is my first overseas trip since my election and Rwanda is an important stop. I have seen a country that is enjoying stability. I extend to President Kagame and people of Rwanda our heartfelt congratulations."
Narendra Modi Special Bonds with Rwanda
As President Xi was bidding farewell to Rwanda, the plane of Narendra Modi, Prime Minister of India touched down on Kigali International Airport for first ever visit.
On the second day of his visit, Modi travelled to Rweru model village in Bugesera district, Eastern Province to donate 200 cows to citizens in the village.
"Got a glimpse of rural life in Rwanda during the memorable visit to Rweru Model Village. I thank President Paul Kagame for accompanying me. Gifted 200 cows to villagers who do not yet own one, as a part of the Rwandan Government's Girinka Programme," he said then.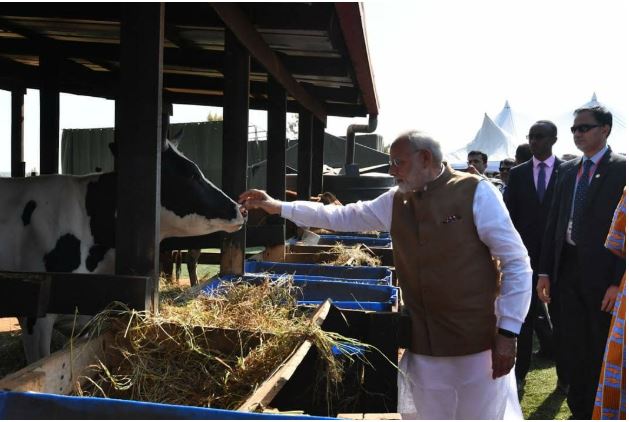 On top other activities, Rwanda signed eight agreements with India during Modi's visit.
Meanwhile, the cows Modi gave to Rweru residents were purchased from local farmers. Of the 47 cows that were given out in phase one, 38 have already reproduced.
Earlier on June 3, 2018, Sergey Lavrov, Minister of Foreign Affairs of Russia was also on a visit to Rwanda, his first since 2004 when he was appointed to serve in this capacity.
"In terms of cooperation, Rwanda has offered to be the channel of communication for Russia, if need be, for this region," Rwanda's former Minister of Foreign Affairs Louise Mushikiwabo said during a brief meeting to the media.
Minister Lavrov said: "We believe that Rwanda which has dealt with the very tragic experience can now and has reached the sustainable development for all the nationalities, all the ethnic groups, can make a major contribution in promotion of all Russia's prospects on the continent."
The day before, Russia's Ambasaador to Rwanda, Karen Chalyan had preceded his boss at Urugwiro to meet President Paul Kagame where he said that his country and Rwanda intend to strengthen military ties.
Minister Lavrov also met President Kagame.
The president would on June 13, 2018 visit Russia where he met his Russian counterpart Vladimir Putin.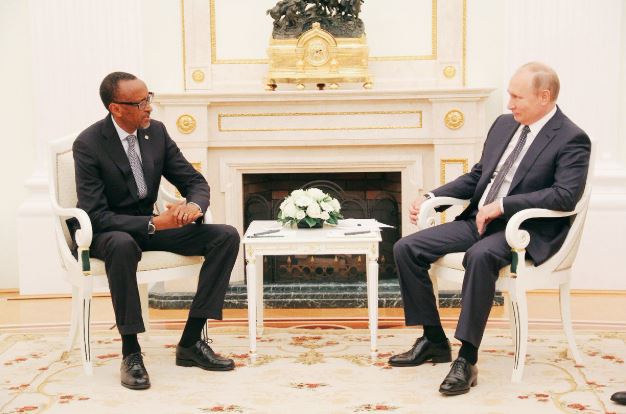 President Kagame reciprocated several visits in 2018 and there were always interesting elements to note.
In Ethiopia, May 2018, it came as a surprise when Ethiopian Prime Minister gave president Kagame a gift of a cow with her calf.
Interestingly, Kagame is known for loving cows, which he himself gives to Rwandans who do not own any. He started the program one cow one family program where a citizen get a cow free of charge since ten years ago and so far, an estimated 300,000 households has benefited.
Meanwhile, recently in Cote d'Ivoire, Kagame received a honorary citizenship of the Capital city – Abidjan.
"Once again, Monsieur le Gouverneur, thank you for this award. I assure you that I will remain a proud and faithful honorary citizen of Abidjan. Je vous remercie," Kagame said in his acceptance speech.
In brief, Rwanda strengthened relationship with so many countries of the world, gained new friends. Only two countries that share borders with Rwanda were hostile.
Two Neighbours Do Not Wish Rwanda Well
It has become common knowledge that two neighbours have developed hostility against Rwanda.
None shared whose countries those are. However, it has become a trend that Uganda mistreats Rwandans. Some Rwandans that were evicted from Uganda for example, testified that they experienced torture.
From Burundi and Uganda, attempts to support armed groups that intend to threaten Rwandan security were also reported.
President Kagame in End of Year message, indicated that these hostility undermine regional integration.
This has some evidences. Last year, the East African Community postponed its summit twice after Burundi refused to attend it.
However, the coalition of the willing still applies. For example, Rwanda and Tanzania are implementing a standard gauge railway (SGR) Isaka – Kigali project.
On top of that, Rwanda is part of a much bigger integration process.
Africa Continental Free Trade Area (AfCFTA)
Rwanda who is assuming African Union chairmanship contributed a lot to African integration and need to become one market.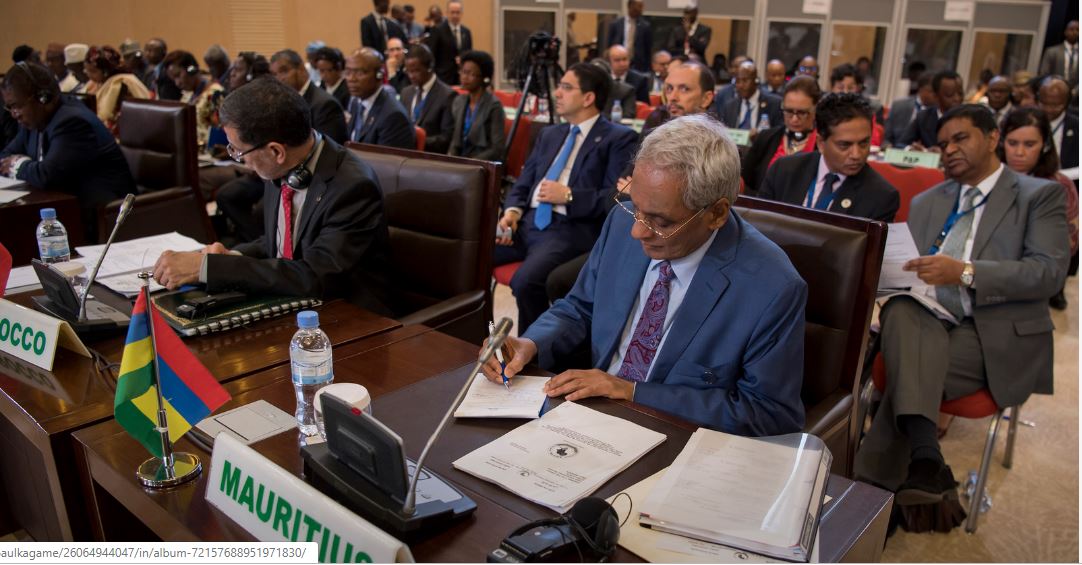 In Kigali 44 countries signed the historic CFTA, an agreement that officially made Africa an open one single market for all Africans.
43 countries also signed the Kigali declaration while 27 countries signed the protocol of the free movement of people.
All agreements considered however, 50 countries signed either of them.
For the agreements to go into force, at least 22 countries have to ratify it.
So far, 15 countries including Rwanda have ratified CFTA.
"Africa became more united and Rwanda contributed to that process," President Kagame said during End of Year message.
Rwanda's efforts to contribute to African unity were rewarding though. As we were publishing this story, Rwanda's Louise Mushikiwabo was being ushered to her office as Secretary General of the Francophonie Organization(OIF) in Paris.
Mushikiwabo was unanimously elected by all African members of the Francophonie and all members from other continents in Yerevan – October 2018.
She is replacing Canadian Michelle Jean and will serve a renewable four year term. Mushikiwabo served for nine years as Minister of Foreign Affairs back home. See was replaced by Dr Richard Sezibera, another experienced politician.
Meanwhile, looking at several continental achievements that Rwanda spearheaded, the All Africa Business Leaders Award (AABLA) named Kagame African of the Year.